In today's Frontline Chaos update, we'll introduce two new Revenant units, which share one aspect: fire.
However, before we go there, first some behind the scenes info. I initially wanted to put out this update much earlier, but I kept drifting between various parts of the mod, delaying any real showable progress. One of the things that has been done is the trimming of the Revenant infantry arsenal. A couple of infantry's roles have been merged into a single infantry, for the sake of making them more different from their Legion counterparts, and also to give it a more overal fitting feel when looking from the lore of the faction.
An example is the merger of the Warrior and the Sapper. The Warrior is your basic infantry, good against other infantry, cannon fodder for all other things. The Sapper was Revenant's answer to the Legion´s (and Command & Conquer's) Engineer: it can capture structures, and as an extra, could deploy boobie traps and satchel charges. While both interesting units, it introduced two situations. First or all, it made Warriors rather obsolete as soon as the heavier infantry / weapons arrived on the field. Second of all, it was hard to make the Sapper unique enough from Legion's Engineer, or some of the other Legion infantry (spoiler: it involves an infantry with explosives).
On the advice of Comrade Crimson (one of the voice actor for Rise of the Reds), I decided to ditch the Sapper, and reintroduce the vGenerals capture system for Warriors. While at it, I also ditched the "two handcannons" / "two SMGs" weapon idea for Warriors for a single carbine rifle, both for realism's sake, and for lack of proper anims with the two-handed weapons that doesn't make it look like an Angry Mob (of which the original anim was based).
Another thing I've been working on is making damaged / destroyed models for all the currently skinned vehicle models, and implementing them ingame. For several of the units that have various effects on destruction (think Duke or the soon-to-be-introduced Pyradon) it was fun to make the destroyed model look like it went off with a bang.
Lastly, of which part will be shown later on in this update (I'll get to there soon enough, I swear), were some experimentations for campaign / prop only stuff. One thing I can reveal is a targettable airstrike by an A-10-esque plane, including gatling gun barrage and other weaponry being fired / dropped. The other one, is the Hammerhead. Currently, it is planned as campaign-only, with perhaps an appearance in skirmish / MP by means of a very conceptual Tech Structure.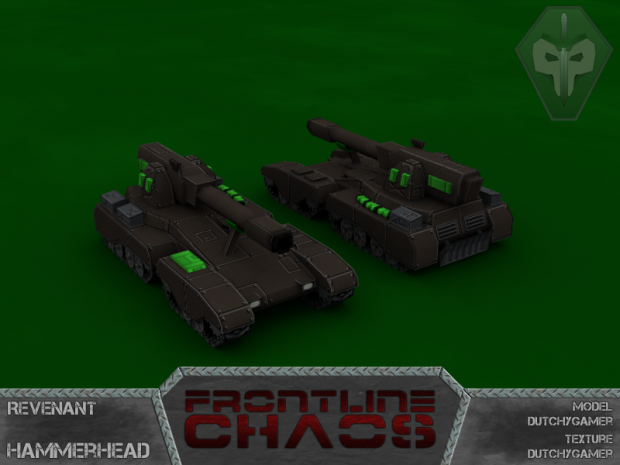 The Hammerhead is the result of a faulty self-propelled artillery design refurbished into a direct-fire support weapon. When it was scrapped by the main Revenant forces for having a faulty turret design, it was introduced to the Reaper Company who were in need for a siege weapon. Analysing the core of the problem, they simply made the gun fixed into position, and also limit its vertical angle of fire to one that can shoot directly forward or with a slight arc. They also incorporated their preference for incendiary weapons into the new platform, which saw the replacement of the default High-Explosive shell for a High-Explosive Incendiary variant.
The new Hammerhead design fitted into a niche for which the Reaper Company lacked any good weapon: a direct fire weapon that has larger range then most weapons, with which enemy positions can be assaulted without needing to get within range of their weapons. The large shells fired by the Hammerhead explode in a large fireball, incinerating anything nearby. Additionally, it has been observed that the shells have a slight cluster effect on impact, splashing burning napalm around the impact zone.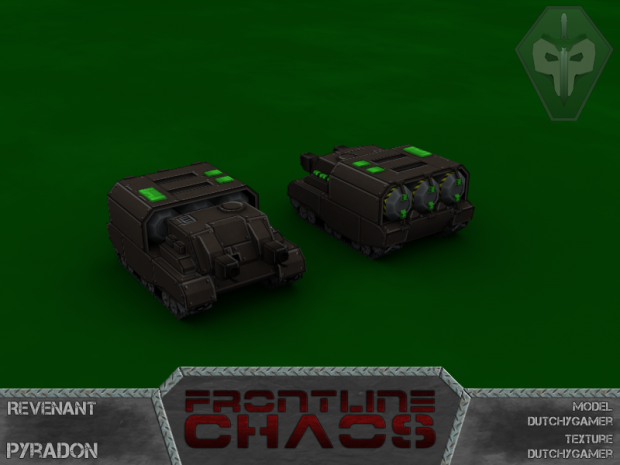 Incendiary weapons have been the bane of infantry since their first usage hundreds of years ago. While designated as inhumane, no-one can ignore their effectiveness and the terror they can cause. The Pyradon is one of the latest generations of incendiary weapons. Armed with twin flamethrowers, it excels at taking out infantry, whether in the open or inside of cover. Additionally, Pyradons are also highly effective against structures, and in groups can level a base in minutes.
However, as with all incendiary weapons, Pyradons are not to be used to engage heavy armoured vehicles. While their special heat resistant armour makes them more resistant to enemy missile weapons, it can be easier penetrated by a tank shell, which can cause a catastrophical explosion if it would hit one of the fuel tanks.
That is it for now. With some luck I can produce the next update
a bit quicker now I have some things in the pipeline.
Until next time, Dutchygamer signing off.