As promised in last updates, I had some things that were almost ready for showcase.
Today I present to you two Revenant structures.
The structures we will discuss today are the Revenant version of the good ol' War Factory, and the secondary eco structure. First the War Factory, or as it is known for the Revenant, the Weapons Assembly Depot (WAD for short).
The Weapons Assembly Depot is as said the place where you produce all your vehicles. While initially having a design like all War Factories have (big large factory looking... factory), it was redesigned into a large semi-open garage design, which fits the Revenant theme more.
The Chem Plant is Revenant's secondary eco structure. Like all secondary eco structures in Frontline Chaos (a whopping two), they will have a build limit of one, but besides providing income they also have an additional effect. In case of the Chem Plant, it gives a permanent 25% income boost for Harvesters.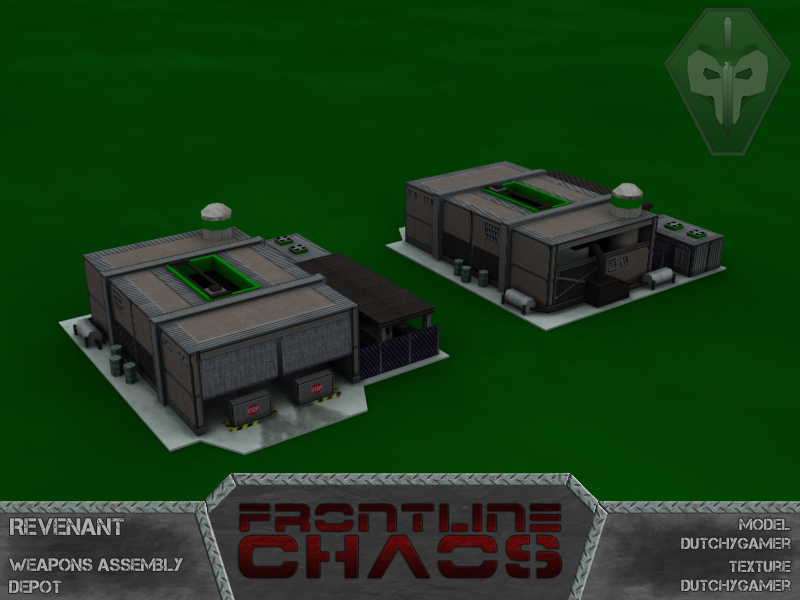 The Weapons Assembly Depot is the primary way Revenant commanders acquire vehicles on the battlefield. Comparable with a large open garage or assembly warehouse, it is crewed by engineers and mechanics which assemble any vehicle needed for the war effort. While not as advanced as its Legion or M-Tec counterparts, its experienced crew combined with an arsenal of tools are almost as efficient as a fully robotic assembly line.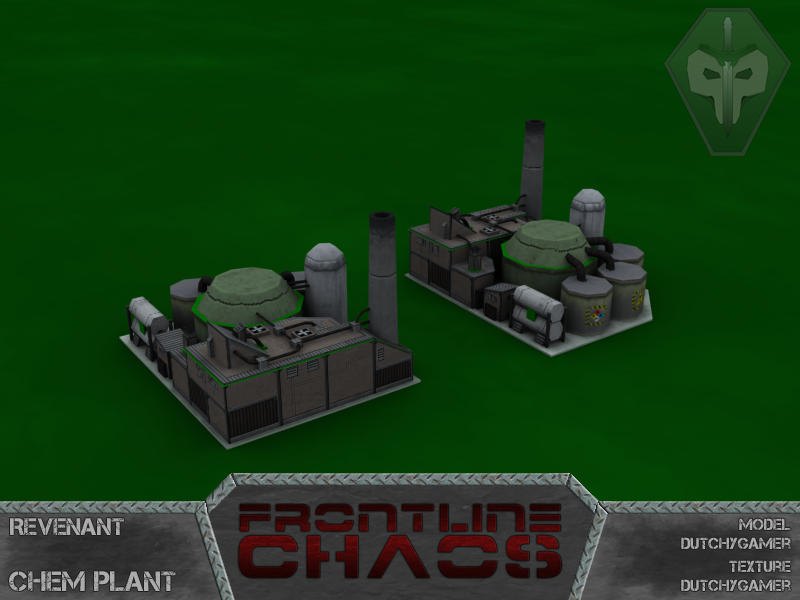 As the Revenant Litenium processing technology was based on stolen tech from M-Tec, it contains some flaws and impurities. To solve this problem, Revenant scientists came up with a complex process of chemicals to purify and refine harvested Litenium even better. As this process was too expensive to install in all Refineries, it was decided it would be focussed into a single structure, the Chem Plant.
A Chem Plant slowly generates income by continuously processing Litenium, and permanently boosts the income from harvested Litenium by 25%. The downside is that the chemical refinement process uses various corrosive agents that will contaminate the surrounding area upon destruction of a Chem Plant. Due to the technologies involved, only 1 Chem Plant is allowed per commander.
And with that, this update is concluded. It's a rather short update, text wise, but I may sneak in another update before this month's end if I can find the time. Dutchygamer signing off.