Hello everybody! This is the first post of my game, Front Sight. Front Sight is a multiplayer game with various maps, small and big. Bigger maps will include several vehicles. If the game goes well, in the future I might put a singleplayer story mode, too.
On this post I'd like to inform you about the work I've done in the past few months. Note: Everything is done by me, except the models and some animations. The game will have two teams for the players to choose. The Replicants and Shadow Ops. (Only the clothing changes). Front Sight currently includes the following weapons:
M1911,
Shotgun,
MP5,
AK47,
Sniper,
RPG,
M4A1,
Skorpion,
UMP-45, also
Grenades, smoke grenades, flashbangs and a melee knife.
Vehicles which are currently included are:
In the future I'm planning to finalize the weapons and make them work in multiplayer mode, since they now have too many bugs and make the game unplayable in multiplayer. Also I'm gonna make a leveling system, killstreaks, and classes with maybe some perks.
The current menu (video uses older one) is this: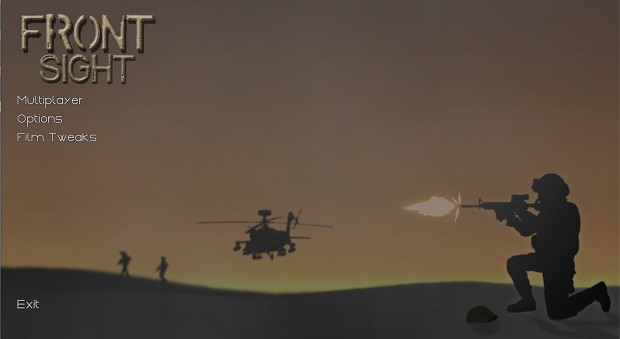 Here is a gameplay video. It shows one of the finished maps (mp_Hangar), the character selection and the weapon selection. For now everything is unlocked, in the future you will have to unlock certain weapons with levels and achievements. The weapons I've worked the most are the UMP-45 and the AK47, and that's why I only show these in the video. The rest of the weapons still need some modifications in the models and animations. They will be ready soon:
That's all for now :) Hope you enjoy and if you liked it feel free to tell me your opinion and follow the game. Thanks a lot!
Facebook page : Facebook.com
-Alexander