Hi everyone.
I know, I haven't updated this site for five months. I finally finished my military service 8th of January and I now have some free time to work on this project again.
Some changes have happened, UDK was released to public for free which made me change the developing platform from UE3 to UDK, so if the project comes ready some beautiful day, people can download it for free, thus not requiring a real copy of UT3.
Also, as I can't draw myself, I got a friend of mine to sketch out the characters for me. Those really help me in the modeling process.
So let me introduce first sketch, "The Lost One", drawn by J_: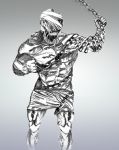 The Lost One
A chain whipping monster, he is one of the minions in the vampire's army.
Lost one is a tough character and slowest of all of the minions, but he can throw a chain which is wrapped around his body and left arm, and pull the villagers near him to bash and rip them to pieces.
I will upload sketches of other characters as soon as J_ draws them out, for you to see and c&c.
Thanks.
- n0ppa