Usually Sushi and the other devs talk about the development of the upcoming Freeworlds game mod release. I want to present something different. This article is about our forum modding. And if you talk about the forum, you talk about the Freeworlds community...
Freeworlds is a community of players from all over the world. As you can see from below players map, most locations are spread over the USA and Europe, with some other far away places. Obviously having to use English language on our game and forum server plays a role.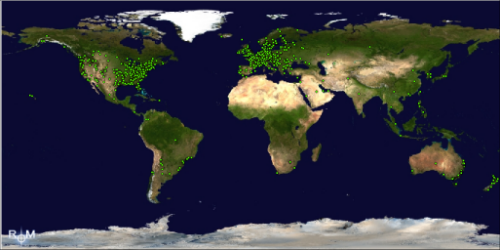 We have had many versions of the mod in the past 7 years. The new version that we are working on, called Freeworlds:ToW, will be situated at 13 ABY. The :ToW suffix is from two mods joining; Freeworlds and Tides of War.
The forums are just as important as playing in-game. There is some interesting role playing going on. And obviously the necessary off-topic fun. In the past year we have started to host the forums on a self-hired web server, so that we could mod the forums as well.
We started forum modding by making member lists that read the game server for the ships online, and update automatically. We made an auction house where anonymous pirates can buy fighters from other factions. And a bank system that uses the money on the ships and where players can make transactions, invoices and loans.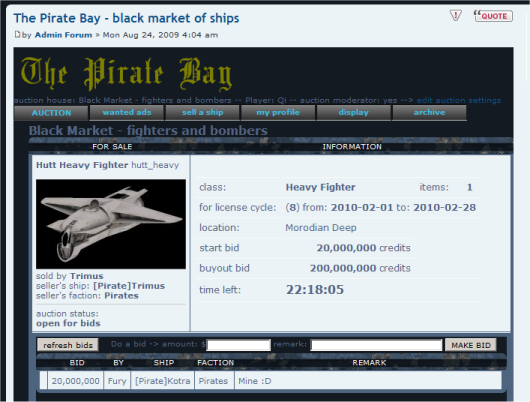 A forum-based auction house.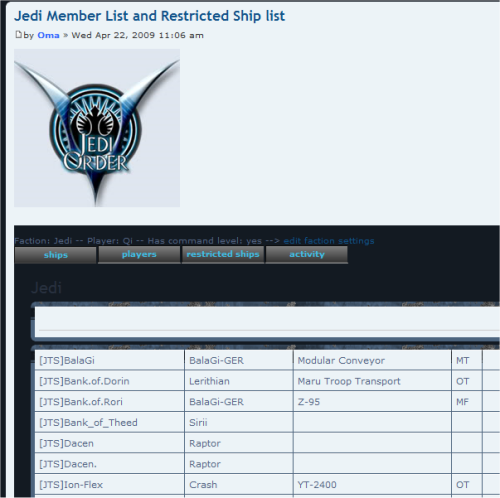 A forum-based memberlist. The ship names are automatically updated from the game server.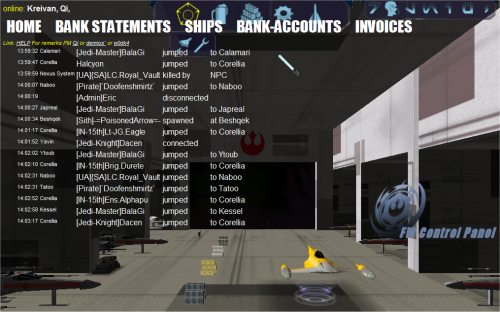 A forum-based bank system, is coupled directly to the ships on the game server.
These are just playful forum mods to try out the possibilities. Now that we know how to deal with this, for Freeworlds:ToW we have bigger plans.
Auction houses will be coupled to station stockpiles. Each station export and receive goods by the normal activities of players selling and buying goods, or delivering goods they loot or mine. The goods can be bought and sold on the forum-based auction house in massive quantities, only in the league of governments, as that are in fact our factions, governments. We will make economic offer-and-demand systems. For example, if a capital ship dies on a Territorial Engagement, it's construction requires money and parts. Those resources must be in possession of the faction before they can reconstruct the cap. If they don't have it, they need to trade in-game or contract others to do it, or purchase goods in the auction house.
Other ideas have been discussed. For example we always had rules for not allowing docking stations that were conquered by the enemy. Now we can actually set those stations to the correct reputation level, so that that cannot be docked physically.
Freeworlds:ToW is a multiuser mod. Therefore forum modding is an integral part of it.