Today we have a whole lot of exciting news to share with you: we have released a brand new content patch for you including new ships, new bosses, new upgrades, new achievements, and many small fixes all throughout the game. And to sweeten the deal, you can also get Roche Fusion for a reduced price for a limited time, so this is the perfect moment to get started blowing those colourful enemies to bits!
Read on for more information about what's new, and how you can win a chance to design your own in-game upgrade!
Content Patch - 1.1
It is hardly a secret that we have been working on the first free content patch for Roche Fusion over the past couple of months. A few of the highlights are:
two new ships;
two new bosses;
six new upgrades - of which two are completely player-designed - plus four unique upgrades for the new ships;
sixteen new achievements;
new variety in enemy patterns;
and infinitely many more explosions!
Check out the latest trailer to see the new ships in action, or jump in the game right now to give the new content a try.
For a full list of changes, check out the changelog.
We would love to hear what you think of all the new things. Make sure to drop us a few lines on our steam community page!
Balance contest & Leaderboards reset
With all the new content, there are many new strategies to pursue in Roche Fusion. We have been play testing a lot the last few weeks and balanced all of the new content as best we can.However, since we can never try out all the possibilities, we are asking you to help us find problems in the new balance of the game.

To do this, we are having a contest: we are allowing the two people who are on top of the leaderboards (single player; easy difficulty) for the two new ships - Lily and the Crab - and have also shared at least some feedback on either our forums or the Steam Community to design one upgrade that will make it into the game.
You are also free to put your feedback in a Youtube video or blog, and post a link on our forums or Steam Community. Bonus points of you post a screenshot of your game-over screen, or even record the entire game!
The contest will run until Sunday May 24 10:00 UTC. We will then announce the winners. In the meanwhile we will work on improving the balance of the game based on your feedback, and we will release an update soon afterwards. When the balance update is released, we will also reset all the leaderboards, so you can start anew with the battle for the top of the list.
For the full details on the competition, check the thread on our steam community page.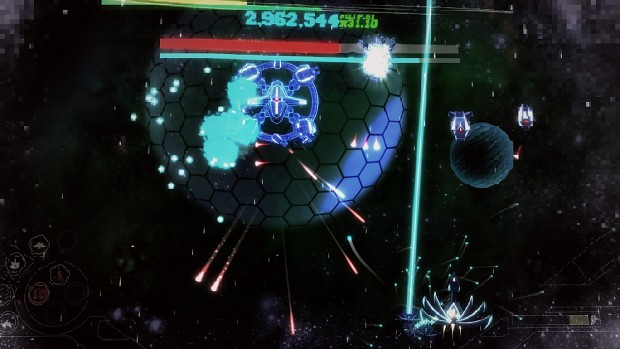 Trading cards & Sale
Starting from today you will be able to start collecting trading cards automatically by playing Roche Fusion. Collect all eight cards to combine them into a badge and collect emoticons and backgrounds to spice up your Steam profile.
To celebrate the release of Roche Fusion's first content patch and the trading cards, Roche Fusion will be available for a reduced price all week. All in all there has never been a better time to get started with Roche Fusion and/or introduce all your friends to the game.