Howdy everyone!
I hope you didn't miss our shenanigans too much, and if you did, well... We are back with a vengeance!
We have just returned from our trip to the USA to present Fray for the first time, to the press and other nice people. And their reactions have been overwhelmingly positive, confirming that we are on the right track in creating a great strategy game!
So here is the first part of our GDC tour debrief, full of joy and worries, as we travelled from the West Coast to the East with Fray in our luggage.
Before leaving for San Francisco, we had worked on a tech demo that would showcase how we modified and pushed the Unity Engine to fit our view for the game, adding a new Ambient Occlusion system, Volumetric Fog and Screen Space Global Illumination, just to mention a few. It was tough to cram everything in there and we had quite a few sleepless nights, but it was worth it.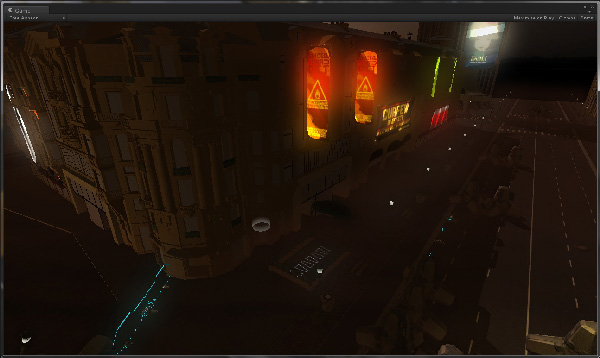 Raw output from Unity 3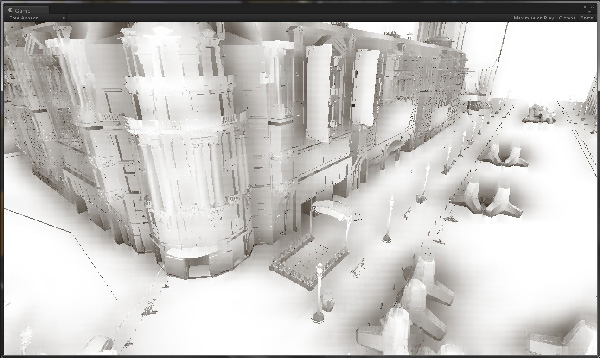 Screen Space Ambient Occlusion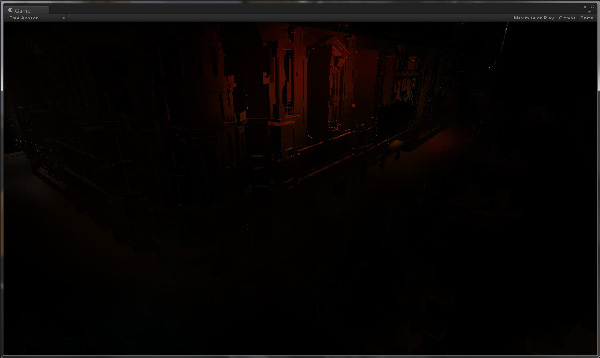 Screen Space Global Illumination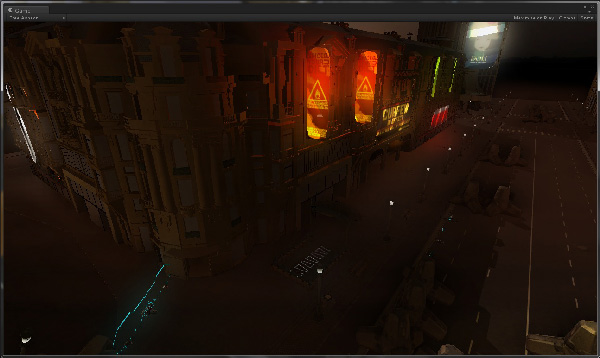 Final Output in Fray
Laptops packed, Press Kits printed, DVD's burned and our pockets full of candy, we were off to San Francisco, giddy as schoolgirls. Well, sleepy schoolgirls anyway.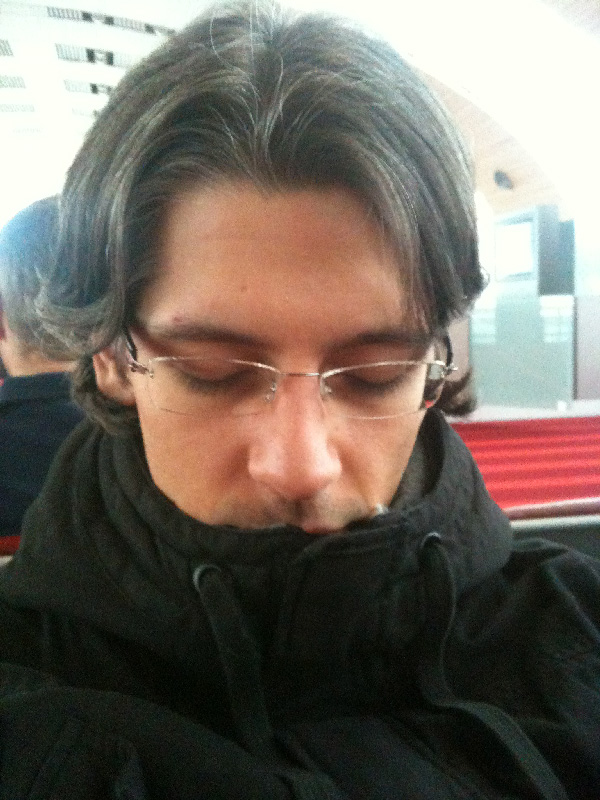 Max sleeping at the boarding gate.
After an 11:30 hour flight (not so long if you sleep ¾ of the way!), a few movies, bad in-flight food and good hard liquor, we were finally there! US of A! Land of huge cars, oversized hamburgers and Homeland Security! <3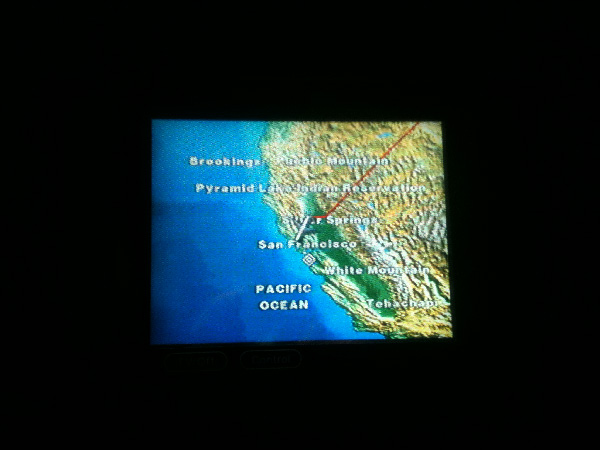 Time to check in to our hotel room, have a huge breakfast and we were ready to roll! The game still needed some work to look as planned, so we decided to grab a huge American breakfast before getting back to work. We invested our hotel room with all our tech, using the 40" flat screen as a secondary monitor and turning the place into a secondary office. I think we scared the housekeeping ladies a bit.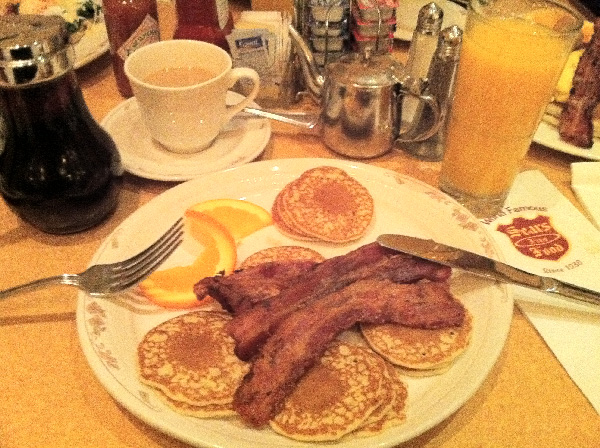 Nice and greasy american breakfast. Yum!
After a few more hours of coding, we were finally ready. The demo was complete, and we were anxious to show the game to the world for the first time. When you have spent such a long time working on something internally, even though you think that you have something cool, there is always the risk that you are just too deep inside it to realize that you are doing something wrong, and this would be our undoing... Luckily, this wasn't the case.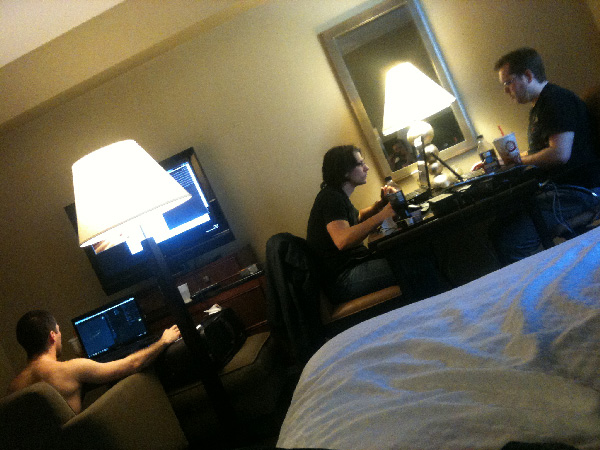 Hard at work in our hotel room.
But things just had to go wrong before we would realize this.
You have probably heard of Murphy's Law. It is typically stated as: "Anything that can go wrong, will go wrong". Well our first day of presentation was exactly that.
We arrived at Triplepoint at 8:00 AM, to prepare for our first 9AM appointment with Shacknews.
Triplepoint, our PR partner, has an office on 1st Street in San Francisco, just a 5 minute walk from the Moscone Center, where the GDC was held, and was perfect to present the game. They had prepared a room just for us, with a TV, a few seats, some coffee and of course, candy. All we had to do was come in and hook up our laptop to the TV. Easy, eh?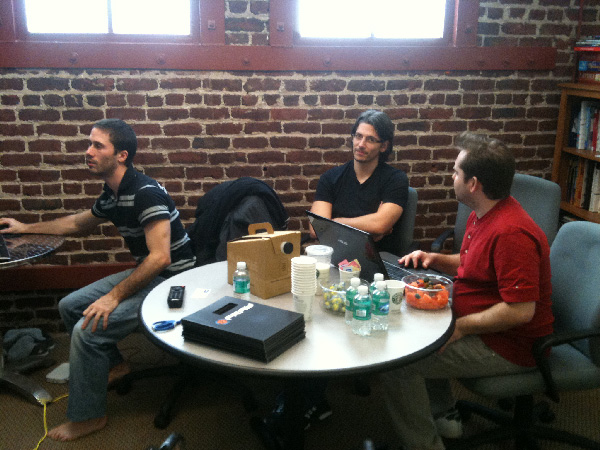 Our presentation room at Triplepoint SF
That is when things started to go awry. When we plugged in the laptop with the demo, a spark flew from the power adapter and fried it. This was 15 minutes before our first interview and we had about 40 minutes of battery (our Clevo laptop is a power hungry beast of a computer)... OK, that's enough for 2 interviews. Sam (our PR Rep) tells us they have a great gaming PC they can lend us, so we are a bit less worried, but when they actually show us the machine, with parts over 3 years old (core2duo, 2gigs of ram and a 8800GT), we knew that wouldn't work out with our uncompressed textures and un-optimized geometry.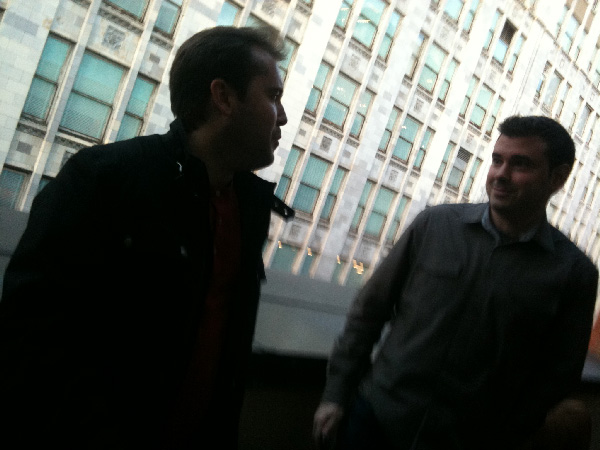 Sam, our PR rep (right) and myself (left) enjoying some fresh air
We first set out to rent a computer, but with the GDC show there, every gaming PC had been rented out long ago... Only solution, go buy a new one. So while I was doing an interview with the AFP without having an actual game to show, David (our lead GD) and Max (lead 3D) went to Best Buy to try to get a new PC.
They had to go to 3 Best Buys and finally found an OK gaming rig, if you changed the graphics card. They bought a GTX460 to put in the computer, as the one onboard had only 256 megs of RAM (my 5 year old laptop has more than that...) they come back half an hour before our IGN meeting and we decide to plug it in... Nothing. We check the power supply... 250W. Thanks HP! My electric toothbrush has more power than that piece of junk. Oh and to make matters more fun, the USB drive on which we had our source code was not recognized by the computer, and we had to send 8 gigs of data over Wifi... Fun times!
Robert about as low as our morale at this point.
So they were off, again, to buy a new power supply, while we were presenting the game at 5fps on a shitty piece of hardware.
So the first day was fun... But once we got the computer together, we had a solid framerate and managed to show the tech demo at a solid 40FPS.
We were able to present the game to IGN, PC Gamer, @Gamer, Gamespot, Games Are Evil just to name a few.
Everything ended up well and we treated ourselves to a HUGE dinner at Lorrie's Diner, and acted like tourists discovering the tableside jukebox.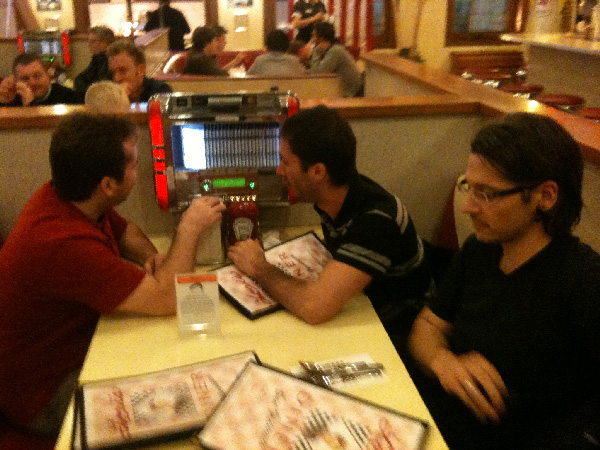 Brain Candy team enjoying a fine selection of 60's music.
You can read some preview impressions here on Gamespot: Gdc.gamespot.com or here at Shacknews: Shacknews.com
This concludes part 1 of our GDC trip round up, next time, we will discuss the rest of our San Francisco stay, and our trip to New York.
Take care !
===================================
Don't forget to follow us on our website for insider updates, goodies and future beta invitations: