Good news, my friends! A new version of the FODD mod has been released yesterday! Sooner than I originally meant it to, later than I would have liked, but released it was! Consider it my own Christmas gift to you, my friends! Happy Christmas!

Don't forget that sweet feedback! It's part of what makes this mod great, I received so much excellent feedback, it made me very happy!

Here's a little preview of the changes, it's a quite big changelog, trust me. Hopefully, just the prelude for far more and far greater!

Canada is strong again, due to bugs they have been nerfed and weakened for a long time. Well, the Royal Canadians shall not be cowed by anyone no longer! Move over, FUSA and Dark Cathedral, there's a new Mountie Commissioner in town. Is the Age of America over?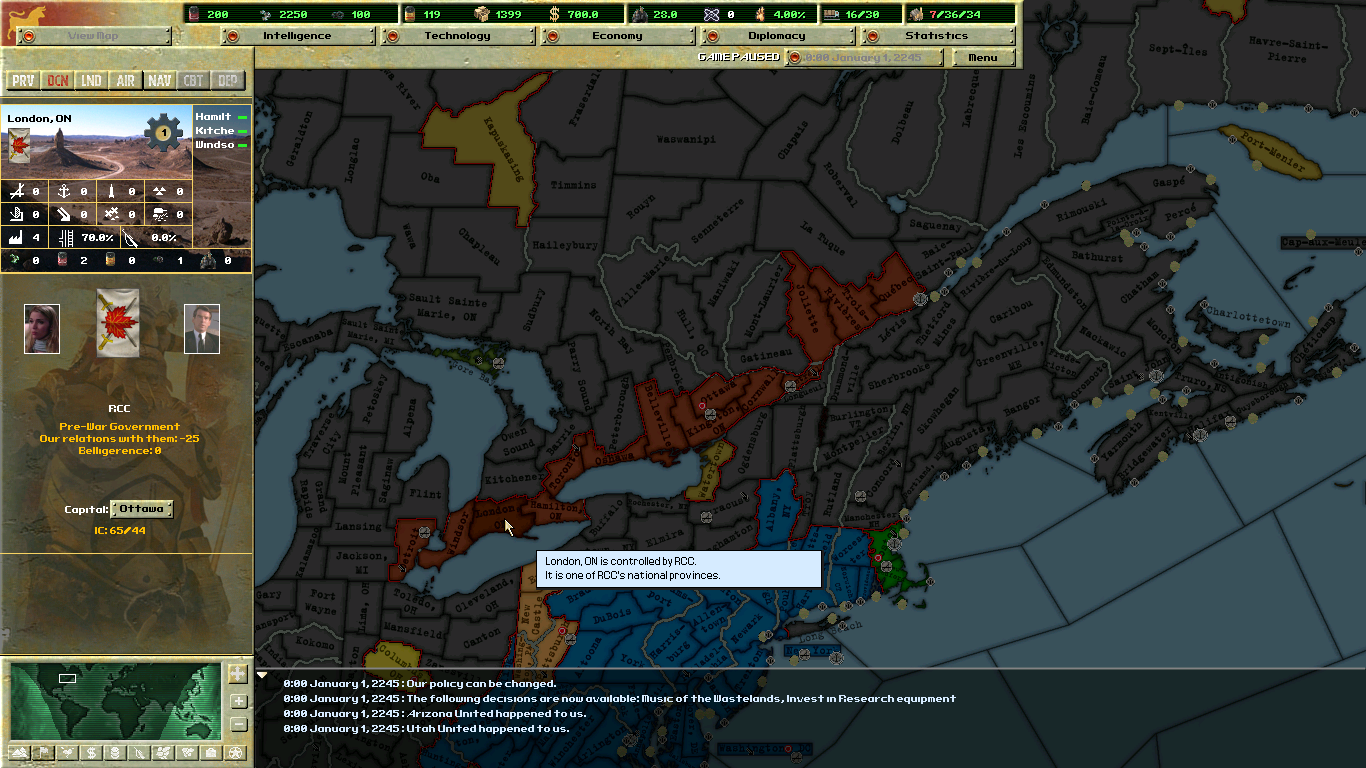 Certain Unification events, in states rich with precious metals, were giving money bonuses upon Unification, to represent their gold being mined. That was too unbalanced due to reasons, so now they give a bonus to the money from Consumer Goods! Especially worth if your nation has the right sliders to synergize with this bonus, but it's a good bonus nonetheless.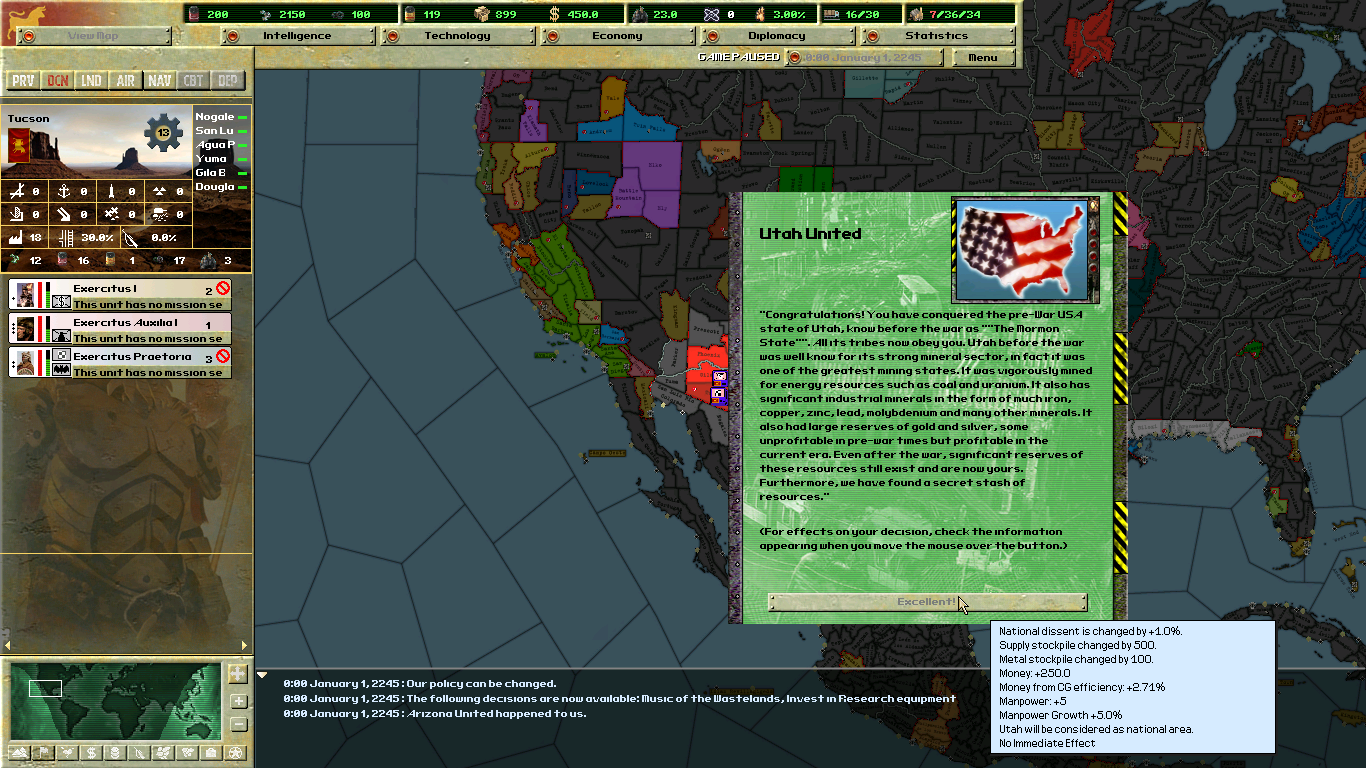 Notice the different text for the event as well. I'm re-writing many events, especially to account for newer lore. I have to thank many people with keen eyes who have helped me in this regard by pointing out the need for those improvements.


More famous_texts quotes because I really like them. What? I do! In fact, I have been keeping a giant cool quote archive to use in the mod, I have so far only used like 1% of them in this version. In fact, some of those can be pretty profound and even inspiration, or just damn funny.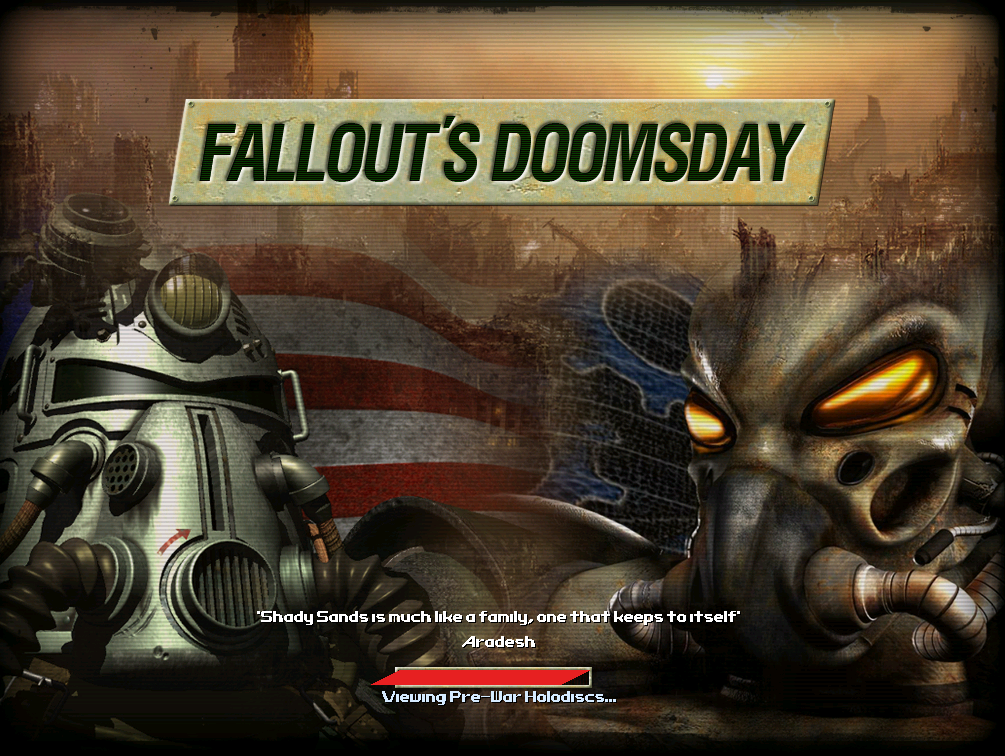 Guess who has End War events now? Pretty much everyone!
In fact, expect quite a few surprises once the End Game begins!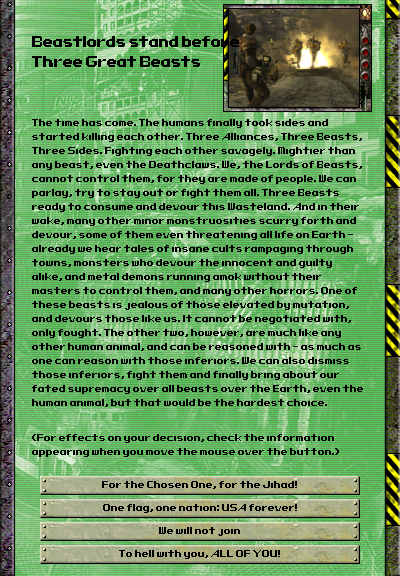 Did I mention you can now, with pretty much any nation, stay neutral, or become a Wildcard, tell everyone they can go to hell and then take on the three big alliances at once? The AI can do it too, so beware!

Well, what are you waiting for? Look at those Lawless Wastelands! They require someone to bring Order and Law to them! Go forth and conquer!

Are you their Conqueror, Liberator or Destroyer? That is up to you in this mod!


Download Link: Moddb.com

Remember, the mod now has a Discord, thanks to the excellent Darth Nihilus (Pope)! Here is the invite: Discord.gg
Drop in for some talk with fellow Fallout fans, or even multiplayer games - The Boys have been planning one for a while. Get in before someone steals your favorite nation!