Over the past few months we have been mostly working on aesthetics, these include things like our new world flashlight, modified animations, new and rerigged models, and other small updates.
Before our world flashlight update, when another player used their flashlight you would notice a small beam of light, and if they were aiming correctly, a small blob of light that can't go very far in front of them that lit up the ground.
After our world flashlight update, your partners flashlight shows up almost just like your own flashlight. Now when we add in our "flashlight or gun" system (to some guns), your partner can help light your way!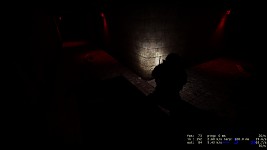 (Other player using their flashlight, aiming at the corner to see how it blends in)
One of the biggest accomplishments in the past few months though is what we advertise in our mod description. Modified npcs. Not only do these include animations, and models, but also their abilities. We have a surprise npc fully coded that we can't wait to show you in use!
(If you can't tell what's changed in this zombie rig, it's in the arms.)
(Showing the newly rigged player model [Currently an unmodified SAS from CS:S.]
What is also included though, is npc animations.
This allows us to make cutscenes and scripted events
using all the animations seen in hl2 and more!)
We hope you enjoyed our news update, and look forward to more. We would like to also let you guys know we are still recruiting the following:
Modelers

- Email: At least two examples of models you have created.
Note: The models do not need to be textured or UVW unwrapped. But it is a great plus.

UVW Unwrappers

- Email: At least one example of a organic and/or non-organic uvw unwrap.

Texture Artist

- Email: At least 3 textures you have created. Being able to work on hud graphics are a huge plus. Note: The textures can be for models, in-game wall/prop use, hud textures, or even reskins of already made models.
Email all applications to alters@alters1.com