A breakthrough occurred. Red water, broken GUI and displaced waves now are a thing of the past in 0BC.
There have been more severe issues than described in the related 0AD trac ticket though. This other GUI related issue has not yet been reported as to my knowledge but I've had to deal with it already while being an active modder of the 0AD community and it requires to restart the game. Nevermind, we now could fix it.
After in depth analyzing Philip's recent render optimizations it could be concluded that his changes are a very significant improvement and not the cause of the issue at all. (How could it be different, Philip is the mastermind of 0AD, it's a legend as alpha123 once correctly stated).
When debugging the water it was also found that wraitii has done an amazing job once again and that he really deserves to finally be paid for his work despite wraitii rejecting the money himself (he be honored!, the community should really praise wraitii more for these epic water works!).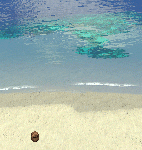 The high quality water (foam, waves) was developed over a short paid development period by the 0AD coder wraitii. And if we consider the overall contributions by people like wraitii and Ykkrosh/Philip, then it's really been due since long that these people get rewarded for their work. That's why I once proposed a reward system for 0AD, when I still was an active 0AD community member (because 0AD still not knows what to do with their fundraiser funds!).
There's still hope, 0AD wakes up again. (Despite the different vision of 0AD, the 0BC team still admires 0AD and the tremendous efforts put into making it what it is: epic.)
Upcoming Animation Rework
Let's continue development in high speed to make the time machine happen. Next is the Animation rework, almost finished already. Stay tuned! With it comes epicness like transition animations, which allows units to mount and unmount on a horse - or to draw a sword animation!
For this update, Radagast will try to create a video demonstration (or you think animations are not all about moving images? :).