Overlordess concept art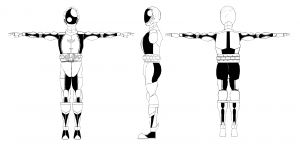 Ov model sheet drawn by our newest team member, MasirO. There is much more to the character, but we will probably talk about her in future news. For now we leave you with the drawing. ;)
Traps
Unlucky has provided us with new traps as well as renders of some old ones, while MasirO has finished concepts for the Pigeon and Devourer. A couple of pictures with short explanations follow.
Pigeon: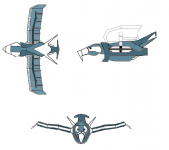 This flying nuisance just homes itself at the nearest rebel and carries out a suicidal attack, you can see the rocket engine where the bird's tail should be. The pigeon is full of explosives which are enclosed in its metal body. Handy offensive tool but can also be shot down.
Devourer: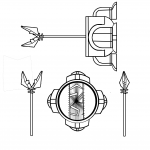 A huge mechanical jaw which, once it finds its target, opens releasing a grabber. Any unlucky fellow who gets in its way is grabbed in and slowly pulverized. Can also be cunningly used as a relocator.
Laser: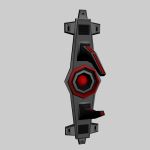 Pretty straightforward, an area denial trap which deals massive amounts of damage if anybody moves into its beam.
Mine: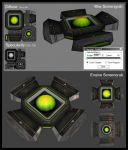 Explodes when you move in front of it, not necessarily when you step on it. ;)
Fan:
Rotates, pushes players and objects. Useful to push off ledges or move into other traps.
Unstealther: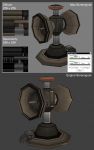 Its primary role is to strip the invisible rebels of their invisiblity, but also emits a low-pitch distracting sound. Useful to cover any other traps around or to annoy anybody near it.
We've also been recently adding a couple of more features which are going to be tested soon, one of which is an Ov health gain as the map progresses, therefore forcing the rebels to move quickly as every second gives their foe a specified amount of health. Those variables, though, can be set by a mapper.
In addition, we've been thinking of making use of the forum feature in the future as we're currently too occupied with the mod to go for a proper site. We'll see about that though, you can always tell us what you think in the comments. :)