Last month we were super exited to see Human Error as a nominee for Editor's Choice - Best Singleplayer Mod. We would like to thank Moddb and all the judges for considering us.
First ever weapon render
Today is a big day for Half-Life 2: Short Stories. Today we are having our first ever weapon render! We didn't really have any custom model weapons in Human Error, so the fact that we can finally release a screenshot of an unskinned weapon means a lot to us. While Water wont be using the weapon herself, she will certainly be shot at by it.
First ever taco render in any mod
And that's not all! Here's first ever taco render in any modification While tacos are not edible and don't have a big part or function in the game at all, we are still proud to be the first. Disclaimer: we didn't really check if there ever had been a taco render in any other mod new post.
New effects
We have also been working on the puzzles and the visual aspects. Here's a new effect we are experimenting with. It allows us to draw Water and other important models coloured while the rest of the world has grey tint to them. The effect is only enabled while the player is above the water surface.
Musician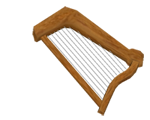 Water is looking for a musician to take responsibility for creating all the music for the mod. This would be no small task, as the music would be playing continuously and dominating the sound. Different music would fade in and out dynamically depending on the situation the player is in. We are using FMOD to make things easier for us.
Concept Artist
As our previous concept artist Matt is no longer active we are looking for new ones to help visualize some of our characters as well as enviroments.
If you are interested in joining the team, even if it's not for either of these positions, let us know. We like to keep our team as small as possible, but even small, one feature contributions are possible. Contact us here at Moddb.