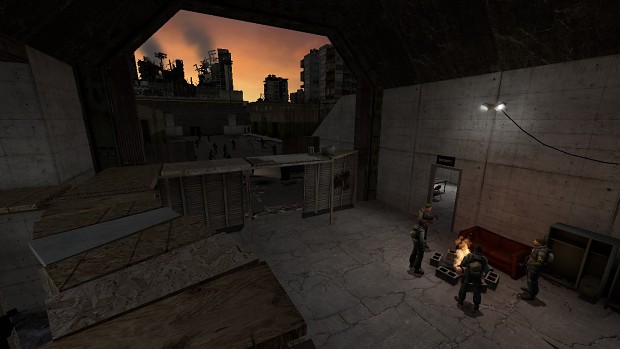 After a much better release than I anticipated, I have returned with fixes! Perhaps the biggest issue for most people who played the mod was that the zombies became passive. That was the worst issue the mod had, and it was fixed in a grand total of ten seconds; so in terms of release problems, I don't think it could have gone better. I also copied the various bug lists that people provided me and worked through them as best I could, so quite a few problems the mod had are gone now.
Also, to see the mod have an 8.9 rating is incredible. To be quite honest I wasn't sure how the project would be received with so little actual gameplay. But it seems my faith in the community wasn't misplaced as everyone seemed to understand that this project, despite being a year old, is still in its infancy. I have some interesting features I'm working on right now for the next update, as well as a full tutorial on how to set up Hammer for Zombie Colony.

Just a quick note: this is not the full mod. You simply need to extract this over your current install, and let it overwrite the files it wants to. If you don't have the mod yet, download the full release, then install this over it. You do not need to restart steam for the update, simply overwriting the files is enough.
Change Log for version 0.1.2:
Fixed zombies breaking into old models

Fixed zombies not attacking players after the first wave

Shotgun fixed itself

Crowbar no longer has ironsights

Game no longer crashes if zombies can't find a base- they attack the players

357, Pistol, SMG, and SCAR no longer fire giant crossbow bolts

AR2 and pistol ammo should no longer auto-pickup

Zombies now spawn all around the players

Fixed rebels wandering away from the camp and not going back to guarding

Grenade no longer auto-switches