I've been busy adding some pre-polish to the game in order to submit Trapped in the Sky into the Intel Level Up 2015 competition. To celebrate this milestone I've made the demo submitted to this available for all to download.
Intel Level Up 2015 Entrant
What's in the demo?
The demo is fully playable and contains all the core mechanics that are destined for the final game:

Character Selection: Only one character type can be played. The final game will offer the player the option to play through as one of six crimes.
Random Map Generator: The map is randomly generated, but only across a single floor. The final game will generate multi-storey maps.
NPC A.I.: The A.I. is currently very crude. So while they will navigate their way around the map and react to the player's movement, there is a lot of improvement needed.

NPCs: Only one NPC is in the demo; prisoners. The final version plans to have six types such as Guards, Crew and Cargo Bay Drones.

Weapons: Only one weapon is in the demo; the hand gun. The final version plans to have four types such as an automatic rifle and s hot gun.

Section Decay and Repairing: Sections randomly fail over time and players can repair them by using the items they collect during the game.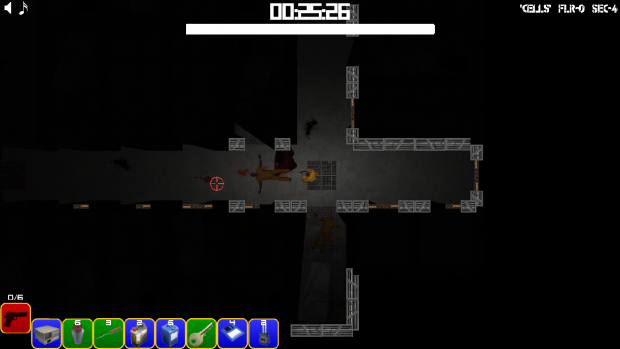 Here's a video of a slightly earlier version of the game with me explaining the various elements.
What's next?
In a word - content. The demos are basically missing a lot of the content intended for the final version so the short term goal is to generate all the missing bits:
Six section types:
- Prison Cells – in demo
- Cargo Bay – in demo
- Escape Pods – in demo
- Guard Accommodation
- Engineering
- Bridge
Four weapon types:
- Hand gun/Pistol – in demo
- Automatic/Rifle
- Shotgun
- Tazer
Five NPC types:
- Prisoner – in demo
- Guard
- Crew
- Cargo Bay Drone
- Doctor
All feedback is appreciated.