Hi all! Finally! Finally, finally, finally Olvand v11.0 violet is finished and submitted to Desura. And what is Olvand Violet about? If you have been following this blog for the last few weeks, you know this, but in case you missed it: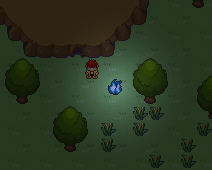 Caves! The new video by Deadpepper5, [currently no 8 in the highscore], shows it pretty well I think:
Too bad he got a boring cave; I promise there won't be any boring caves in the next version :).
My plans for the near future:
* Once Olvand violet is released, my plans are to invite three new groups of hundred playtesters.
* After that, I want to send a reminder email to all people already in the player database. I've never done that before, so I'm curious to see what will happen.
* Work hard on the next version!
And in case you're interested, here's the changelog:
ADDED caves, with monsters to fight, chests to loot and olbs at the end
ADDED quick olbs, a new type of olb
ADDED an olb menu, to see which olbs you already found
ADDED a new music track, to hear during the night in the forest
ADDED cricket sounds during the night
ADDED buckets can now also be created from the combine menu
ADDED buckets to the big book of crafting
ADDED a lot of internal handles, so the game can also be served from a Linux machine
ADDED a new introduction screen about olbs (only seen when playing for the first time)
ADDED a new sound effect and notification when you find a new olb
ADDED hover messages to olbs
CHANGED a lot more caves and rock formations are now seen in the overworld
CHANGED not all kinds of olbs can be found in the overworld
CHANGED 'I'm a lumberjack and that's okay' is now 'I'm a lumberjack and I'm okay' (got the reference wrong)
CHANGED health bars floating above players' and enemies heads are now one pixel wider
CHANGED the design of the achievements tab
CHANGED the healthbars of monster appear automatically when you hit them
CHANGED you automatically go into health bar mode when damage is done
CHANGED a lot of the internal organization of the code, making future development faster
CHANGED buckets can no longer be created from the menu buttons
CHANGED hitting escape no brings you to settings tab
CHANGED all olbs have much longer cooldowns
CHANGED Olbs no turn grey when they are cooling down, and gradually get back their colors
FIXED tshirts, robes and blouses are now visible again when other players are wearing them
FIXED dyeing no longer makes the server crash and restart
FIXED guns no longer disappear if you start pulling a cart while having the gun equipped
FIXED the lag that occurred when a flying olb had a lot of possible things to collide with
FIXED the lag that occurred when the light map was recalculated\
FIXED the countdown numbers you see on olbs when they're cooling down are now always in the middle
FIXED olbs now float to their target in a straight line
FIXED a glitch where you could keeping moving while frozen
If you want more development, see [twitter] or [facebook]. If you want to be a tester, you can subscribe on [olvand.com].