Hello and welcome,
What is Battlefield: All in One ? Battlefield: All in One is a mod which merge Special Forces into BF2, increase bot number to 64 and add support for all maps.
This means:
- You have now 64 Bots (32 vs 32) in SP > more Action > more Battles > bigger Wars!
- You can play almost all maps in Singleplayer in almost every size. Some maps have not all size support, for example there are maps which have 16 and 32 support but no 64 size support in SP (Thanks to xstax981)
- You have BF2 and Special forces into one. This means: Factions, Kits, Maps (with SP support, thx to xstax981) and all the SF Stuff are now in BF2 integrated. This means for you: no more need to switch between games when you want to play Special forces.
- All Vehicles have Botsupport. This means: Bots will use all vehicles available on the Maps (Thanks to xstax981)
With the legendary 1.5 patch which gives you the booster packs for free + this Mod, you have all BF2 into one merged.
There are no new effects or anything. Everything is vanilla BF2 nd vanilla BF2 Special Forces, so do not expect any new factions, new sounds etc which werent in BF2 & SF before.
Requirements:
- Battlefield 2 patched to version 1.5

Credits: xstax981 for SP/Botsupport for Vehicles & Maps.
Screenshots: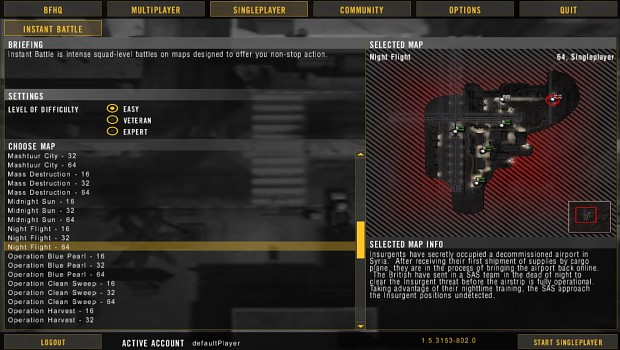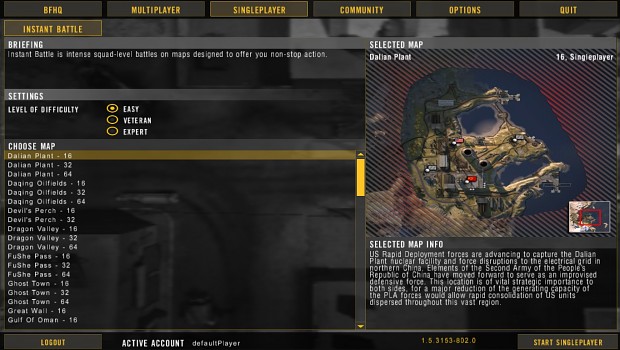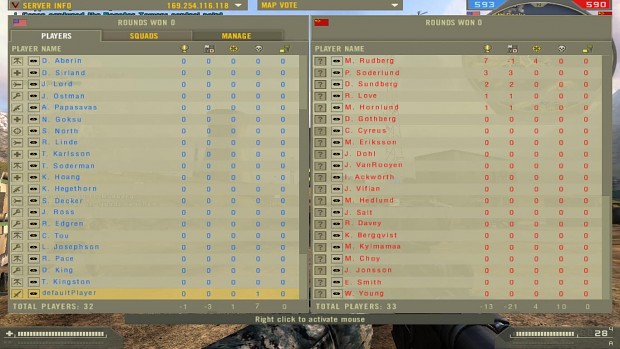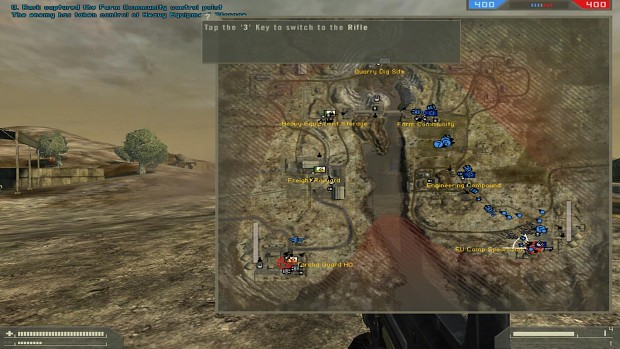 Installation:
To install this Mod, put the "allinone" folder into your battlefield 2/mods folder and
then you have to download and install the Levels. the Levels folder, you put it into the
"allinone" folder, means battlefield 2/mods/allinone. Thats it.

IMPORTANT:
Maybe you will either have a CTD (Crash to Desktop) or Shaderbugs when playing this Mod. There are
2 solutions:

- The First solution is to use my shadercache (but Settings must be all on high i think) from the
"my shader" folder which is included. You put the "mods" folder which is located in the "my shader"
folder into your Documents/Battlefield 2 folder, where your profile settings and screenshots are
located.

- The Second solution is to remove the shadercache. You do this by removing the mods folder in the
Documents/Battlefield 2 directory, where your profile settings and screenshots are located.
After you removed them, launch my mod, edit your graphic settings how you like to have them and then
load a map.
ADDITIONAL:
If you want different Botnumbers, then you can Download my BF2 Botnumber collection which includes:
16 bots (8vs8), 32 Bots (16vs16), 64 Bots (32vs32), 128 Bots (64vs64), 250 Bots (125vs125).
INSTALL: Select one of the botnumbers you want to have ingame. Then copy the file "AIDefault" from the folder of your selected botnumber. Paste & Replace it in EA Games\Battlefield 2\mods\allinone\AI.