Hello IndieDB
This is our game Fields of War. We're working hard on making it better.
This is what we have now:
General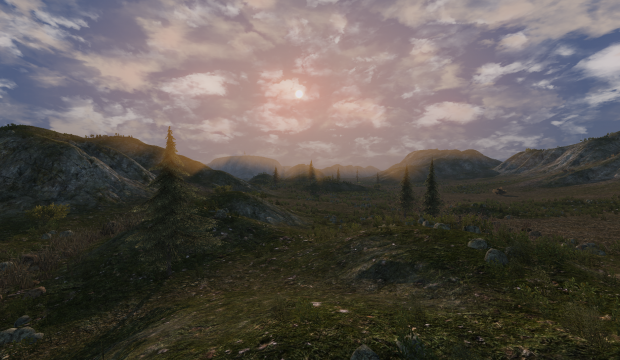 Fields of War is a massive multiplayer third-person-shooter focused on large scale battles, territory control, skill and most importantly team play.The players are divided into two factions, North and South, coming from different climates and landscapes, and fight over control of the entire land. Fields of War will be available for Windows, Mac and Linux.
---
The World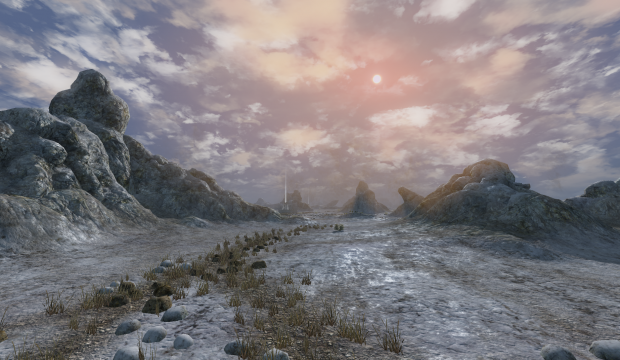 A persistent world, hosted on our servers.
Up to 200 players per instance.
AI bots replace absent players.
Full dynamic day-night cycle.
Two distinct landscapes, offering strategic gameplay.
---
Game Mechanics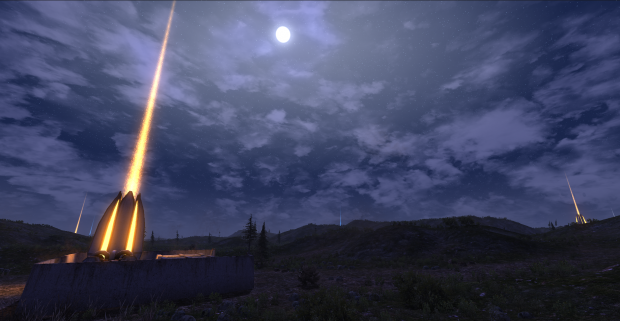 The world is divided into territories, represented by cores that are connected to each other. Capturing linked cores expand the faction's control of the land.A core can't be captured by a faction unless it's linked to that faction's main core (HQ). All cores that are somehow connected to the faction HQ are part of the faction's Core Network. Players can transfer quickly between cores in the Network.While a core can't be captured unless it's linked to the HQ, it can be taken from the other faction, thus potentially breaking their network. Once a core is not linked to a faction's core network, it becomes 'neutralized', and players from that faction can no longer transfer to it. An entire sections of the network can be taken down by neutralizing just a single core.

---
Special Fields
Besides regular field cores, which are used to take control of the map, there are a few special cores. These cores give every player in the faction that controls them a special skill:
Beacon

The Beacon field gives every mech in the faction that controls it the ability to become a beacon to which other mechs can transfer to, much like a mini, mobile, field core.
Lockdown

This core gives all mechs in the faction that controls it the ability to temporarily lock another core to their faction, preventing loss of control of that core, even when it was broken from the faction's network.
Radar

This core allows all mechs in the faction that controls it to call for a radar sweep on the map, revealing the positions of all enemies for a short period of time.
Resupply

This core allows all mechs in the faction that controls it to immediately and completely replenish their ammunition, where-ever they are on the map.
Retreat

This core allows all mechs in the faction that controls it to transfer back to their faction HQ no matter where they are on the map.
---
Classes
There are currently five mech classes, each with a unique skill set and play style:
Artillery

The Artillery mech sports dual 155mm cannons and a powerful long-ranged missile. A slow but powerful mech, it is designed to rain death on it's enemies from afar.
Demolition

The Demolition mech Specializes in use of various rockets to damage and immobilize the enemy. The Demolition mech also sports a powerful rocket engine that allows it to leap out of danger, or catch up to escaping enemies.
Engineer

The Engineer mech is capable of performing field repairs to friendly mechs. The Engineer can also use it's repair arm to construct a powerful field turret to guard an area from enemies. In addition to these, the Engineer is capable of using a tractor beam to pull itself towards an area or another robot - friendly or hostile. Two gatling guns deal damage with an extremely quick rate of fire.
Infiltrator

The Infiltrator mech is an advanced piece of technology designed for scouting and assassination, the Infiltrator is capable of becoming invisible, confusing it's enemies and taking them out with advanced electronic warfare.
Tank

The Tank is the heaviest and slowest, but able to teleport itself in or out of danger, as well as deploy a defensive shield to survive even the toughest fights. The tank is able to take out enemies from afar with powerful railguns or jump into the fray with a devastating overcharge.
---
Customization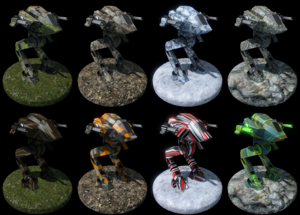 We implemented a robust customization system, allowing full control of the mech's appearance.Camouflage patterns and colors can be altered to create virtually infinite possibilities so each mech is unique.