Well it's about that time again, another update from the IE team.
This month we have a couple things to show you. First, we have an announcement about the website. The Iron Europe site is getting a bit of a face lift. Our members Miro! and Tech have been working it for the past couple of weeks now and we hope to have it ready soon. Please drop by to take a look soon.
Next we have a couple of renders to show you. Please note that everything you see here is a work in progress. There's always the possibility for us make something better, so weapons you see now might be reworked later on.
The first piece we would like to showcase is the cricket ball grenade. The in-game description for the grenade can be seen below.
"
The No. 15 Ball Pattern grenade, more commonly known as the Cricket Ball grenade, was introduced in 1915. Due to the shortage of grenades the No. 15 was a simple design allowing for ease of production.
The fuse was friction ignited and had a lead cap to prevent it from getting wet. In order to arm the grenade, the lead cap would be removed and the fuse would be lit, either by the standard method of striking the fuse against an armlet, or by the less traditional method of lighting it with lite cigarettes or pipes. The thrower then had 5 seconds to get rid of it.
The grenade itself was judged to have to much explosive powder and being too big overall. And while the Cricket ball served well in drier theaters of combat, on the Western Front the lead cap proved insufficient to protect the fuse from the damp conditions, leading to many unusable grenades.
The No. 15 quickly fell into disfavor, and while it had limited success in some theaters, its brief run was replaced by the famous Mills Bomb."
-CrazyThumbs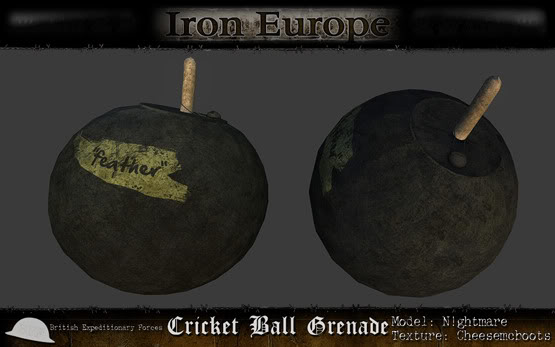 The next piece of media is the SMLE Mk III. This will be the main weapon of the BEF infantry forces.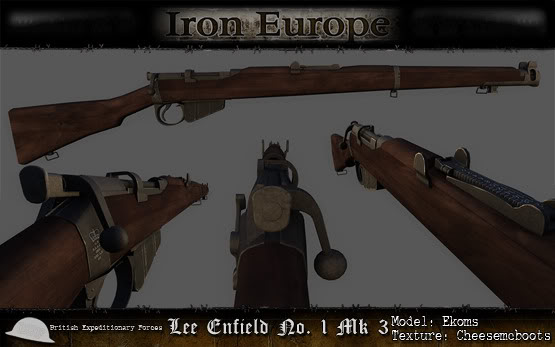 We hope you enjoyed this media update and look forward to hearing from you. If anyone is interested in helping out the mod in any way, please drop by our website and drop us a line.
-Iron Europe Team