Who are we?
Currently we are creating a game called 28 Carrots Later (28CL), at the moment we are all students without professional experience in the area of Game Development, however we have a strong passion to learn and will, with the help of this project gain a better understanding of how things within the game industry work.
We've chosen to create a parody of one of our favourite games (Left4Dead) with our own little take on things. We are releasing this as a free game without any profit for ourselves as we feel involving money on our first project will lead to unnecessary pressure to deliver a Grade A game.
Anyway down to 28CL, we've made quite a lot of progress within the game and our team is now full of eagerness to get cracking at making it. Jo Fripp has been hard at work creating objects like buildings and windows for the first map we have designed and on-top of that she's also been coordinating our concept artists with work to complete for the game, whereas I (Dan) have been working on underlying AI for the game in an attempt to get the creatures following the player in some sort of sensible way without running into walls, to this extent I've got it mostly working with the exception of crowds running into each other.


---
Some eye candy!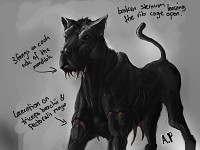 And we want to show it off, we've had a great response from everyone wanting to get involved in 28CL and sadly we've had to start turning people down because of the amount of people (We don't want to get too many on-board will make the project complicated, nothing personal!) however we now have our core team together and after a couple of weeks of frantic preparation and tweaks, we have something to show!
I have attached some photo's and I would like to say before we get any judgements that we are still in the process of tweaking things and the graphics will change and this is by no means the final draft for a map.
---
Plans for the future
We are continuing with development of our artistic side of the project before continuing on the programming side. This allows us to make sure we have the right "feel" for the game before we start getting to heavily involved in the programming and find ourself stuck in a certain style.
Now that our core team is together, we can hope to get some good progress on 28CL and hopefully have a demo released as soon as possible!
---
The Team
Danny Goodayle (Project Lead, Programmer)
Jo Fripp (Artistic Lead, 3D Artist, Concept Artist)
Alex Peralta (3d Artist)
Mark Kuykendal (3D Artist)
Andrew P (Concept Artist)
Shawn Norwood (Weapon Concept Artist)