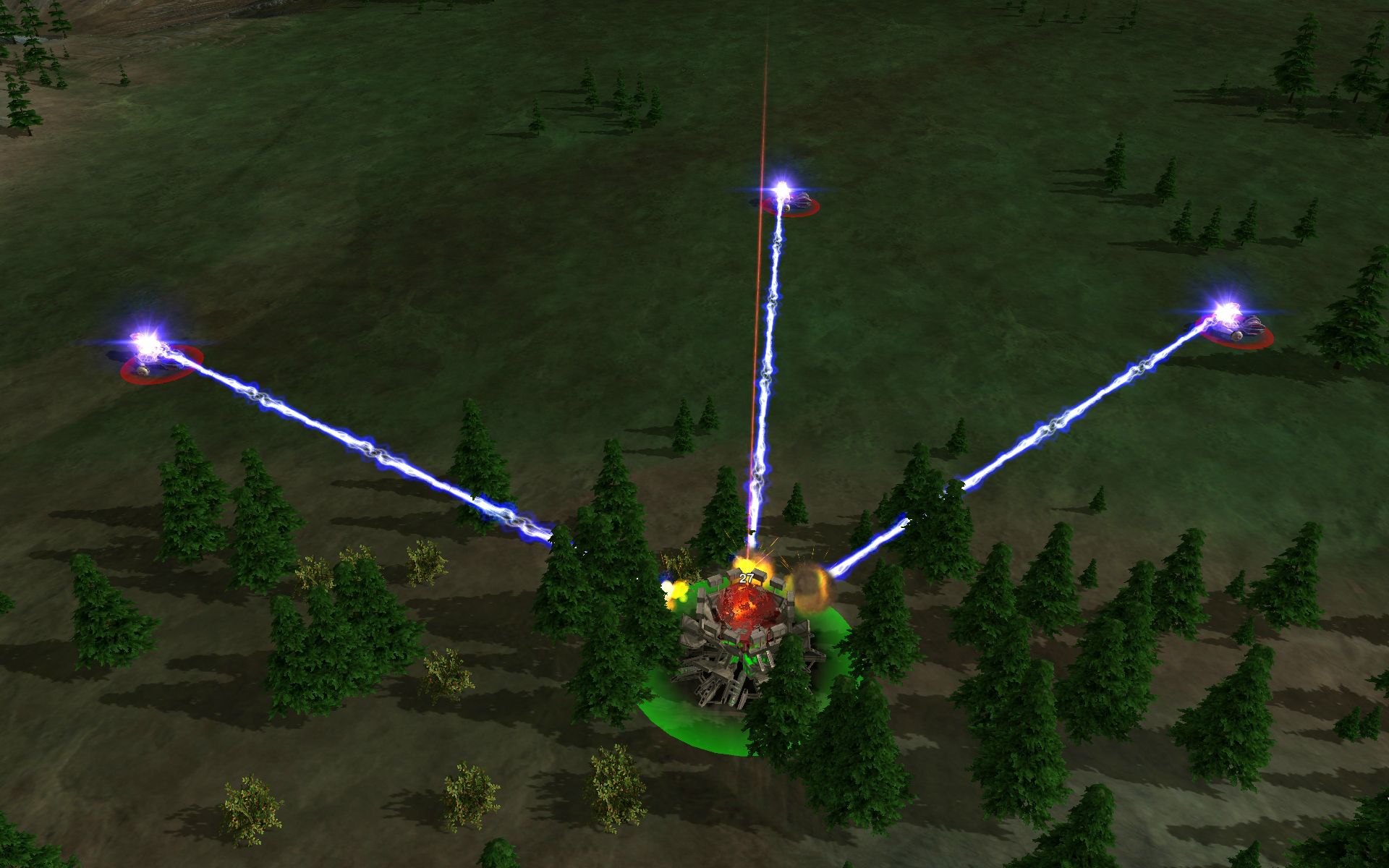 This version has been in the works for many months now. It involves some pretty significant game changes. First off, big thanks to Google_Frog and Godde for ideas, and especially to Godde who has been helping me test this over and over and over.
The most significant changes are as follows:
Armor system completely revamped
It is now broken up into 3 categories. Light, Armored and Buildings. Every unit with a weapon is given certain damage boosts vs an armor type. Make sure to check the unit descriptions (mouse over them ingame -- It will be a few days before I have the wiki updated) for their armortype and what group their bonus is vs.
As you can imagine, this simplifies the gameplay a LOT. Hopefully everyone has an easy time adjusting to this change.
Metal Makers embraced into the overall economy
That won't make much sense to most of you, but basically what it means is that metal makers are now designed to actually be built under normal circumstances.
The actual changes are:
Cost: 20 Metal (same as metal extractors)
Energy Drain (While producing metal): 10 (so, 1 fusion will continually power a single metal maker)
Metal Produced: 1
So essentially -10 energy and +1 metal (the equivalent of 2 metal extractors).
There is also a helper widget included which will attempt to keep your energy reserves at ~50% (by toggling the Metal Maker on and off... can be overridden by manually turning the metal maker on and off).
Constant metal income reduced to 0.5
Previously you received 1 energy and 1 metal income regardless of anything.
Structures metal cost raised
To appropriate levels. Also, economy scales somewhat differently as a result.
Unit cost gap reduced
Meaning that before, there was roughly a 100 difference between the cost of units. That gap has been reduced to 20. Meaning that a light raider costs 20, and a fatso costs 40.
Various units forced into their roles
For example, turrets. The light turret is only good vs light units, the heavy turret is only good vs armored units, and both are terrible vs buildings.
Fatsos and Anvils are also similarly set within their roles of baserape.
Weapontype on amphibious raider (buggy), amphibious tank destroyer (razor) and amphibious artillery (splitter) changed to a continuous beam
And it looks frigging awesome too.
Riot tanks have been given an area of effect, pass-through emp weapon
In other words, giant frigging paralyzer of pwn. Takes a little bit to get used to how to use it the most effectively, but it's a lot of fun.
Pass-through meaning that it will go through a group of units, striking each one on the way through. Best defense vs this is to spread out your unit groups. Unit's clustered together will have a lot of trouble from riot tanks.
Turrets no longer require power to function (or be built)
This should be a pretty welcome change to most, as turrets were a pain to deal with a set up. Beware that turrets also cost more now, and are very specific to their purpose. Surrounding them with barricades will significantly increase their lifespan.
Power requirements dropped for most things
Factories still need power to build units, Nuke silos, lrpcs, etc still need power, but many of the more basic structures have been freed from this requirement.
Engine updated to version 91
FINALLY! The bugs in version 89 drove me insane, leading me to come to the following conclusion.
Evolution RTS on Desura will no longer necessarily follow engine releases. It will use the most stable build available. For those of you who don't use Desura but do use ZKLobby, this will not significantly effect you. For those of you not using multi-engine enabled lobbies, I am sorry, but I will no longer be held a slave to a broken engine version. This does not effect Desura users at all!
Well that covers most of it. I am sorry, but it may be several days before the wiki is updated. It is a lot of information to re-write. Sorry for any inconvenience.