Version 1.108 is ready for download and includes new warp effect textures, new 3rd person view mode, updated planet positions, and new mod options. Here's a list of the main improvements to the game:
- New warp tunnel textures for jump drives and gates.
- New 3rd person view added, current target perspective.
- Autopilot now automatically controls jump drive for long range/deep space travel.
- Custom city object system now supports separate custom textures (rather than being linked to ships).
- Stations without names will now display their ID number rather than no data when hangar fees are paid.
- Higher frequency of mission participation from Alliance military spacecraft in war zones.
- Separate custom cities can now also be included for each planet in the game.
- Issue with an error message while changing music setting in-game fixed.
- Fix for the mouse-over display showing the wrong planet economy type.
- Multiple cargo object entities (container sets) per sector now supported.
- HUD highlight brackets added for cargo containers not being scanned.
- Version value and check routine added to universe data file system.
- Engine exhaust effect updated for a more centralized appearance.
- Fuel burn rate better calibrated (overall lower burn rate).
- Fix for custom planet textures not loading correctly.
- Planet positions in several systems updated.
The new target 3rd person view offers the same camera controls as the player view mode does, including zoom in/out and panning up/down/left/right. Simply press the default V key three times to access the new view mode. You can also change targets while in this mode.
The server program has also been updated for this build. Make sure to shut down the program before running the installer to update. The server program is available on MODDB here.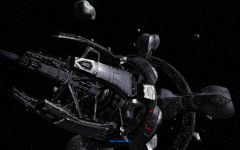 The customizing kit is also now complete and officially available, visit the downloads section to check it out. It provides instructions and sample files to customize and modify the graphics/textures, sounds, music, and text of the game.