(Finding a new Head(mask) gear in game)
The slots are...
Head
Head_Hat
Body
Body_Front
Body_Back
Floor
You could have different items slotted for each slot, just like in RPG game.
This was long awaited feature. I am glad that I am finally working on it.
What I disliked about Binding of Issac was that the monsters were too gory.
I mean, the game is full of blood, poop, and maggots. I felt like that too gory aspect shadowed some of the great-cool symbolic stuff about monsters in the game. I don't want to go to that direction, because it is neither my taste but also BoI already nailed down that disgusting gory theme.
I try to design my game, and monsters less gory but more representative. For an example...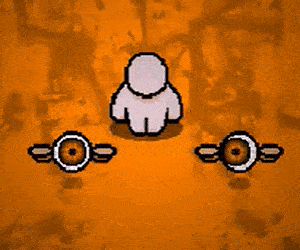 These eyes are my version of "flies". They come in different color(and perhaps shape). Their theme is "look". So they look at the player.

This one is the one I am currently drawing. He is supposed to be a slowly moving zombie type of monster. His theme is "trying to get affection-hub but getting killed-refused because he is too ugly". All he wants is a hug, but you as a player is gona just kill him.
That degree of solid complicated theme is import to me. I want my monsters to be less boring. I hope these "themes" give them more characteristics.