Let's talk about environments. The world that a game is set in can play a larger role in telling a story then any amount of exposition or clumsy dialogue can do. Environments are key to immersion and when all else fails, a striking and interesting world can mean the difference between a completely forgotten experience, and a gaming moment you cherish for years to come.
So, by now you are properly aware that the mod will be set in an eastern European city much like City-17. Like Valves city, I hope to not restrict the design and influences behind the creation of such an environment to just one real world example. For instance, Reversion will feature buildings based on common architecture found throughout many cities across the world.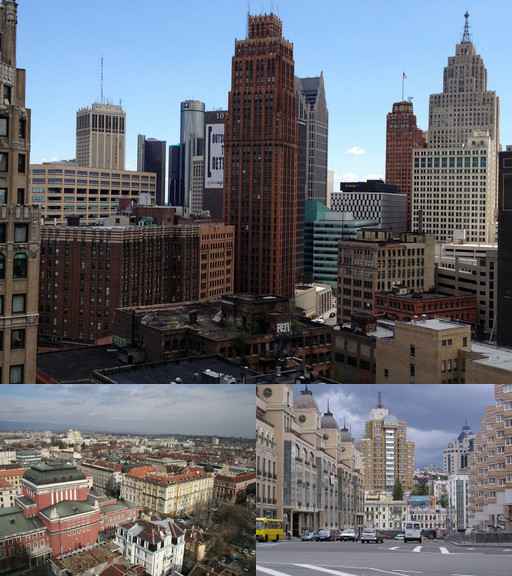 Those images above are photographs of Sofia, Kiev and Detroit. Sofia and Kiev represent the European roots of the Half-Life 2 environment staple and I want to stay true to that, but not restrict myself. Detroit on the other hand showcases the towering brick and metal towers of many American cities and I believe it would be a missed opportunity to disregard such diverse and beautiful buildings when drawing from architecture both conceptually and inspirationally.
I want the city to have a natural feel to it structurally. If the player stops for a moment because the building they are walking past doesn't fit aesthetically to the design of the world, then the immersion can come crashing down. Australian architecture (Predominately Sydney) is a fantastic point of reference when regarding the seamless inclusion of American and European architectural styles.
I'd love to hear your views on the design direction I want to take the mod. Please be assured that the priority of the environment design is still for it to feel heavily rooted in both Half-Life lore and to avoid any canonical contradictions.
Part 2 of this article will be posted next week and will regard the natural side of Reversions environment design.
Sources
Sofia - Worldfortravel.com
Kiev - Us-passport-service-guide.com
Detroit - Media.mlive.com