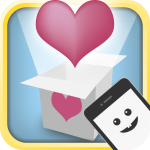 EnigmBox - Think outside the box to solve creative puzzles
After 3 months of intensive development here the iOS version of the famous series Take Something Literally.
It's my last indie game. I designed and developed this game alone.It's a puzzles compilation with lot of twists inside ;).
The rules are very simple. You have to think outside the box to solve puzzles to collect all hearts in each level.This game plays different from your average puzzle game. Use all iPhone functionalities: move it, touch it, take pictures, capture videos, plug accessories, use location service, use all buttons and phone properties.

You can download the game here: Bit.ly
The official website: Enigmbox.com
The Facebook page: Facebook.com
And for the cheaters, here the walkthrough.
Don't forget to rate and comment the application. Help indie developers to create creative games. Rate, comment, share the game and buy indie games ;).