The Empires mod team is back with another update to our long running HL2 mod. While previous releases have focussed heavily on the FPS parts of the mod, we haven't forgetten the RTS experience. With that in mind, we've updated the commander's research tree to provide a better balance of weapon and tank research.
Additionally, we have continued our series of official map updates to include emp_cyclopean, emp_district402, and emp_escort. Emp_cyclopean has always played well, but now it also looks stunning with improved textures. Emp_district402 now includes a sudden death mode, where after 45 minutes both sides have to duke it out without being to respawn or revive. Where in previous releases we've focussed on the first parts of the emp_escort, in this latest patch we've turned our attention to that last few flags. Finally, we hope you'll be pleasantly surprised with the changes we've made to the grenadier classes secondary weapon, the mortar, which is now faster, smoother, and more effective.
Empires v2.29 features:
Balance update of the commander research
Updates to official maps: emp_district402, emp_escort and emp_cyclopean
New sudden death mode for emp_district402
Updates to the grenadier's weapons
Here are some pictures showing the changes to emp_escort and emp_cyclopean. Most of the work on emp_escort has focussed on the last flag, while emp_cyclopean has gotten a visual makeover.
Change to the last flag on emp_escort: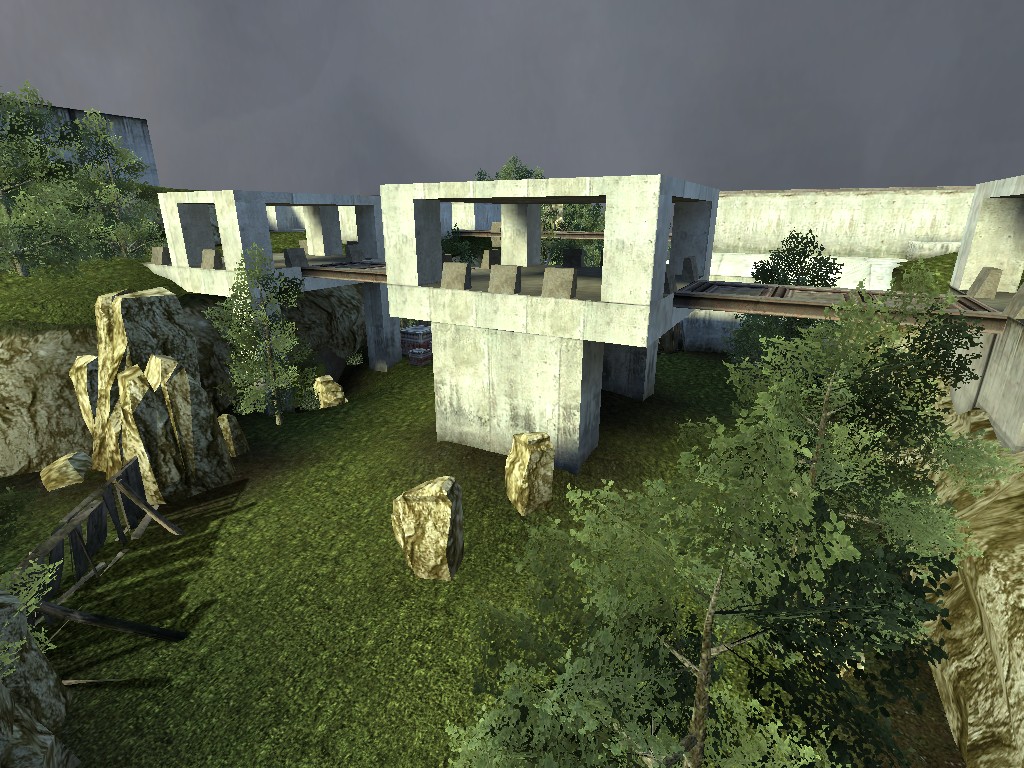 New and improved emp_cyclopean: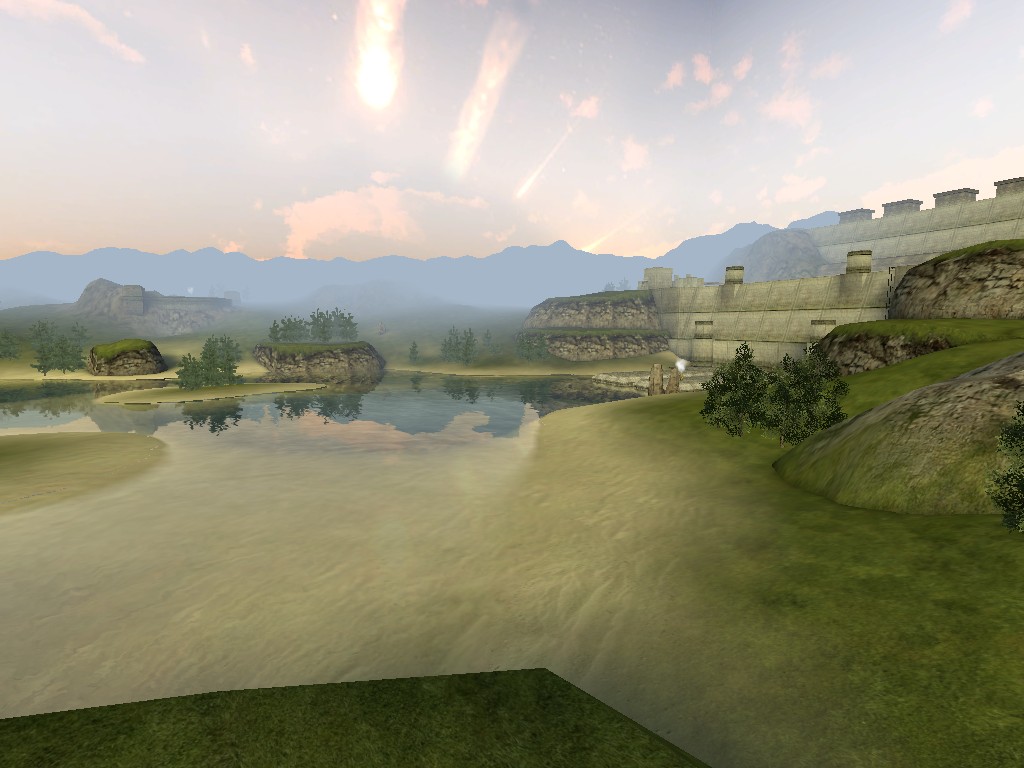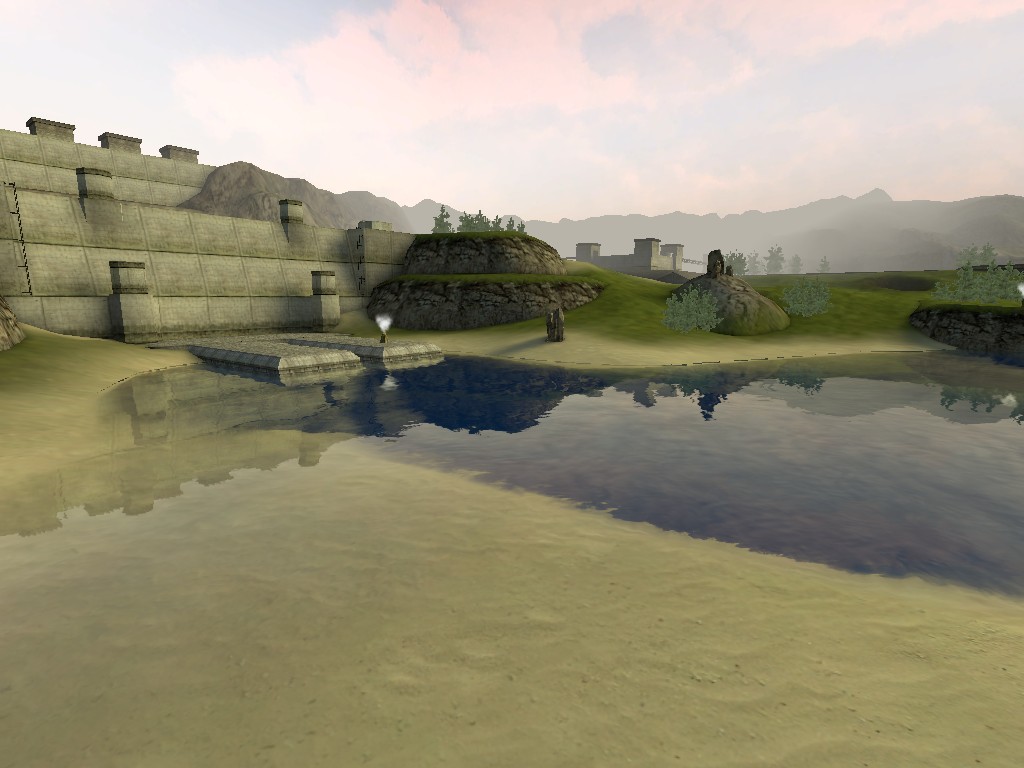 Empires 2.29 Changelog
Added:
Materials using parallax occlusion mapping.
Custom vbsp.exe that is replacement for source2007/vbsp.exe for mappers that want to compile maps using LightmappedParallax.
Modified:
Reverted RPG speed to 1200.
Updated particles.
emp_escort
- Added geometry to last flag, added back pathway from 2nd flag once BE caps.
- Added pathway for BE at new tunnel on first flag.
- Raised skybox so you can fire mortar upward in most sections of the map.
- Added doors to the canal/tunnel on 4th flag that are opened when you build the bridges.
- Reenabled level 3 turrets.
- Brenodi starts with 1 million resources.
emp_district402
- Disabled bleed.
- Enabled sudden death with no revive after 45 minutes.
- Moved capture points to make defense at the back viable strategy.
- Changed tickets to 150.
emp_cyclopean
- Shallowed water.
- Fixed tree translucency.
- New textures and new water included.
- Flattened areas outside of main bases so barracks can fit.
- Moved 1 of the center refineries.
- Refineries start as built.
Default values for cvars in server.cfg.
Changed mortar reload animation rate from 27 FPS to 40 FPS.
Can holster mortar at any time.
Draw crosshair as red even hiding.
Changed Brenodi chat color to closer to purple.
Mortar shells don't collide with teammates.
Disable revive and squad revive on non-commander maps when sudden death starts.
Don't show scoreboard after game ends.
Changed commander name color to show health of most damaged armor side and vehicle body.
Removed stamina penalty for shooting scout rifle.
Changed scout rifle clip size from 5 to 10.
Reduced mortar reload speed significantly(almost half time).
Balancing changes:

Research time for Mediums reduced by 60 seconds.
Research time for Heavies increased by 90 seconds.
Base cost of Heavies increased.
Base cost of Mediums decreased.
Base cost of Artillery decreased.
Max weight of Artillery increased (+50).
All vehicle weapon costs halved.
Salvo Homing Launcher is now a 3 slot weapon. Reload time changed from 10 s to 6 s.
CV armor heat to target 0.14 -> 0.05.
Tracking systems (precursor to Salvo and Homing) research time/cost increased from 60/60 to 120/400 respectively.
Fixed:
Simplified parallax shader to avoid BSOD caused by fault in graphics card driver.
Enemy commander hearing about vehicle construction.
Fixed incorrect player collision mask used on ladder.
Prediction bug causing non-smooth movement in spectator mode.
Don't show "Spawn blocked" when another player stands on spawn point.