Some mods may be fine with 'good enough', but not us, the Empiresmod development team. We are endlessly tweaking, testing, fixing, and balancing until the mod comes out just right. That summarizes our latest release, Empires v2.27. Nearly everything has been fiddled with to improve performance, upgrade game play, and create balance. While many of the changes in this patch are of the 'under-the-hood' variety, that doesn't mean we don't have a few goodies to show off.
Empires v2.27 features:
Wages - Players now get resources for various actions, such as killing opponents or constructing buildings. They can then spend these resources building vehicles without using up the overall teams' resources.
Improved squad functionality - Now, not only can the current squad leader designate his/her successor, but the commander can promote a squad member to the lead position
More informative HUD - The HUD has been improved to include information on wages, the vehicle limit, and whether the vehicle factory is locked.
Improved particles - Explosions and weapon tracers have been visually upgraded and modified for increased performance
Support for Lua - For those scripters out there, Empires now supports Lua.
Here's a look at the improved HUD and scoreboard: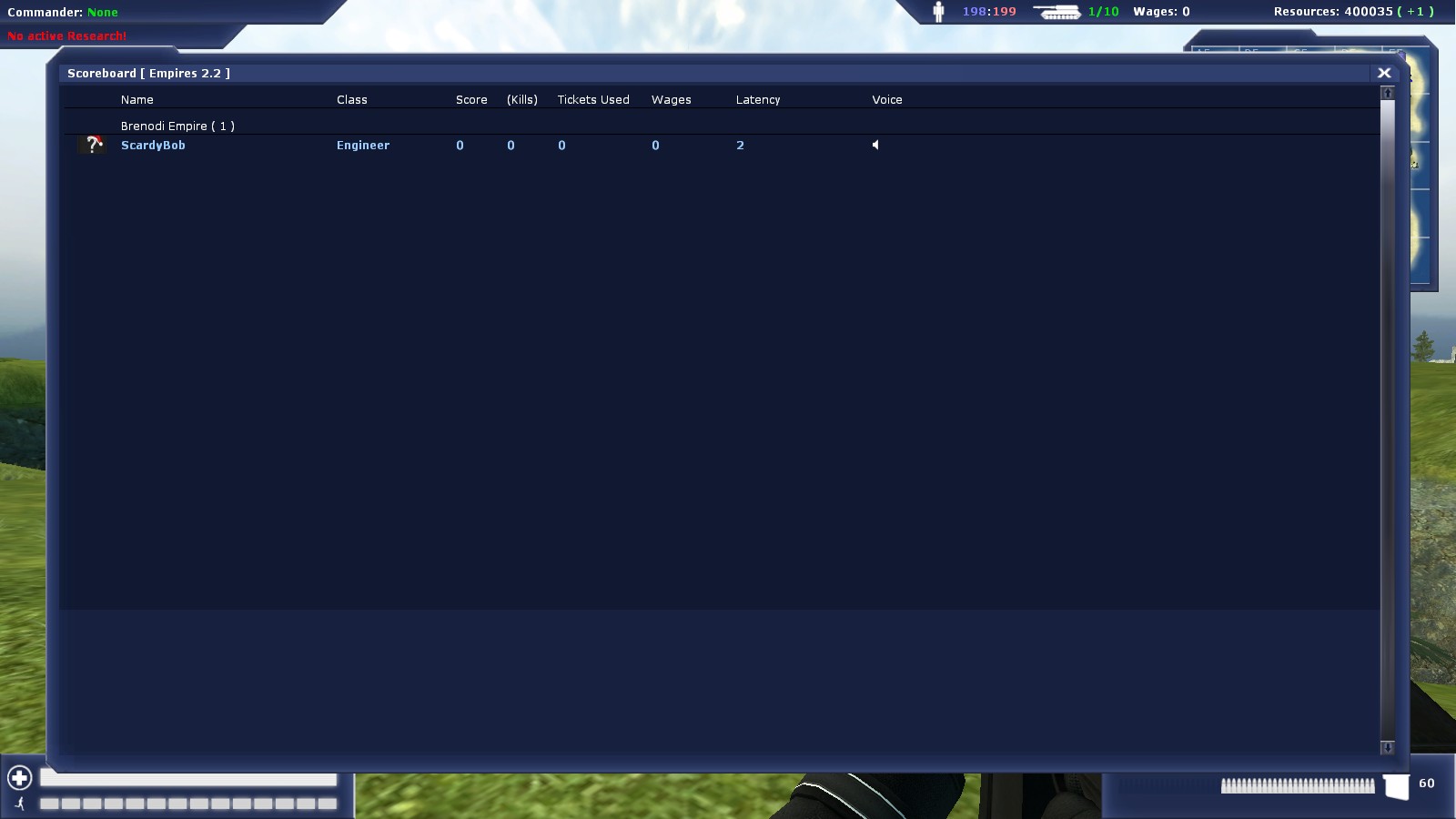 What happened to Empires v2.26?
Our dog ate it. Just kidding, but if your wondering what happened to the previous patch, don't worry. You are not missing anything. With the flurry of changes that have been going on behind the scenes, we decided to incorporate all the work since Empires v2.25 into a bigger release for our ModDB audience. If you want to keep up with the latest developments in Empires, please feel free to check out our forums.
Also, we'd like to spotlight one of our favorite official maps, emp_coast. Nothing says excitement like a battle between rocky cliffs and the ocean shores.
Here's a standard setup of a Brenodi Empire main base: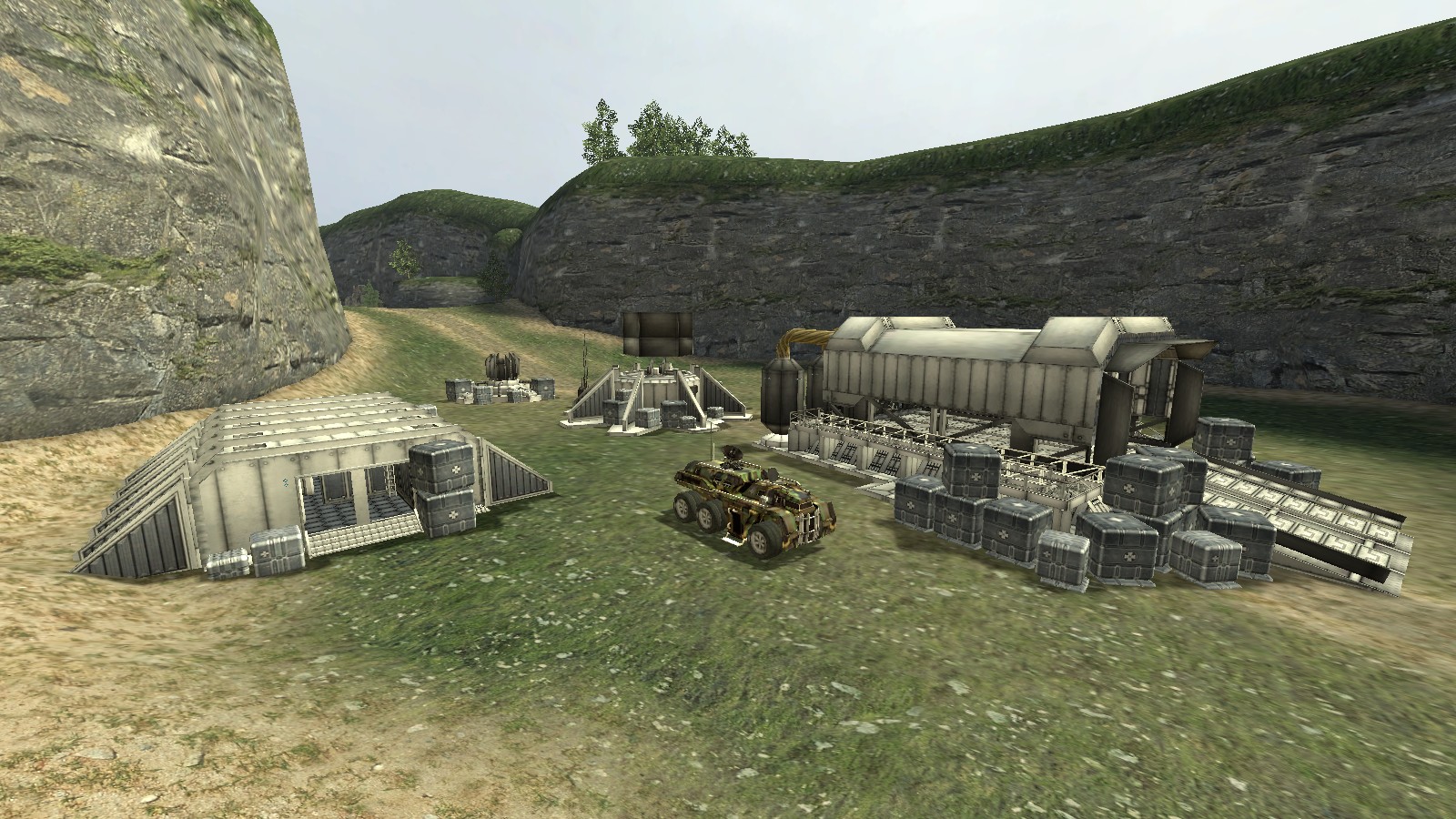 On the flip side, here's what the Northern Faction main base looks like: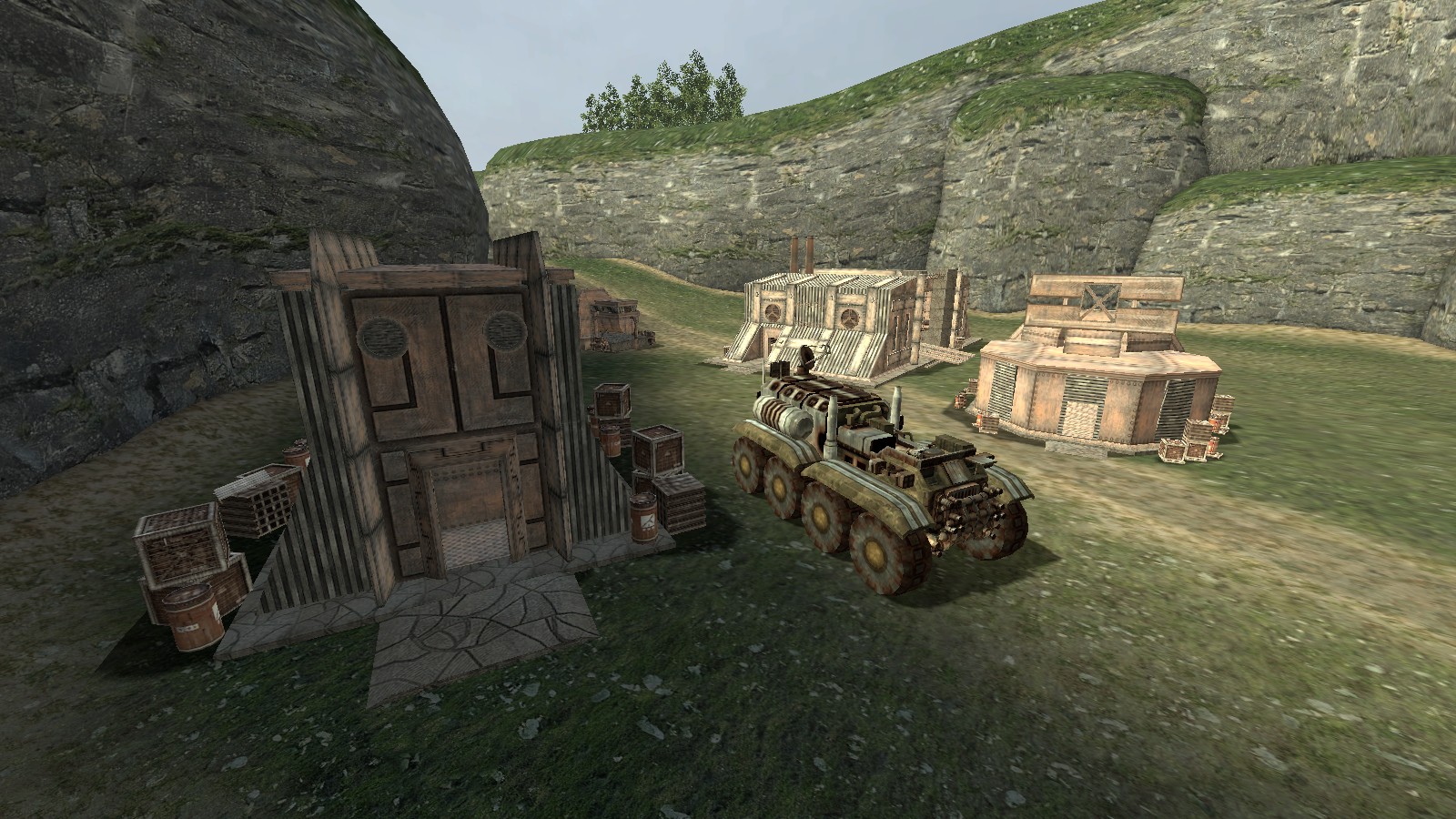 Empires 2.27 Changelog
Added:

Lua chat hooks.
Lua traces and player messages.
Commander can promote any member of squad to leader.
Wages:
Doing actions gains players "wage"
Wage is a players personal res pool
Wage is taken before team res while building a tank
Ticket Bleed of 1 per 60 seconds after a team loses all spawn points.
Support for empires entities to fade and have choices like parenting and have dynamic shadows etc.
FGD with the correct vehicle spawner names and chassis (and number system)
More Lua bindings and examples. Commands to run Lua code are slua_file and slua_string.
Lua support for advanced research conditions (multiple prereqs, forks, etc)
Coordinates in the voice status, changed position to not be obstructed by other gui elements.
Slow ticket bleed if team has no spawn points (to trigger sudden death). emp_sv_norax_penalty_interval, default is 60.
Promote to lead button for squads.
Color coded vehicle count. Green means unrestricted vehicle factory.
Client-side server bans. Malicious servers are manually added to it by developers.
Metric/imperial option for speedometer
Check for emp_info_params while starting the server. Should give proper error message.
Show max vehicles on GUI
Made rank points and titles scriptable.
Support for ML impact particles
Support for GL explosion particles
Removed:
Research initialization.
Chassis-specific armors.
Bits of Steamworks API.
Attack orders. Functionality replaced by visibilty of enemy units on minimap.
Modified:
Lowered latency effect on semiautomatic weapons.
Changed Ranged Cannon cycle time to 1.5 s from 2.0 s.
Scaled physics push for tanks driving out of vehicle factory to behave properly with different tickrates.
Allow building artillery tank with 2 small artillery cannons.
Changed vehicle cooling skill bonus from 25% to 15%.
Scouts with radar stealth are not visible on minimap.
Scouts are not visible on minimap when hiding.
CV Engines Heat Output At Idle 1>0|Heat Output At Max 2>4
Increased heat of all mgs:
std mg 0.1>1
bio mg 0.5>1.5
50 MG 0.2>0.8
50 HMG 0.2>0.8
DU MG 0.5>1.5
DU HMG 0.75>1.7
Chaingun 0.3>0.35
chain med 0.5>0.6
HE MG 1>3.5
Plasma MG untouched
HIT:Force increased to 100,000
Ranged Cannon: Damage 70 > 60 |Heat 14 > 11| Cycle time 1.5 > 2.0
Plasma Cannon: Damage 30 > 55 |Heat 26 > 20| Heat to target 20 > 10
Homing ML: Damage 70 > 75
Upgraded Homing ML: Damage 85 > 90
Salvo Homing ML: Damage 40 > 43
Bio MG DoT Reduced by 1 per interval (6>5, functional DoT 90>75)
Absorbant: HP from 55->60| speed to damage from -0.0075 to -0.008
Reactive:Damage modifier from 0.9 to 0.8|hp from 70 to 65
Changed repair values for all vehicles(except CVs)
repair station hull repair from 25 to 15
Engineer hull repair from 1 to 2
repair station armor repair from .25 to 1
Engineer armor repair from .1 to .05
Improved Detonation Compounds: time 90 to 30
Explosive Shells: Time 60 to 120
lvl 2 turrets 90 sec > 45 sec
lvl 3 turrets 120 sec> 90 sec
regen armor 150 sec > 90 sec
reactive armor 120 sec > 90 sec
NF JEEP: increased cost by 5 (55->60)
BE pistol2: Reduced falloff to 400(from 600) Reduced damage to 14(from 19). Removed burst
Gren: Mine start ammo : From 5 to 4
Scout: Smg2 ammo from 60 to 80 | Starting Smg2 ammo from 20 to 40
All buildings resists to mines to 0.9 (except engi camera/radar, walls and AF)
Infantry resists:
Scout|Mortar resist 0.1>0 Mine resist 0.10>0.11
Rifle|Mortar resist 0>0.05 Mine resist 0.30>0.11
Gren |Mortar resist unchanged Mine resist 0.15>0.11
Engi |Mortar resist 0.1>0 Mine resist unchanged
Vehicle skills (speed, damage, cooling and armor) give 25% boost by default.
Rifleman infantry damage skill gives 25% boost by default.
Removed reloading of clips for vehicle weapons. Vehicle weapons have infinite amount of clips.
Switched to LuaJIT.
emp_sv_debug_instant_build is not a cheat.
Minimum spawn protection changed to 3s.
Removed AllocTempVector to check if it improves performance (potentially less locking).
2nd skill gets activated after getting 10 rank points.
Empty's Particle Patch 1
The detail overlay on canyon cliffs.
The detail overlay on the canyon rock models.
Fixed:
Scout not being hidden on minimap.
Team with no barracks was bleeding past last ticket end losing.
Spawn protection enabled outside of barracks. Minimum time set to 1 s.
Wages showing being visible to enemy.
emp_canyon and emp_crossroads.
slua_file not working on dedicated servers.
Seismic grenade was always doing 100 additional damage.
Fixed wrong ironsight accuracy modifiers.
BE not seeing BE buildings.
Building damage resists parsed improperly were set to 0.
Updated vehicle presets to match modified armors.
Crash in vehicle spawner.
Weapon X and Y kick were using same random stream.
Grenade launcher particles.
Double damage from hitting turret.
Server checks for semiautomatic weapon. Fixes exploit.
Duplicate network variables for grenades.
Prediction errors related to stamina.
Vehicle spawner not ignoring research when specified.
Slow weapon lookup from scripts.
Prediction error related to zoom not being run on client.
Player collisions with teammates.
Bots not respawning.
Melee not triggering lag compensation.
Hilltop texture in canyon
GL nuke particles.