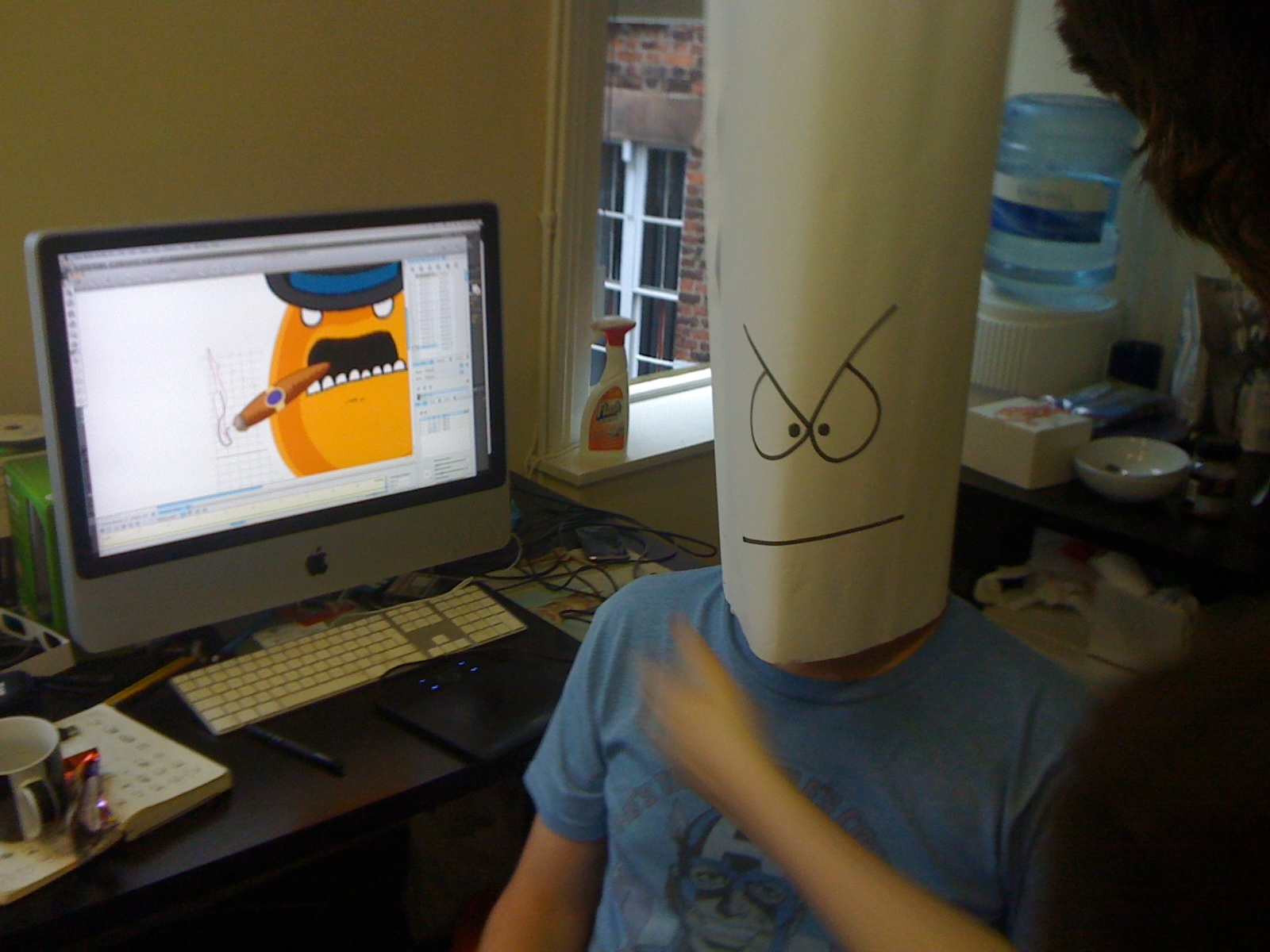 We've been busy, busy Bees as we get poised to unleash our first game - Eggs in Space - onto the world. It's starting to take shape using Unity's fantastic software and, cheesy as it sounds, everyday we learn something new. This video game malarky is a bit more exciting than the relatively humdrum routine of web development that's for sure. The typing and clicking in the office is now punctuated by us saying things like "Should we have a piece of toast in orbit?" or writing functions with names like "eggDeath()".
The nerves of releasing our first title hasn't hit yet, we're just getting loaded with caffeine and continuing to work with the game. We've learnt so much about juggling with the memory and processor of the iPhone. So often everything works perfectly on our 3GS, but then we sync up a 3G and another long night ensues.
Developing games is often about finding the limits of the device, unlike web development where the name of the game is dealing with all the nuances of the different browsers out there. Instead of browser testing it's the ever-expanding range of iPhones and iPods that proves the challenge. Even though we are first-timers in the world of games Unity has made things easier for us. John can even use some of his JavaScript knowledge, so we don't need to entirely start from scratch.
Eggs in Space originally consisted of 2D-style characters in a 3D environment; think Parappa the Rappa - we've always loved that game. At first the sprites weren't actually 2D, instead they were flat vectors modeled in 3D. This looked clean, but performed badly on the regular iPhone 3G, so to relieve the processor we've switched to actual 2D sprites. This has really improved the way the game plays; most issues we've faced so far have been related to the sprite manager coping with our pesky little eggs. All looks well in Unity itself or on a 3GS phone, but as soon as we moved Eggs in Space onto a regular iPhone 3G things started to slooooow down. Andy wasn't too chuffed that he had to re-create all the characters in a different format, but a swift beating soon saw an end to his grumbles.
It's all speeded up the action aplenty on the 3G phone and it also makes the whole affair appear more 'cartoony', which we're chuffed about. Along with the lovely, slowly moving backgrounds it all looks a bit Hanna Barbera thanks to Andy's remarkable skills with the digi-crayons. In fact, the shift from 3D sprites to flat animations has made Eggs in Space look a lot closer to the vision we originally had for the game.
We never thought we'd get a game so close to being complete so quickly. In just over two months from the start of building, Eggs in Space is hopefully weeks away from opening to its public. We commence proper testing this week and if all goes well it will be time to submit it to Apple very soon indeed. This is our first ever game (or Apple App for that matter) we've done all this work between other more sensible jobs, so we would love to see what we could achieve with more time and experience.
There is now a lovely home screen and a loading screen, it's touches like this that make you realise you really do have a game on your hands. It was the same when we got the 'game over' screen in there for the first time or when we got a high score table hooked up. And now Chris has provided new and improved music and sounds (check out this to see what he can do) it all feels like a polished game.
What's left to do? We need to group the baddies into waves, so it is structuring the gameplay that is our main outstanding issue. We'll be adding a few more variations in eggs, improving the animations and getting the game working with Open Feint - then we'll be good to go. We think.