Hello from the Capsule Three team to our Indie DB followers.
We can't believe it's been almost a year since we launched our Astronomer Alpha (1.0) in January.
During our last post, we discussed reasons for bringing the game to Early Access and highlighted possible next steps for the project. We're now ready to announce phase 2 of development...
Introducing Astronaut
We're happy to announce that Echo Lake has been upgraded [as of 14th December 2017] with the launch of our Astronaut Alpha (2.0). Check out the environment reveal trailer below:
Here, we introduce a new game mode - Astronaut - which provides a stark contrast to our debut release. For the rest of this post we'd like to discuss how we got here...
Astronomer Wrap-Up
Following our 1.0 launch, we spent a few months improving our puzzle interface, fixing various bugs and addressing player feedback. By the Summer of 2017, we decided to conclude this mode by adding in various story teasers in the form of collectable story pickups (photos and recordings) which tell part of the backstory of our game world:

For mode 2, we wanted to start sharing other gameplay ideas we'd been developing behind the scenes whilst pushing towards our final goal.
Astronaut Prototyping
During Autumn 2017, our coder/designer - Clive Lawrence - ramped up development on our second game mode. The aim of this mode was to start building our 2nd environment - space - whilst exploring new gameplay ideas and improving our existing rocket gameplay mechanics.

The idea to take Echo Lake into space has existed since the early days of the project and the original example can be seen in our Greenlight trailer; we've had rocket prototypes in the game for quite a while - including transformation between the rowboat and rocket - but since it had been untouched for some time it was worth revisiting things. At the code side of things, you can see [below] that the rocket fits neatly into our existing hierarchy of player-controllable objects (rocket is a subclass of vehicle and shares various bits of functionality with the rowboat):

To evolve things further, Clive began by building a procedural generator - using our endless background code as a base - placing various obstacles in various arrangements and then proceeded to retune the rocket. Whereas the rowboat is quite slow/relaxing, the rocket was tuned to be much faster/nimbler. Similarly, whilst Astronomer is quite linear and tunnel-like, Astronaut was designed to be quite open and expansive. Following this second pass of the handling, the rocket felt more fast/fun than before whilst still alluding to the lower gravity of space.

Clive then began to place constraints on the player such as draining oxygen, health and fuel - and associated pickups to replenish them – via a procedural gameplay class. Over time, objectives were added in the form of beacons and space transmissions the player has to locate using their radar. These are placeholder for now but pave the way for future additions and replacements.
Evolving the Art Style
Our 2D artist - Jonathan McEnroe - was tasked with exploring a new visual language for the space environment. Since the gameplay is very different to the previous mode, we wanted a palette that would contrast this dramatically whilst invoking a sense of danger in the process. The Astronomer palette uses calming/moonlit blue to wash over the lake and rocks with vibrant oranges providing a good contrast for the puzzle/gameplay elements; here's an example from Astronomer 1.0: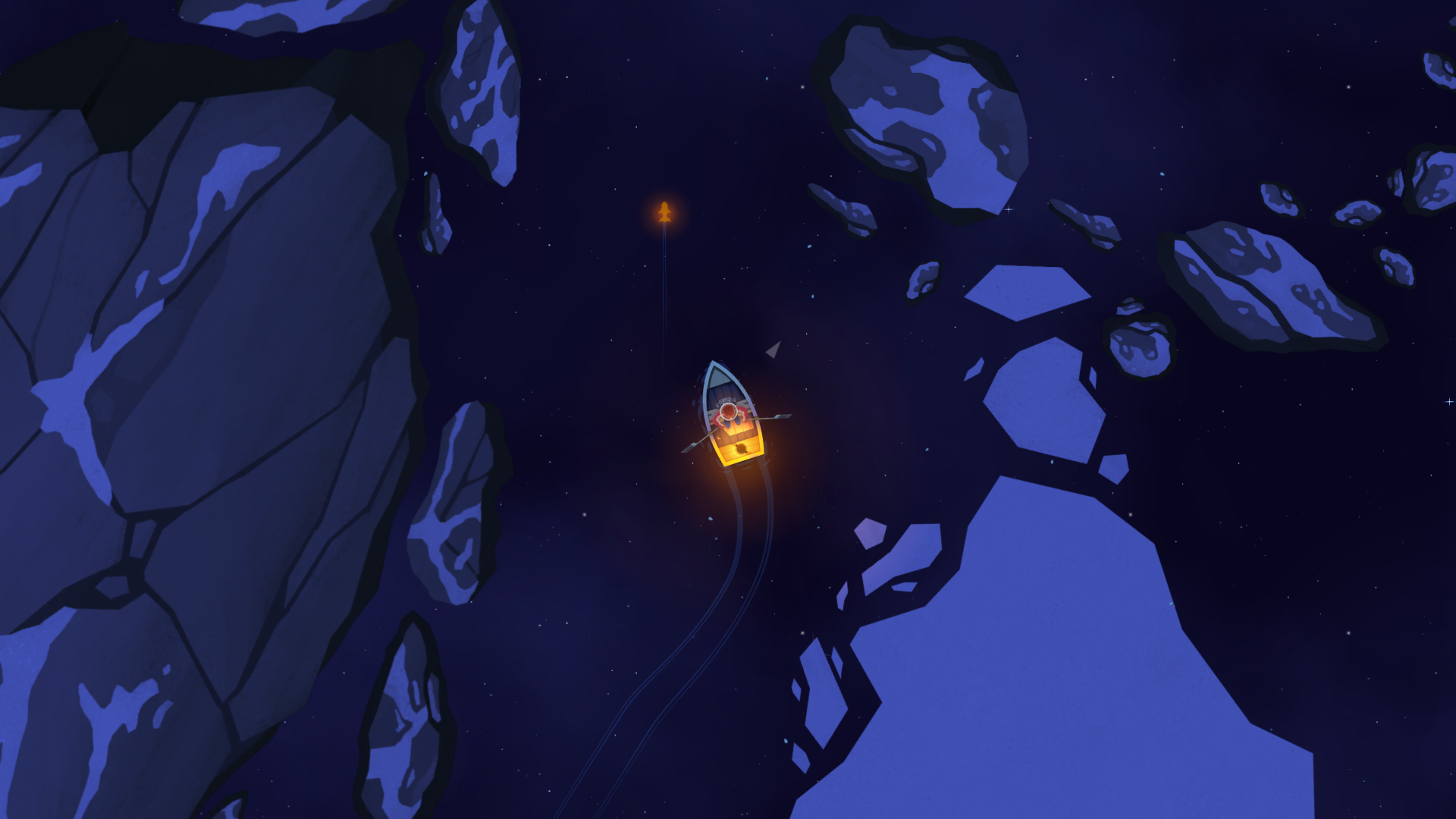 For Astronaut, rather than flipping the colours, we decided to push ahead with red as the base colour punctuated by glowing greens for the pickups. The red was tinged with a hint of pink to give it more depth and make it feel more fantasy-like; here's another example from Astronaut 2.0: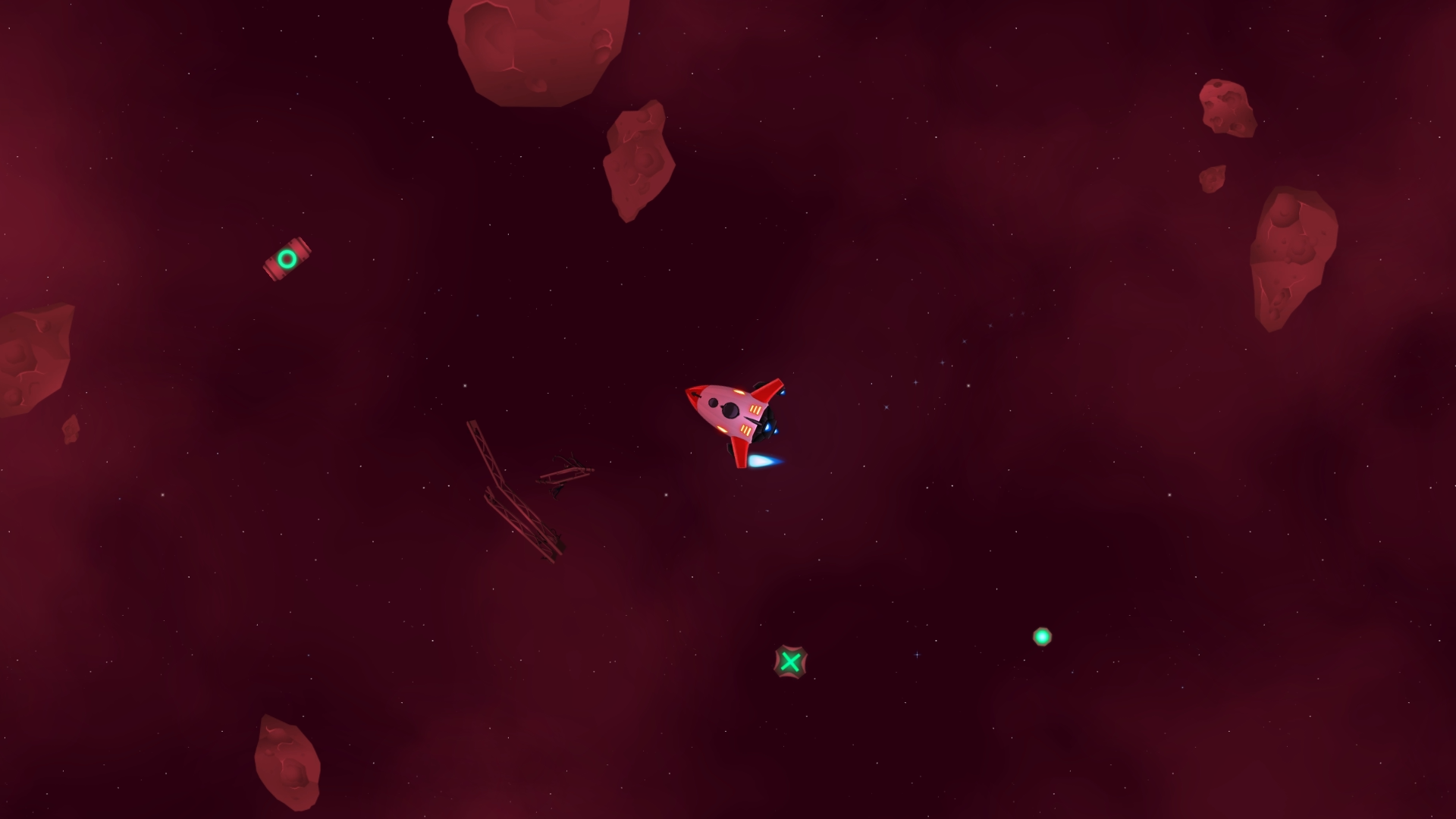 Jon also looked into producing obstacles and pickups for our game world. The obstacles are lit by the environment light but balanced w.r.t. brightness to ensure they stand out from the procedural background. The pickups contain a diffuse [light-able] portion and a glowing [full-bright] portion to ensure that they stand out from the environment more clearly than the obstacles.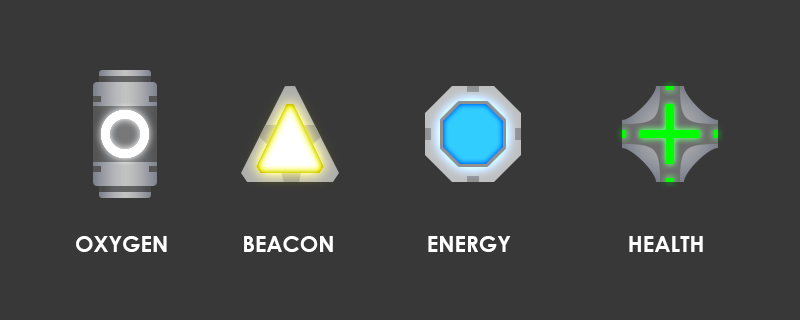 Redesigning the Rocket
Whilst we were busy prototyping gameplay and artwork, our animator/artist - Peter Satera - began to explore the redesign of our ship. The rocket was always designed to be close visually in shape to the boat. Although we liked our v1 design, we felt that we could push things even further. Peter began by sketching some ideas for new designs: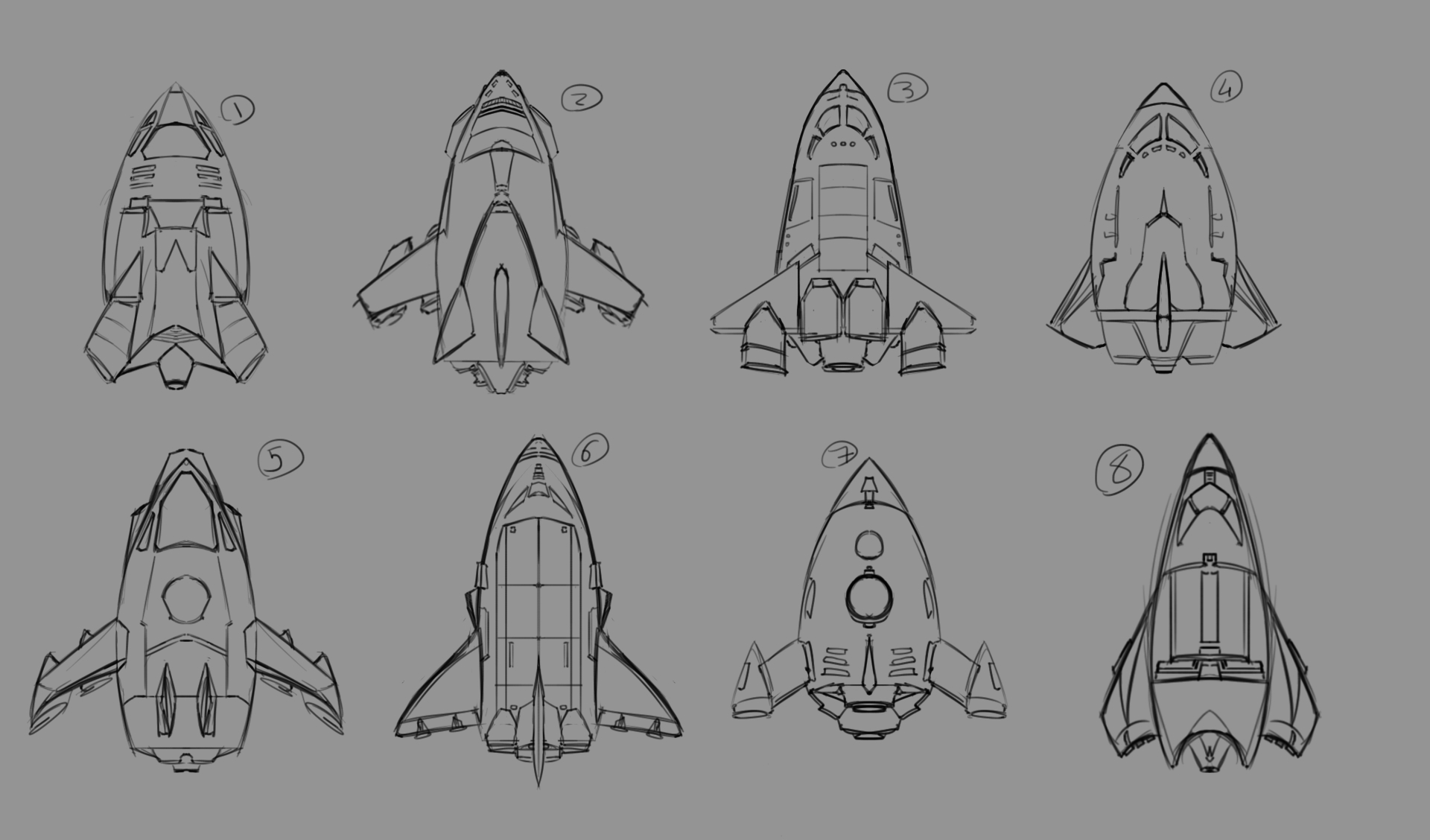 This was our initial batch showcasing various shapes and details. For our final design, we wanted a look that captured the shape of the rowboat and Kit's personality whilst ensuring that it would fit well with our 1970s setting. We decided to go for a hybrid of 2 and 7. When it came to colouring, Peter brought in some red wings and yellow lights to echo Kit's earthy/fiery palette whilst going for a more standard off-white chassis for the main hull: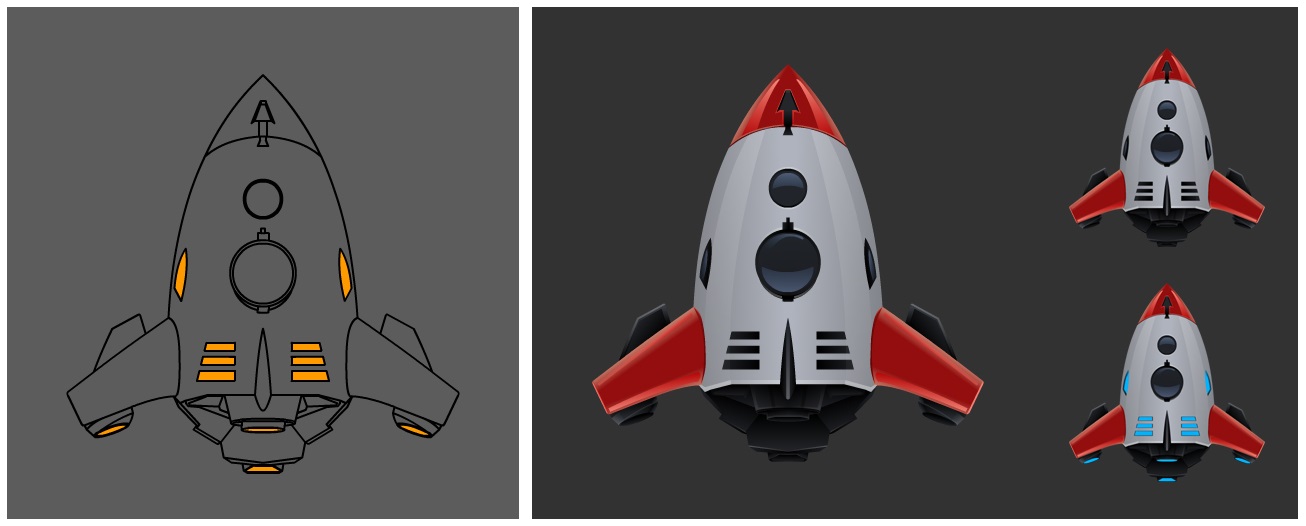 Once we were happy with the revised design, Peter pushed ahead with thruster animations - one forward flame for acceleration and two side flames for turning - and recorded some audio to suit.
Bringing Everything Together
With the gameplay and artwork in a good place, Peter began exploring sounds for the pickups and music. Our pickup sound effects were designed to sound positive/reassuring with green pickups (related to player survival) giving off a different sound from blue pickups (related to gameplay objectives). For the backing soundtrack, Peter decided to allude to the vastness of space with a cinematic/action-like score that mirrors our game theme whilst providing a stark contrast to our cosy ambience from mode 1. Meanwhile, Clive made progress with expanding the procedural generator and gameplay code whilst Jon helped out with some marketing assets - including the teaser image below (which borrows from our initial designs above):

With everything in place, we set our sights on bringing Astronaut to the public for feedback.
Conclusion
We're excited to be expanding Echo Lake and enthusiastic about developing additions and improvements. If you'd like to follow our game or check the current state of development, visit our store page:
Stay tuned for additional IDB articles and Steam updates in 2018 as we expand the gameplay and world of Echo Lake further and head towards our final release.
Thanks for following us this far and we hope you have a wonderful holiday season.
Clive Lawrence, Jonathan McEnroe and Peter Satera
-C3 Team