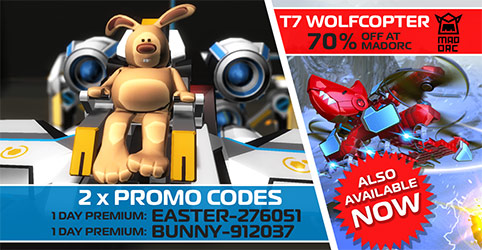 EASTERNANZA



- 2 DAYS FREE PREMIUM FOR ALL!!! (EASTER-276051 | BUNNY-912037)
- The codes run out at 11am UTC on Monday the 6th of April
- Make sure you get everyone to use the code so you get the 5% bonus bonus from all users having Premium at the same time
- We've also added a few 'easter eggs' into the game for this weekend only
MADORC WOLF COPTER MEGADEAL

- 70% of via www.madorc.com
- T7 Wolf Copter
- Bundled with 3 months Premium
- Extra Garage Slot + Overwolf Robomask
- Normal value $22.95
- Deal Value $6.85
BUG FIXES

- Challenge Mode match-making of Platoons fixed, so Platoons are now placed in correct Tier
- Fixed issue where players in Platoons where sometimes being entered into the wrong lobby
- Fixed a bug which caused Platoon invites to lockup and stop working
- Fixed an exploit which allowed players to get higher Tier Robots into lower Tier battles
- Fixed descriptions of some of the cubes in the Depot, thanks to those who reported them to us
- Fixed an issue which stopped some Linux users from purchasing GC through Steam
- Rail Cannon audio now attenuates properly so you shouldn't hear other peoples Rails from miles away
MAJOR PHYSICS FIX/CHANGE TO AEROFOILS RUDDERS

Please read this carefully, if you fly TS with a single Rudder you will need to adjust your craft.
Ghost Rudder Bug

We tracked down and fixed a bug known as the 'ghost rudder' bug which maintained full rotational stability of an aircraft using Aerofoils/Rudders even when it had been shot off. This has been fixed, so if you get your rudder shot off you lose rotational stability.
Stiff Stearing After Healing:

The Ghost Rudder bug fix also identified the reason that sometimes your aircraft became 'stiff' when steering after being healed. Essentially the rotational stability was being amplified each time an Aerofoil/Rudder was shot off and then healed back again. This would continuously stack making your craft get more and more stiff in rotation due to excessive rotational stability being applied.
IMPORTANT: Proportional Rotational Stability

Fixing the above bugs highlighted a huge flaw in the Aerofoils/Rudders. We found that regardless of how many Aerofoils/Rudders you had on your craft, and regardless of how large or heavy your craft was, you would gain full rotational stability. This is why a full Thruster Stick with a single tiny Rudder on the back suddenly became super stable. We have changed this, so now you gain more rotational stability the more Aerofoils/Rudders you have, and as you get them shot off you lose stability. Full rotational stability is gained by having 5 Aerofoils/Rudders on your Robot (i.e. the amount you need to make a traditional airplane), with a 20% drop off with each Aerofoil/Rudder you have less than 5. So, if you have only 1 Rudder on your TS you will lose a lot of rotational stability with just 20% total.
NOTE TO THRUSTER STICK PILOTS:

If you add a few more rear facing Rudders to you TS you will gain the same level of rotation stability you had previously, but will lose that stability with each rudder lost in battle.