Every RPG has dungeons, right? And Me and myself, like the sun and the moon is not gonna be the exception! BUT, I'm thinking about doing something a bit different than the tired formula most RPG use.
One of the dungeons I'm working on takes place in the wild part of the forest, that part where people don't usually wander, home of dangerous creatures and untamed vegetation. There, tall trees create dark areas, and when you get there, is hard to see too far. So this dungeon is basically just a big group of trees. From the outside, you can't see anything but the top of the trees, and once you get in, you can only see the "room" you are currently exploring but not the adjacent rooms or halls. Look at the pictures so you get a better idea.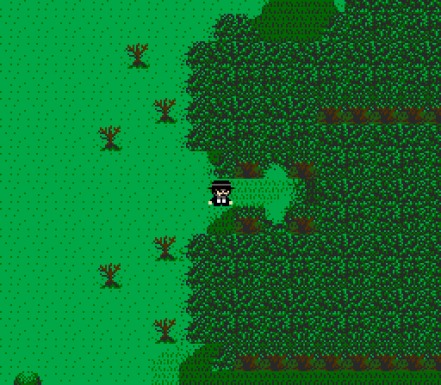 From the outside...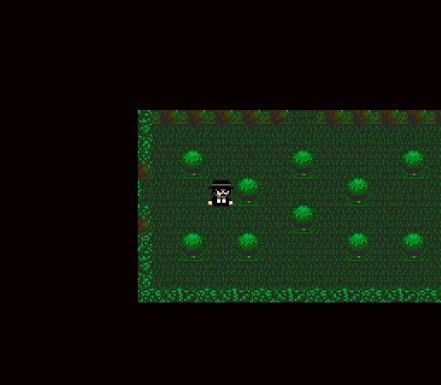 Inside the room
This creates an effective mystery mood, you never know what will lie ahead until you enter a different room or follow a different path. We have seen this kind of effect in games as old as the first Dragon Warrior (Dragon Quest). But there the view was so limited it could get a bit frustrating.
In Me and Myself... dungeons will not be the classic temple, cave, shrine, maze, etc. Every one of them will be different in structure, theme and objectives. Level design is gonna be a key part of this game so I'll make sure things are kept varied and fun, I want to balance originality with a bit of the classic old school design conventions we all love, so the game feels fresh but not too strange.
Since the game takes place in a somewhat reduced physical space, the dungeons won't be too large, yet they will be more intense to provide enough challenge. Also there's no map in the whole game, so that may add to the challenge a bit.
Next week I'll talk about the game graphics, I'll have several screens to show and I'll compare Me and Myself... to other popular NES RPG games and explain why it looks as good as the best... Or better!