New update is here!
Without announcement this time, 'cuz it was planned as a hotfix for the previous version, but plans were thwarted - that what plans do. So, this one isn't much in terms of big features, but there is a lot of neat little fixes and polishes.

Updated interface. New lovely main menu, readable in-game text and polished HUD. Shelf is lower and wider now. Healthbar, weapons and potion images were redrawn. We've added an hourglass (to show how much time you have left to earn bonus on this level) and a stone (for tracking completed levels… with a stone).

Experience gain in mid-run: after 5 levels (1 game stage) you'll receive experience for these levels and unlocked items will be placed in chests for this and future runs. Also, you're gaining experience for collectibles now. And don't forget to visit Vault to read all the silly descriptions for them.

Hourglass-bonus feature: if you'll beat level fast enough (50 seconds for first stage levels, 60 for second stage, etc.) you'll gain bonus expirience for this level and restore 10% of your health. Right now probability of your success at this depends on level you'll get. Basic arena-like levels are pretty fast and doable in 30 secs, and others could keep you busy for one and a half minute.

Dead people! Slayed monsters now got brand new, but pretty dead versions of themselves. It's really sad to look at them like that, especially for us.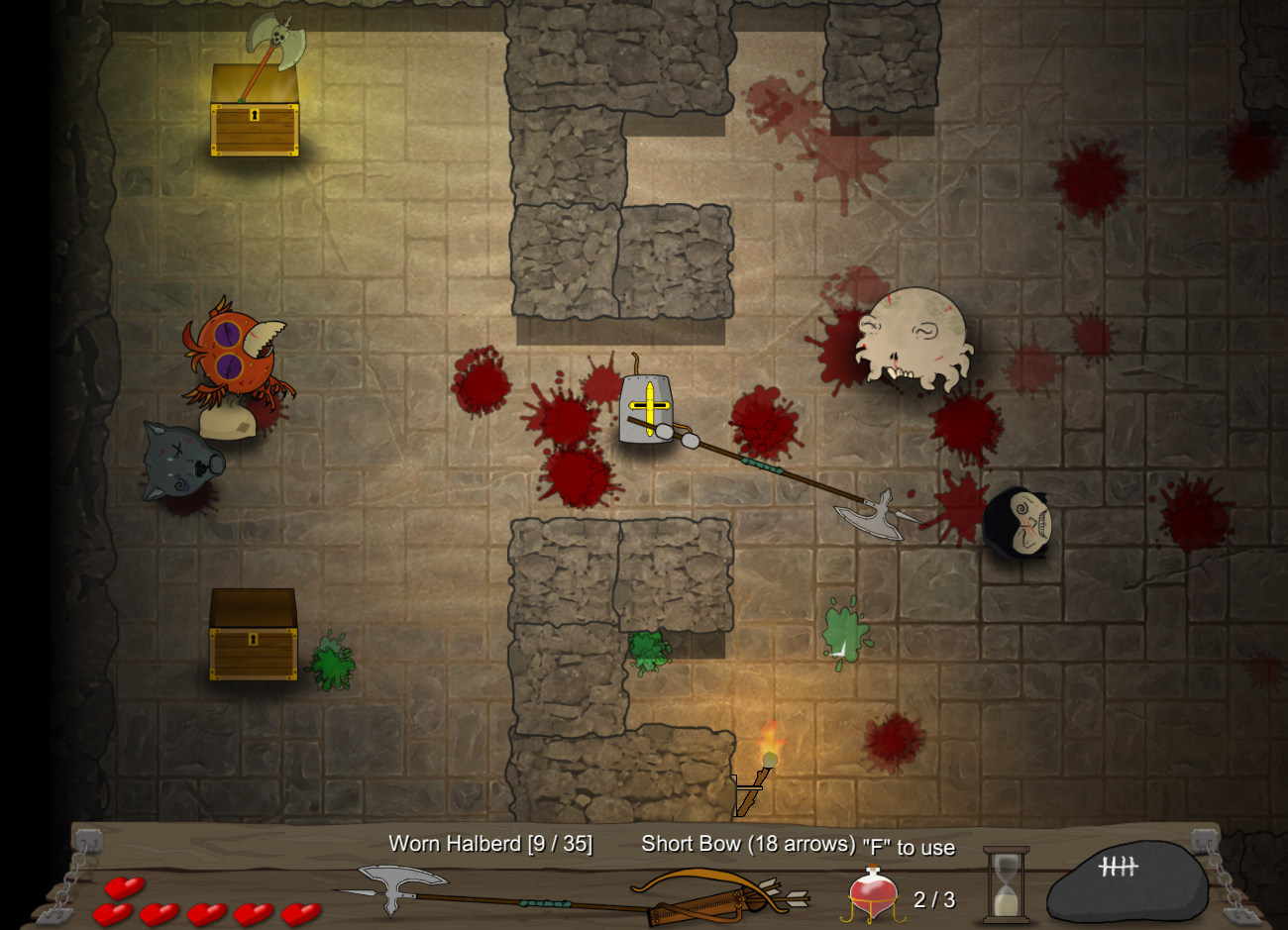 Full changelog:
Updated graphical menus and HUD;
New weapons are unlocking in mid-run;
Health and XP bonus for swift clearing of each level;
Bonus XP for collectible items;
New dead-monsters sprites and animation (for some of them);
New weapon - Halberd (named Albert)!
Picking up bow or crossbow adds to the ammo if you have the same weapon;
Improved monsters behaviour - they'll run away from traps and will run towards player if he'll manage to hit them from afar;
10 new dungeon layouts!
New desert tileset!
Dart traps now can cause slowdown of Sir Bucket, instead of poisoning;
A lot of usability-bugs and some functionality-bugs fixes;
Reballancing towards more comfortable early-gameplay and better gameflow in general.;
Various cosmetic improvements.