Dr. Spacezoo started out life as a small time-attack shoot-em-up for the #IndieQuilt jam, and has since evolved into a gib and grease packed animal saving shoot-em-up. The v0.2.1a release is the first full post-jam update for Dr. Spacezoo, and the entire mission 1 is currently playable at: Drspacezoo.smashriot.com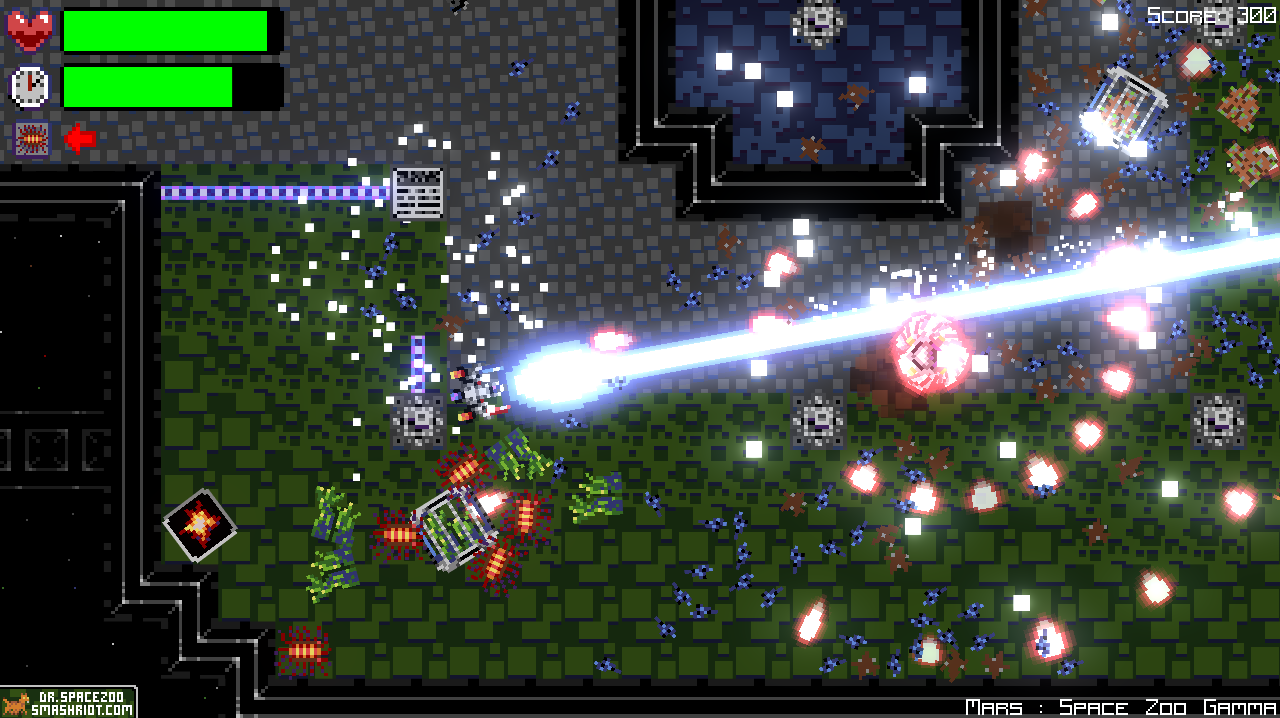 Story:
The kind and benevolent Dr. Spacezoo, and his furry space cat Winston, guide you through the Sol system Space Zoos as you start to uncover what has gone wrong with the Space Zoo's Artificial Intelligence. The changes in the Space Zoo AI are very troublesome since it is responsible for instructing the Space Zoos to synthesize all of the nutrients for the animals, a feat impossible without the Space Zoo's AI's help.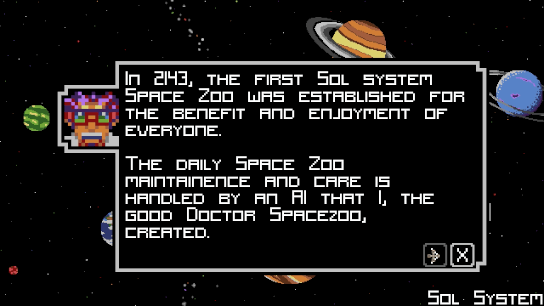 Game Play:
After learning about the Space Zoos, you are tasked with investigating some reports of strange activity in Space Zoo Alpha, the very first Space Zoo, which is in a tight Earth orbit. Upon entering the Space Zoo, you discover that all of the precious space animals are starving. You are tasked with collecting a single animal to bring back to the good Dr. Spacezoo, and the choice of either saving or humanely helping the remaining animals.
The story unfolds as you visit all ten of the Sol system Space Zoos, and start to encounter hostile guards as the Space Zoo AI starts to react to your intrusion into these zoos.
Features:
Mission 1 is currently complete and available to play in your browser at Drspacezoo.smashriot.com.
* 6 exotic space animals to save, each with their own accompanying song.
* 4 enemy types to battle, each packed with a ton of bullets, homing bullets, and sticky bullets.
- sentry bots: slow moving and fires a ring bullet pattern
- turret: fires a burst of homing bullets at the player
- ram bot: fast moving and fires homing sticky bullets to immobilize the player for ramming.
- spawner: spawns new sentry bots during the battle
* 1 feed bot boss fight that is sure to test your skills with it's homing bullets, sticky whale milk, and pain mode.
* player weapons include a buster laser and homing bullets.
* 6 power-ups to improve your ship's capabilities including: acceleration, haste, damage, hack defense, physical defense, and pickup radius
* every animal and enemy is packed full of grease and gibs
* 12 unique Space Zoos, including one super difficult challenge Space Zoo.
* target animal randomization to provide a slightly different challenge each run.
* score based on saving, destroying and euthanizing animals, destroying enemies, and a time bonus.
* high score leaderboards.
Screenshots: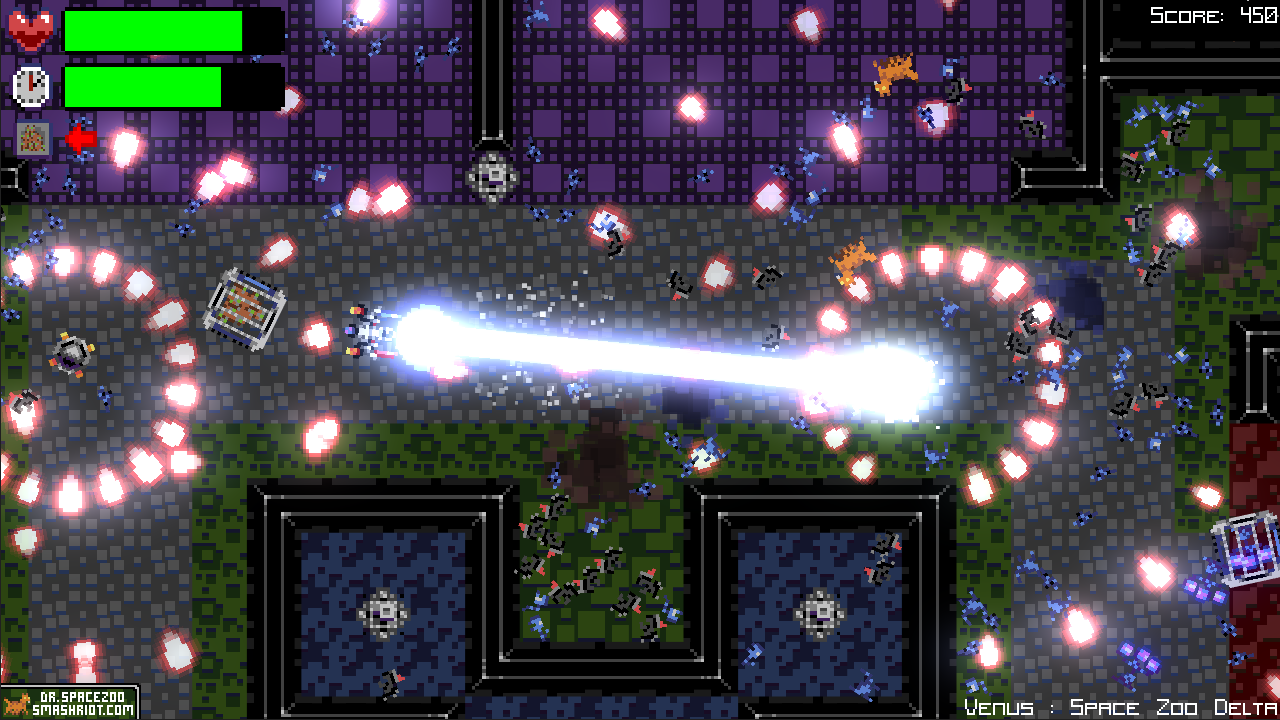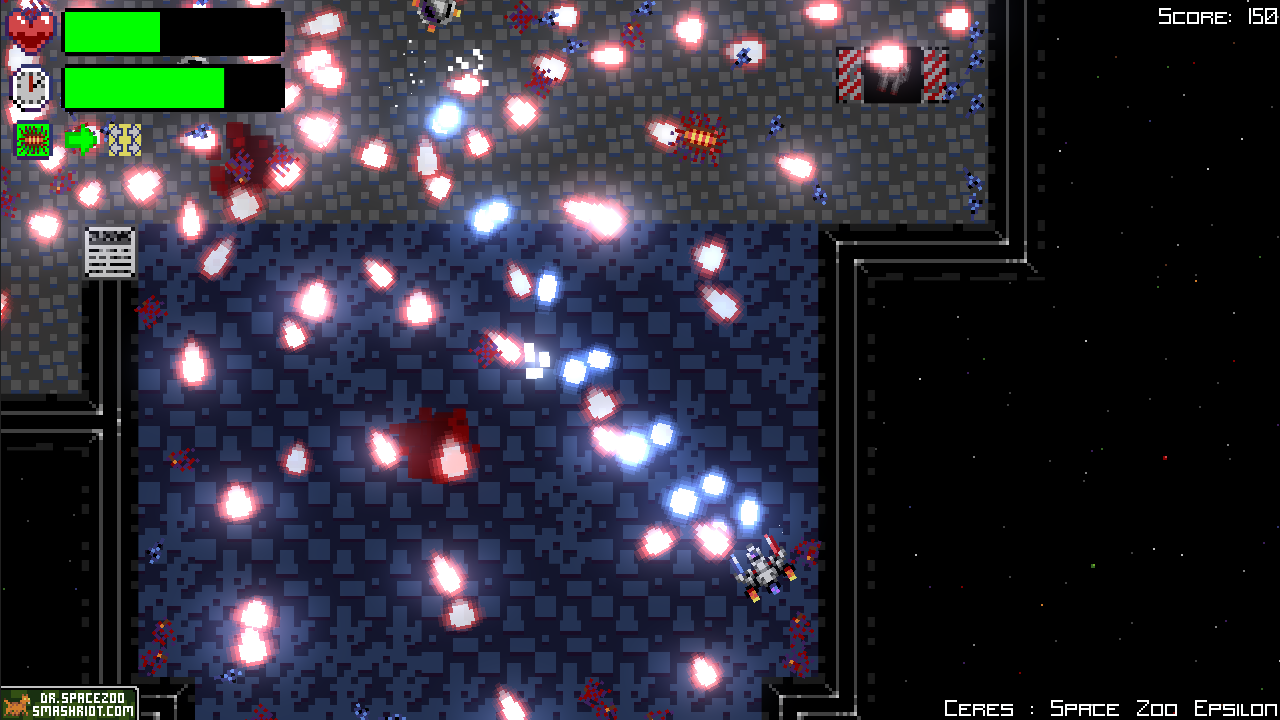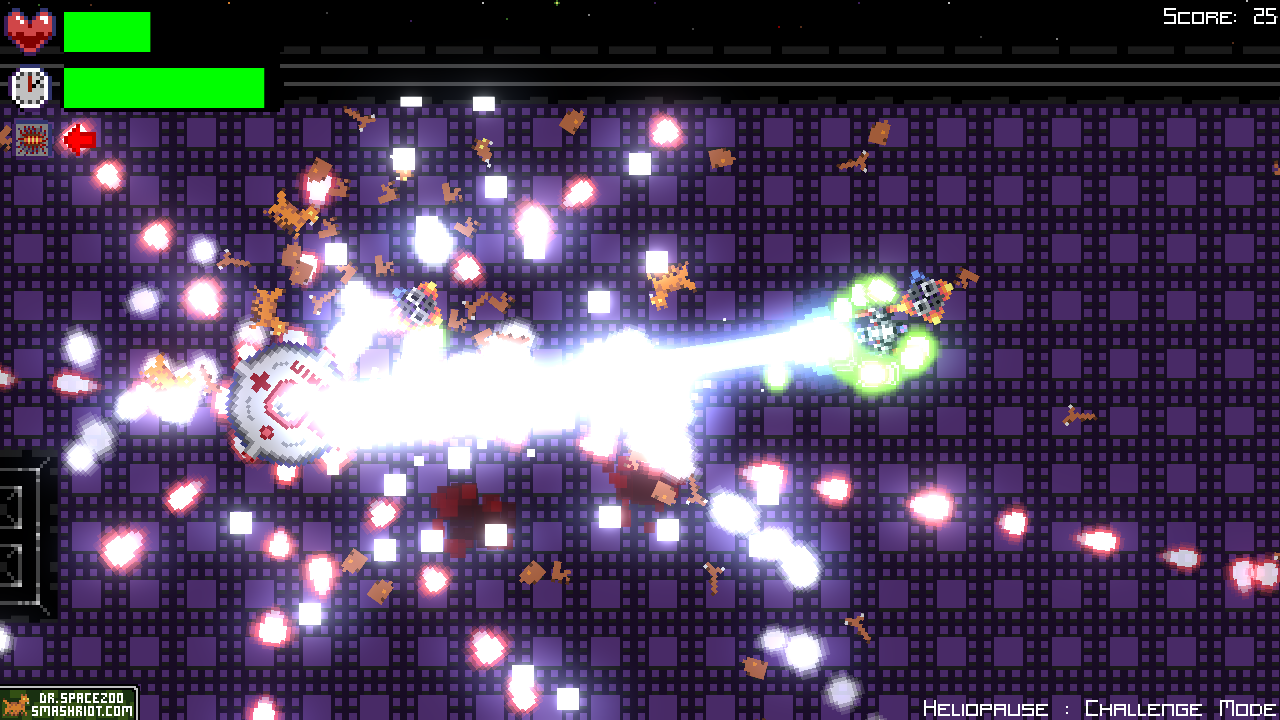 *As a special bonus, finding a floating spacecat head gib in a screenshot is the Dr. Spacezoo equivalent of finding Waldo.
Dr. Spacezoo v0.2.1a Changelog:
* new art, sounds, music, font
* new enemies: turret, rammer, sentry spawner, feed bot.
* improved explosions, gibs, and grease
* new homing and sticky bullets
* power-ups: acceleration, haste, damage, hack defense, physical defense, pickup radius.
* power-ups drop from destroyed enemies and saved animals
* added scoring for saving, destroying and euthanizing animals, and a time bonus.
* mission 1 levels updated and tuned
* mission 1 story added
* animal spawning improvements
* destructible barrier improvements
* user interface improvements (main menu, settings, about, level select, dialogs, power-ups, scoring, in game hud)
* experimental joystick controls
* bloom everything!
* high score reporting
* better player analytics for level tuning
* TONS of code refactoring, bug fixes, and new bug introductions.