This was a very productive week for the ONESTRIKE team as we raced towards the finish line, squashing bugs and making fun, for the #MAKEITSUPERHOT contest. Further production for the ONESTRIKE title is planned for discussion after the contest due date on Feb. 26.
Kairos
Kairos, named after the Greek word meaning 'supreme moment', is the main weapon for the virtual reality player in ONESTRIKE. A player using the HTC Vive must wait for the perfect moment to draw Kairos from its sheath, and strike down as many foes in one strike. The Vive player is blind to much of the world around them, as light only illuminates the world within a few meters radius of the player's location. Using momentary bursts of echolocation to perceive the world beyond the light, and the ability to slow time, the Vive player must be patient and wait for foes to draw near. For detailed images, visit Noah's ArtStation.
- Kairos Opening Sequence -
- Kairos Sketchfab -
---
Soundtrack
More sound effects and music compositions by our Sound Designer, Christine.
---
Level Furnishing
Finalized the concept map and furnished with the warehouse props.
---
---
Multiplayer and Network Testing
With the map layout finished, it was time to test out the gameplay and make sure everything was running smoothly and was fun! Playing in 3D space was a blast and brought many new ideas for future development.
Exposure
ONESTRIKE is gaining a bit of a following! We were happy to see ONESTRIKE reach the level of interest it did on Indie and Mod DB domains. This helped lead to IndieDB tweeting one of our articles on Twitter, which we have around 340 followers. Now that the competition is coming to a close, we are going to work towards making not just a great VR game with more mechanics and features but also focusing on creating an engaged community. Follow us for up to date content postings! Facebook / Twitter / Instagram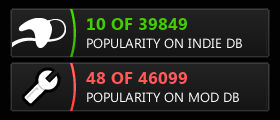 ---
From the Team
We look forward to whatever happens after the contest winners are picked. We know that our game has its kinks but there isn't a moment in playing and making this game that our team had anything less than a great time. Best of luck to everyone, our team from At World's End looks forward to seeing everyone's work and bringing you even more immersive VR experiences. Thank you for checking out ONESTRIKE! Please, feel free to message us here or send email to onestrikevr@gmail.com.