First off, I want to apologize for the absolute lack of updates on my project. It has been nearly a month without any news for anyone, and that just isn't acceptable.
I had been working on the game fairly steadily, when unfortunately some things in my real life pulled me away from the project for a good chunk of time... hence the lack of updates. I don't want to get into any details with regards to what it was that pulled me away from the project, just know that I am back to work on it, and am still working on the sweeping changes that I had mentioned last time.
As it stands, there is a completely new progression path in the game... Research. I mentioned this in my last post, but I wanted to take a little time to explain the change, and how it works.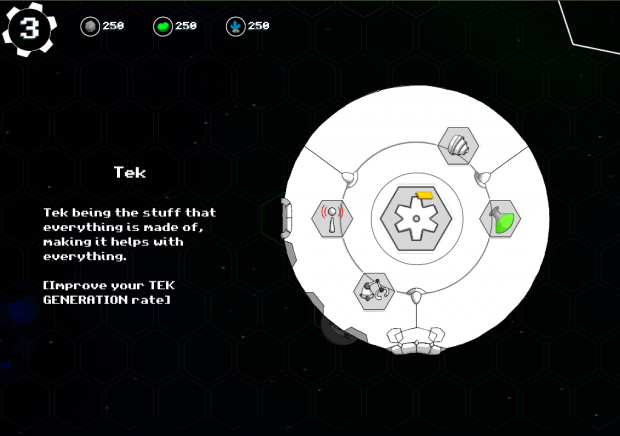 In my original design, I had broken up the games progression into two categories. Research and Development. Research was a tech tree model, where selecting different branching elements would unlock different things for you to develop or build, and those different things would give you access to ways of exploiting the galaxies resources.
This was a great design... but one that I had no experience doing, and that quickly became too difficult for me to implement within my time frame. So I had scrapped the Research component, and focused primarily on a developmental model. That was the design up until a little over a month ago.
The problem with the developmental only model was that it became too difficult to inform the player the consequences of the complex choices they were presented. There are only so many slots for facilities in the station, and some facilities are vital for their success... but if they choose to fill the station with facilities that serve very similar roles at the expense of others, they could be left unable to progress.
One option (and if I had time, I would make this available as a different game mode) was to "shuffle" the facilities the player has access to, ensuring that they have at least one for each of the necessary categories. This way even if I were to add dozens of options, they player would see a limited set of those options each play through, and that limited set would ensure they have all the necessary components to complete the game. Of course, the downside to this is that they have no control over what options they have each time, and could play a dozen times, and never see all of the options.
So, instead I opted to introduce a simplified research model that would allow the player to make choices along the way between facilities that serve similar purposes. This way, the player is able to see the different options available to them from the beginning, and plan out their desired progression path based on the randomly generated galaxy they are playing in.
Certainly, this isn't perfect, and I am still working out what each research option will cost, and what improvements will go where... but the core idea is now in the game, and working.
I am still planning to release the game by the end of the year on XBLIG, and to continue to add to the game post release... with a PC (and maybe even iOS) version to come later. I might even be able to release a PC demo around the same time as the XBLIG release if all goes well... so keep an eye out for that (a demo will come, but it might not come before the end of the year).
Thanks for all your support.
- fidgetwidget