Salve citizens! And welcome to Development Update #014 of Project Terra!
Now
---
I've been working on the roads over the last few days, as well as balancing out the colours of the stone so they're not so contrasting. The goods news is, I have Forum Romanum's base appearance done. The bad news is, it's ugly as heck, because there's no beautification. ie, Trees, fountains, statues (Going to be difficult!), hedges, flowers, so forth.
Today, however, I've also been able to make the base hedges I'll use in-game; tiled, too.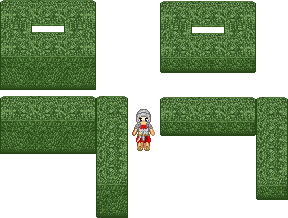 What Next?
---
All is going well! My plan right now is to continue beautifying the Forum Romanum. A fountain, hedge, marketplace (for players) *or* a meeting plaza. A little bit of grassland to break up the monotony. It should look pretty pretty when I'm done. Hopefully.
Programming Update
---
To be honest, I'm not quite sure what she's talking about most of the time. Sockets, networking, arrays, packets and so forth. I'll ask her to write up her own updates for this section in the future, I think, heh. The programming update might be of use to those who care, then. ;)
Project Terra Insider
---
I've hired a web designer to come up with a new website layout and logo for the game. It's still in progress, but he comes with high acclaim! Watch this spot!
This Week's Q&A
---
boxer77 May 5 2011, 4:41am says:
Nice too see this coming together, but I do have a question: Will players be able to build buildings/settlements etc.? (Excuse me if it has been asked already.)

Azkanan May 5 2011, 8:31am replied:
That is the plan, although, it needs verifying if Rose is able. It should be possible, however - watch this spot! ;)