Yes, I am now over my minor affliction. Hooray. All aboard the Development Train!
Also, a warm welcome to the new followers of Project Earth! Salvete!
Rostra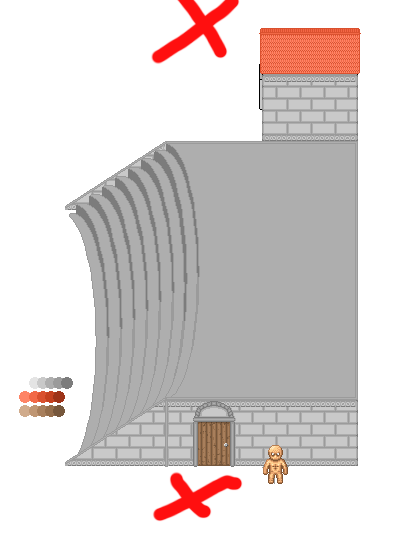 This is the Rostra, which I have recently finished to an acceptable level. I did plan to move onto the Atrium Vestae, but I wanted to savour that for last, seeing as it's in a different area.
The Rostra is basically a large platform for speakers to stand upon and speak to the entirety of the Forum Romanum. The heightened position not only gave them a wider field of view - and vice versa, for the viewers - but was also a subtle sign of dominance and required attention.
As a reminder for those that missed the last update, the forum is now open for use. I seem to be having troubles on my end of things in the case that I can't post, but hopefully I'll have this fixed asap! I have Ideas and Polls to post!
I also built a basic build of Aedes Saturni (Temple of Saturn) yesterday, or the day before. I dislike its current appearance, quite ugly and bland. In the screenshot, you'll notice a black line on the right side of it; this designated the ground level.
When I draw the actual ground, this will be a uphill piece, following that line - anything below it, of Aedes Saturni, will be drawn over. I've never personally added Z-levels in this subtle fashion before, so it should be interesting.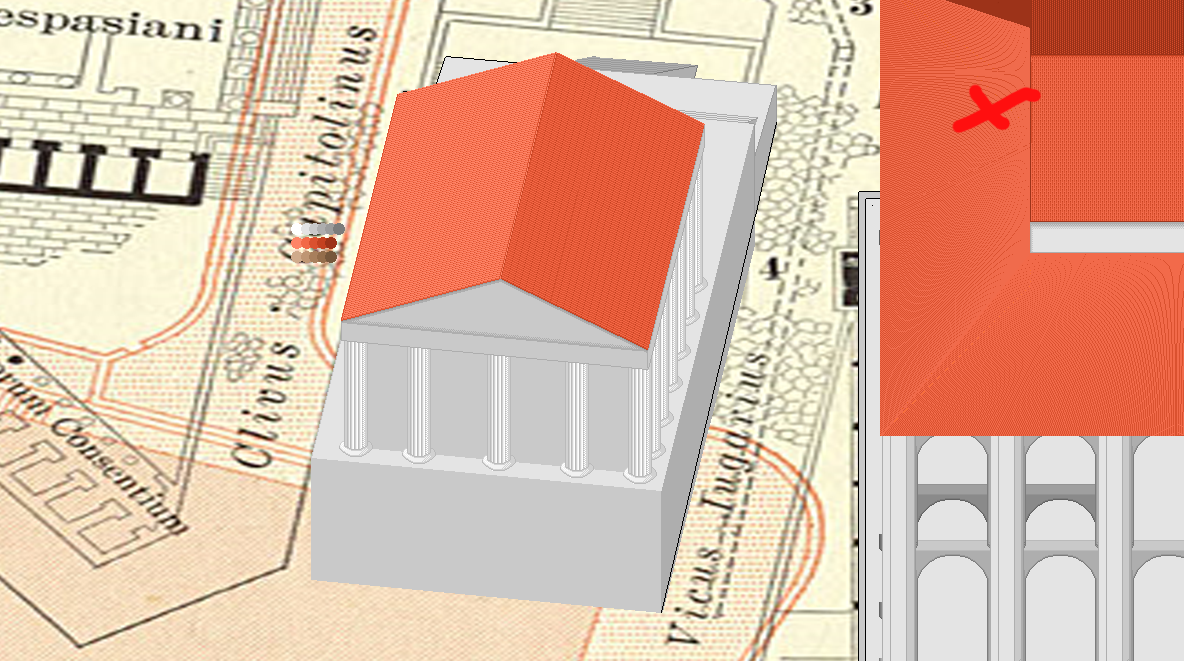 ---
Aedes Divi Vespasiani, Aedes Concordiae, Curia, Basilica Aemilia and Atrium Vestae
So, I'm now down to just five more buildings.
Aedes Divi Vespasiani and Aedes Concordiae are found on the west side, facing rightwards. These will (finally!) be the last two temples, and most welcome-ly they won't be up-facing, which was becoming quite the bore.
After these, I'll move onto the Curia, which is basically the Senate's meeting place. It has an outdoor meeting place in front of it also, the Comitium, which should all be quite interesting to make. I'll be making the inside of the Curia in the fashion as seen in Rome (the series), where a semi-circle of stone stands all connected as a long multi-level bench is seen.
After this, is the Basilica Aemilia that I believe, back in the days of the Republic, were actually open-front shops, such as butchers and tradesmen - although, I have yet to further research this fact.
And last, but not least, a small view of the Atrium Vestae viewed from behind. As I said in update #004, stepping towards the Atrium Vestae will lead to a sub-area, which will be the Atrium Vestae viewed from the front.
And that's pretty much it for this update. Not much more to tell!
---
As an additional, I'm also going to put in a strong twist to the game which may break the historical genre just a tiny bit into fantasy, yet still historical, but I won't say much more on this - I'll leave it down to the explorers and true historians to discover, when playing!
As a future reference, this will be known as Project Truth. This is for when I start working on parts of the game that include Project Truth and may take a few weeks.
---
Fan Q&A
I said I'd be answering any Questions people have in this update, but I actually received none. Nethertheless, I'll keep copy-pasting this section in future Dev Updates, in the case that somebody does send in a Question!