Attention Scouts!

The roadmap arrived 💜 This is our plan for Lumencraft development. What we are working on right now, what will happen in early access, and how the full version will look like - all of this and more can be found in our beautiful roadmap. There are many things we want to add/change and we want to do it with you! We want you to test Lumencraft, create new features with us, and discuss all lumen-related stuff! Let's dive into the details.

Here's the plan...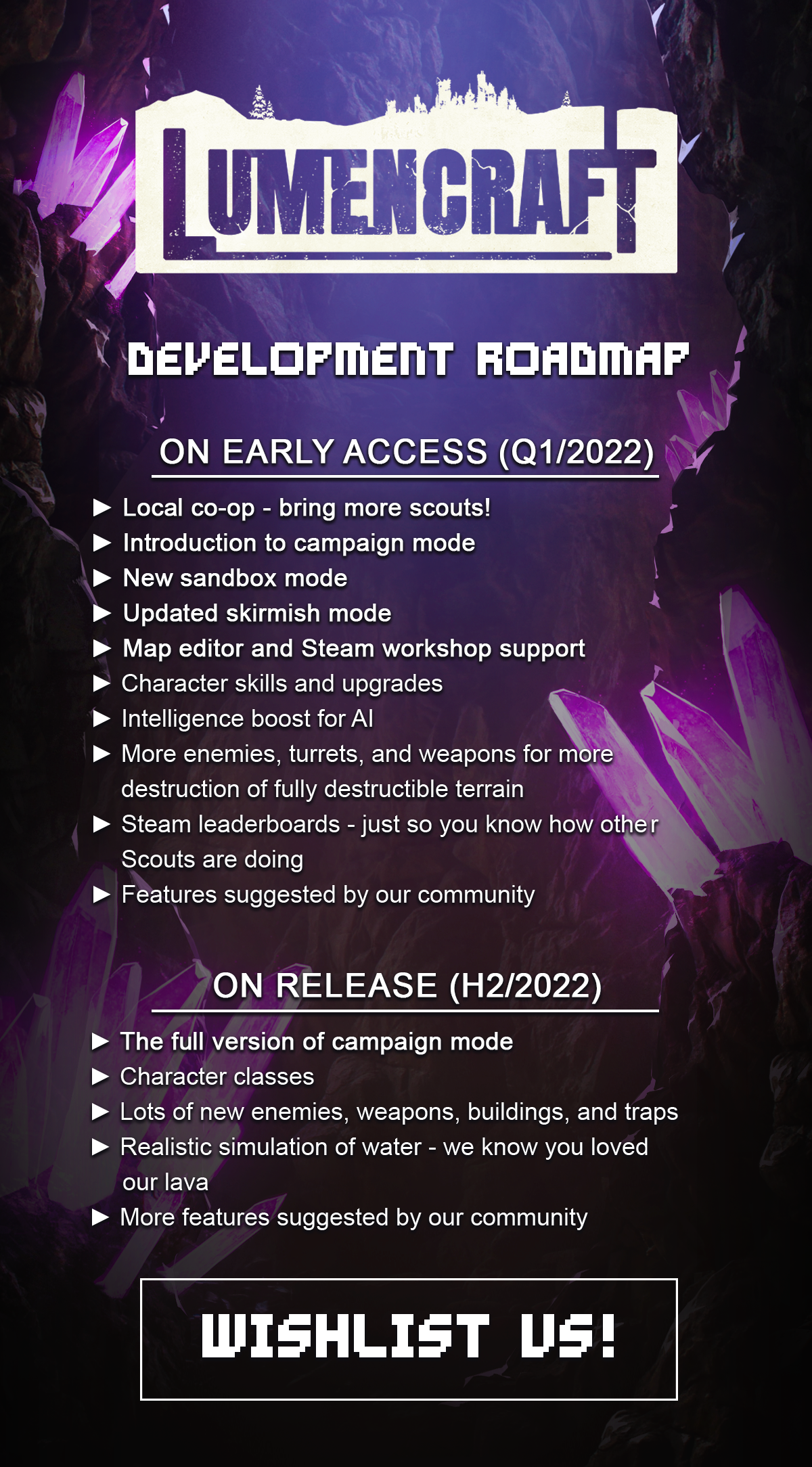 So what do we have here? *puts reading glasses on* Oh, yes, co-op. Some of you might have already tried it during Poznań Game Arena (some lucky guys on Discord know this secret feature as well), but during Early Access, it will become a standard feature. You better find some friends right now! You will need them when we launch Lumencraft.

Then we have new game modes. I'm super excited about sandbox mode and map editor! I can already imagine all these crazy maps made by you guys. Can't wait to be tormented by lava-only levels 😵

Oh! And we know you love lava. It melted everybody's hearts (and bases, hehe). So we figured that you will love water as well! (Well, hehe. Get it?) So on release, we will add realistic simulations of water.

Awesome stuff, am I right? And this is only the first version of our Roadmap. We are expecting it to evolve during the development process and we are expecting you to help us!

Have you seen these "features suggested by our community"? We are waiting for your ideas! What should we add next? Maybe vehicles? Or super-mega-ultimate weapons? Or cute robo-pets? We know you have your own idea for how Lumencraft will look like in the future. That's why we want to introduce you to PLAYTESTS!

Let's play, let's test, let's playtest!
As the Made in Poland event came to an end, the Demo is disappearing in the mist of development (*insert spooky music*). Thank you, my Scouts, for all of the hours spent together in the darkness of the underground. We will do our best to bring Lumencraft Demo back as soon as possible (probably for some ✨special✨ events), but in the meantime...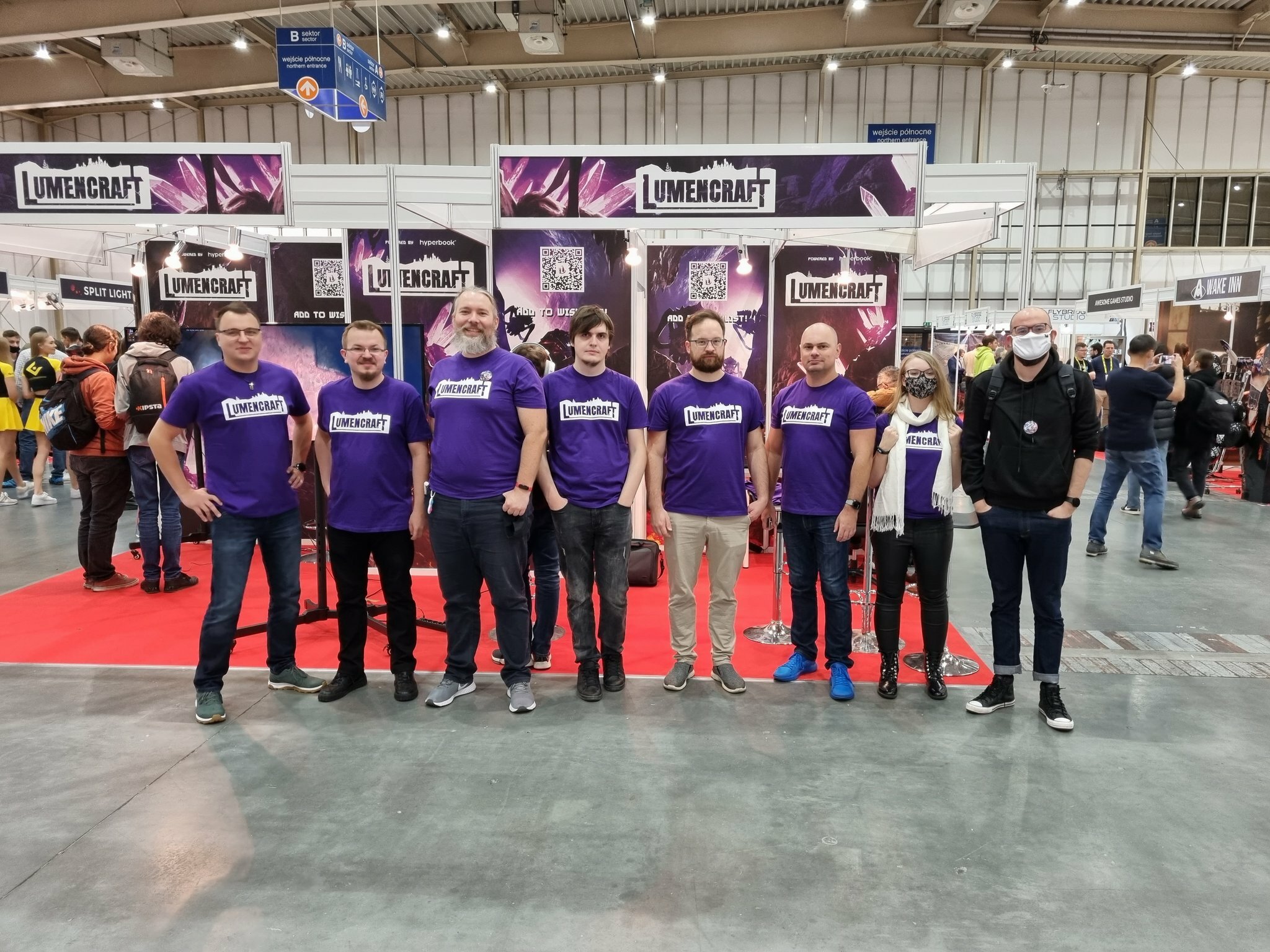 Thanks to Steam Playtest you will be able to play Lumencraft again. But this time you will have to support us with your feedback 😎

We are planning to launch a playtesting campaign next month, so to have a chance for trying out a new version of Lumencraft join our Discord server! Share your ideas with us and help Lumencraft to become a truly thrilling game!

You won't tell me that playtest are not fun. But! If it doesn't make you wanna jump into our Discord server right now, then let me introduce you to our friends - Star Drifters. They plan some awesome star-marked surprises for all of those who love Lumencraft as much as we do 💜 Follow us and keep your eyes open! Some creative competitions may pop up out of nowhere...

To help us survive in this unwelcoming environment. Wishlist Lumencraft on Steam⚙️, join our Discord 🎧 server and follow us on Facebook 👍 and Twitter 🐦. We have GameJolt 🎮 as well!