We have been talking about some of the (hopefully) interesting aspects of the technology behind "Nikki and the Robots" on our blog. Some of these posts might be rather difficult to understand, but starting today we will put up some of this information on Indie DB as well. Maybe some of you will like it... So, here we go:
One of the first graphical details for "Nikki and the Robots" that we came up with was the style of the backgrounds for the story mode. We decided to use beautifully lit skies that at the same time have an emphasized color banding effect. In the 80s and early 90s color banding used to be a rather unwanted effect due to the limitations in color depth, but we wanted to use it as a visual feature.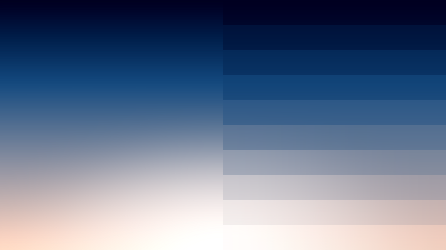 Now, it is quite a lot of work to manually create all the color banded backgrounds for 12 levels, especially because there are various versions each for different screen resolutions. So, a couple of days ago Sönke came up with a simple but very useful script that produces the color banding effect. We call it skybanding. Basically, what I can do now is to paint a soft sky in Gimp using various gradients and then just let the skybanding script run over it. The script looks up the source image, takes lines with the height of 1 pixel and then uses them to create bands with a specified height. It therefore produces the color banding effect while preserving the quality of the lighting very nicely. And it is also possible to create the images for different resolutions very fast.
After running the script, there is still some more work necessary to clean up artifacts (which again are due to color depth and resolution limitations), but in the end this script should save me quite a few hours of development time. Yay!
Read more posts about the development of "Nikki and the Robots" here!