It has been a rather busy few weeks for us lately with being so close to our initial release and all! It seems like all of our time is over the hills and far away, as they say… We will need to Guard our excitement so that it doesn't get too out of hand… Ok, I will stop now. This blog features a couple of classes that may interest you.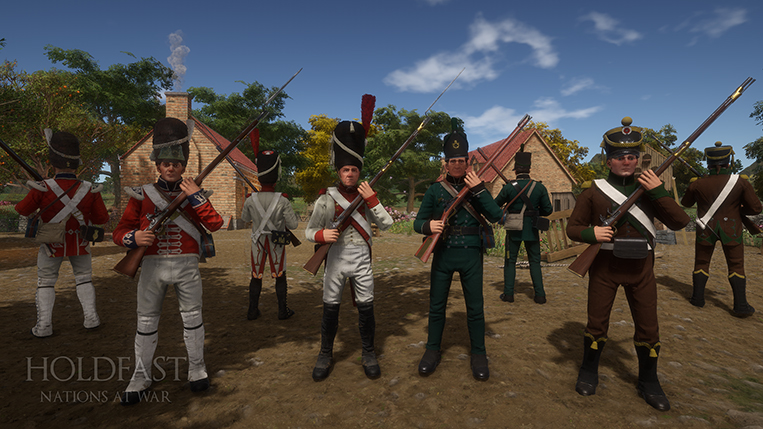 Guard
Role: Offense
The Guards were usually chosen from the most experienced Grenadiers. This meant that they tended to be rather big men with proven skill at killing. They excel at engaging and defeating other infantry.
Abilities
Guard - Duty bound to guard the high-command. You passively increase the HP of nearby allied officers.
Traits
Elite Infantry - Battle hardened veterans. This trait slightly increases the HP of the Guard to give him a better chance of survival in battle. It also increases damage dealt by melee weapons.
Bayonet Specialisation - Excels with using bayonets. Your melee damage when wielding a bayoneted musket is slightly increased.
Weaponry
Bayoneted Musket - Muzzle loaded firearms equipped with a pointy end. They're your best bet at making quick work of your enemy if things get up close and personal.
Sword - The French Guards come equipped with a sabre briquet.
You'll be seeing more of the Old Guard within the game and related army-based content. It is one of the things that we are most looking forward to seeing ourselves.

Rifleman
Role: Offense
This class needs little introduction, but for those that have managed to completely miss any reference to the 'Green Jackets'; As the Napoleonic Wars dragged on, the importance of skirmishing and sharpshooting units was realised. The Riflemen were given the more accurate "rifled" weapons which became weapons of marksmanship skill over faster reload speed.
Traits
Marksman - Crack-shot. Your accuracy when using firearms is increased but the rate at which you reload your firearm is slightly decreased.
Light-Footed - Fast and nimble. Your running speed is slightly increased.
Chosen Men [British] - The prestigious 95th. You're a chosen man! It makes you feel special.
Weaponry
Rifle or Musket (Without Bayonet) - Rifles for the 95th and smoothbore muskets for the French Tirailleurs.
Sword - The French rifleman comes equipped with a sabre briquet while their British counterparts make use of a sword bayonet.
We assigned the Corsican Tirailleurs the Rifleman role for gameplay balancing purposes as the British Green Jackets generally fared very well against their non-rifled musket armed French counterparts. Riflemen are crack-shots and even though they're only available in limited numbers, they can still be a very effective force on the battlefield.
As we have previously mentioned; we cannot guarantee that everything we list in the following developer blog for the class system will be ready and done by the time we go into Early Access. We're doing this to gather an idea of what the community thinks about our approach to class design.

Firearm mechanics overhaul. Arching bullet trajectory
Our Firearm mechanics have undergone a complete overhaul. Bullets no longer drop in a straight line but are instead slowly pulled towards the earth through gravity (arching bullet trajectory) which impacts the distance each projectile travels. It should be noted that we have also made sure that the re-worked mechanics reflect the inaccuracy of black powder weaponry. These values are also configurable per weapon so that we can give different characteristics to rifles, muskets, pistols and other firearms. Further tweaking and balancing during Early Access are expected upon more widespread player feedback, though we feel the current system is a significant improvement.
This overhaul came into effect after consulting the community. We invited some of the current closed testers who have been very involved in related competitive scenes (and possess a depth of knowledge in this period) with direct feedback. Together we have spent many hours engaged in a discussion on firearm mechanics and directly adjusting values for each and every firearm in the game.
Thanks to their efforts we have seen a significant improvement in how the game plays out when the muzzles start to flash. Here's a preview of how the bullet trajectory for the muskets looks after the overhaul. The colourful lines and data on bullet trajectory to the right-hand corner of the screen won't be present in the actual game. These are tools that we use for development purposes and for the testers to see a visual representation of the changes as we adjusted the values at runtime.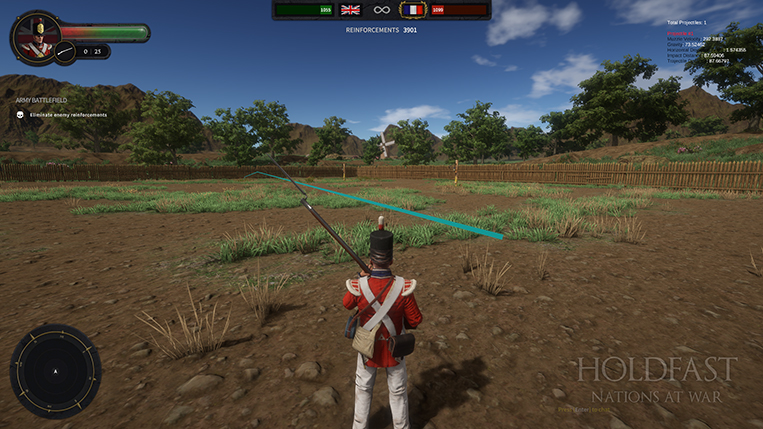 Follow us! Keep yourself up to date
We have now reached almost 800 followers on our Facebook page alone! Both our Facebook and Twitter pages are great ways for us to reach interested individuals and continue to bolster the community. We will also be increasingly using our social media to keep you updated with the on-goings of the game especially as we get closer to the game's release this year. Be sure to head over and give us a follow to keep yourself up to date.
Holdfast: Nations At War - Facebook
Holdfast: Nations At War - Twitter
Website upgrade. More to come
We've been clear in our blog posts that there's a whole lot more to the game than just what we have currently revealed. This is why we decided to give our website another look. For now, we have started with updating the selection of classes we have revealed in our blog posts and an easier way to navigate to our social media and discord from the menu bar.
Head over to the link below to check out the updated class list. Once again, the classes shown on our website doesn't make for the entire class selection that will be playable within our Early Access release! We have yet to reveal more...
Holdfast: Nations At War - Features - Class System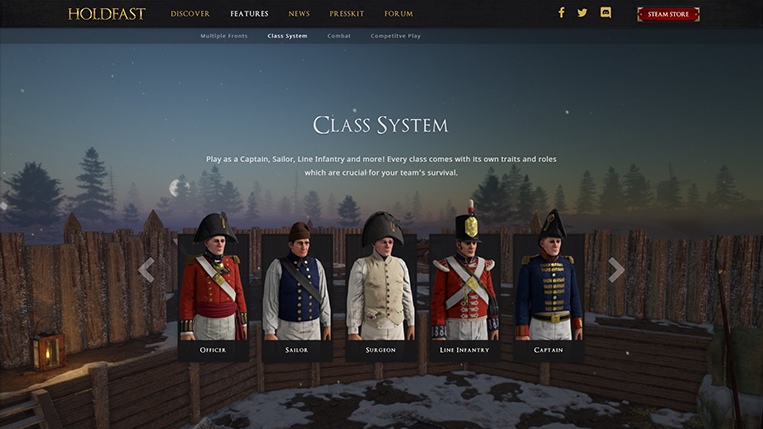 Stress test. Community involvement
Members of our community have been invited to join us for an in-game stress test in preparation for the game's release on Early Access this year. A big shout out goes to all of you who have accepted our invitation. We really appreciate the extra help with testing this vital part of the game.
The primary objective of this test was to identify what will need/can be optimised in our ongoing efforts to support high player counts. It will also be important to enable us to spot and then fix any bugs which have made it through the cracks from all of the previous play sessions and countless in-house hours that have been spent testing the game ourselves.
We are very pleased to say that the stress test went extremely well. We're not spilling the beans on player count just yet as we have even more optimisation planned before we go into Early Access. Keep in touch on our forums, discord and through our blog posts. We'll be sure to let you know where things currently stand before we release the game on Early Access.
Please note that the work and dedication towards supporting high player counts will continue throughout the game's Early Access phase and even into full release. We want to see epic battles as much as you do!
Community spotlight. Events, crews and regiments
A good way of keeping up to date with Holdfast news as well as meeting other interested individuals is to peruse the various different Regiments and Crews that are being formed for the game. You will want to hit the ground running on release as it will only be a few short weeks until we host the first official competitive event!
Even though almost everyone loves his Sharpe and a good Guard unit; we have something even more special to announce within our next blog post! Keep an eye out for this one. It's going to be great.
Until next time, feel free to join in the discussion for the following blog here and may good health be yours.

Once again thank you for all of your support from all of us on the Holdfast: NaW team,
- Peter, Andrew, Julian, Andreas, Cameron & Tassilo
Anvil Game Studios