We are rather excited this week as we finally get to talk about the mysterious white uniforms you saw in our trailer! To better understand some of what we talk about below you might want to refer back to our blog on the entire class system.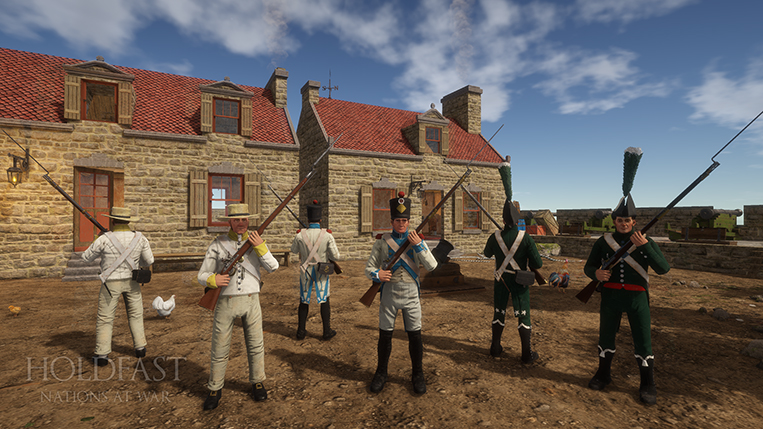 Join the Coast Guards!
The Coast Guards is yet another military branch present in Holdfast: Nations At War! We have included them within the game as distinct entities due to the addition of coastal based engagements. It is rarely seen within games to feature combat taking place fluidly on both land and sea and we want to make the experience as enjoyable as possible.
Within the game, you will see these classes being played on coastal fortifications to defend against incursions by an enemy navy.
Coast Guard
Role: Offense
Protects the coast. Excels at killing infantry and the use of cannons.
Abilities
Artillery Basics - Trained with the use of cannons. You can fire and operate them.
Swim - Familiar with the ways of the sea. You can swim for a short amount of time.
Traits
Cannon Specialization - Excels with the use and firing of cannons and mortars. You can fire and operate these artillery pieces at a faster rate.
Weaponry
Bayoneted Musket - Muzzle loaded firearms equipped with a pointy end. They're your best bet at making quick work of your enemy if things get up close and personal.
Sword - The French coast guards come equipped with a sabre briquet.

Customs
Role: Offense
Quick footed infantryman which protect the coast. Excels at killing infantry.
Abilities
Swim - Familiar with the ways of the sea. You can swim for a short amount of time.
Traits
Skirmisher - Drilled with knowledge on skirmishing tactics. Your musket reload speed is slightly increased and your melee combat damage slightly decreased.
Light-Footed - Fast and nimble. Your running speed is slightly increased.
Weaponry
Bayoneted Musket - Muzzle loaded firearms equipped with a pointy end. They're your best bet at making quick work of your enemy if things get up close and personal.
Sword - The French customs come equipped with a sabre briquet.
We also have a uniform ready to be integrated into the game for the British Customs class! As Britain did not have a specific coast guard at the time but used a selection of different forces to guard the coasts we have created an umbrella militia unit. They will be stationed inside forts along the coast and will be taking the role of the customs class. We still have some work to be done however before we can show them off.
As we previously mentioned, not everything we list in the following developer blog for the class system will be ready and done by the time we go into Early Access. We're doing this to gather an idea of what the community thinks about our approach to class design.

Coastal siege game mode
We have also been working on the coastal siege game mode in preparation for our release on Early Access this year. We played this game mode during our last closed playtest on Sunday and according to our own plans and the feedback we received it's already at a stage where it could be considered functional and playable for an Early Access release. It's just one more step towards our goal of giving you a high-quality experience even on day one of Early Access.
The coastal siege game mode is one where two forces battle for a stretch of land along the coast, often revolving around some sort of fortification or settlement.
The attackers are aboard a small fleet of ships and their aim is to cripple the enemy's defences and eventually capture their objective. To do this they will need to use their cannons, manoeuvrability and numbers. Smaller row-boats can be launched from their ships to allow their Marines to take the fight to the land and a good Captain would cover their advance under the fire of his own artillery. This is an example where several different game-play options are presented to the player and they must work in tandem to overthrow the opposition.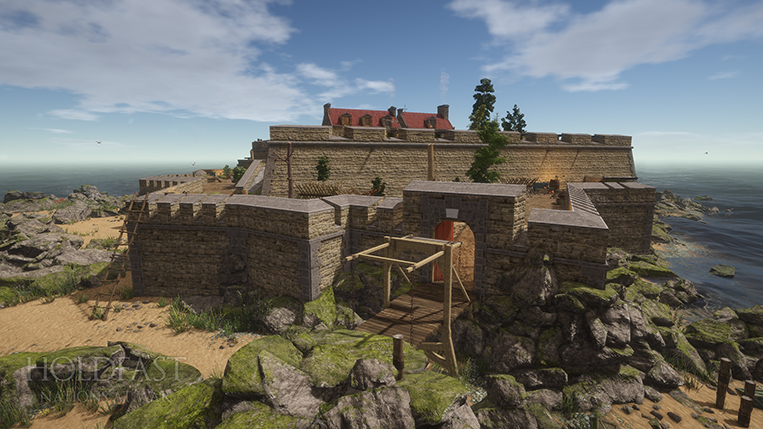 Do you bombard the enemy to create a breach in their walls before landing your troops? Do you wait until you are very close to shore before launching your Marines or do you stay back in the relative safety of range?
The defenders must prevent the assaulting forces from taking control of their fortifications. While they have a tactical advantage with fortifications and the fact that the enemy must land troops via ships, your number of respawns are limited so every life has to count. Do you push your forces to the beach and hope that the cannon on the fort will distract the ships from your position? Or do you withdraw behind your walls and engage the enemy at long range, biding your time until they are committed to a beachhead before rushing at them?
All of the coastal maps also have secondary objectives and sometimes they have more. The Shipyard objective location on Fort Imperial will allow the attackers to spawn closer to the fort in limited numbers. Another example of a secondary objective are locations that will also allow you to spawn near artillery batteries to bring down the fort's walls. It's up to the team to decide the course of battle!

Coastal siege maps
You may have heard that we have generally placed a higher priority on land based content based on feedback from our community. This does not at all mean that we have neglected the wetter parts of our game and if anything it has led to a richer experience in our coastal engagements.
We'll be releasing with a total of 3 coastal siege maps by the time we go into Early Access. All of the fortifications featured in these maps are destructible. We've previously written an entire blog about Fort Imperial, shown a sneak peek of Martello Tower on our social media and we'll be leaving the other map for our upcoming blog posts.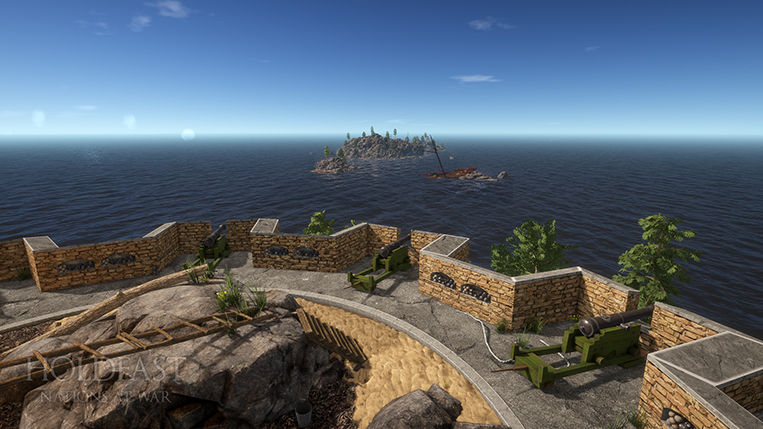 Be sure to look forward to the development roadmap we'll be releasing when we go into Early Access this year for an overview of our plans for coastal siege battles!

User Interface. Community feedback
We've mentioned that we are working on a system that allows you to toggle specific elements of the User Interface. We are happy to announce that this is now complete and will be available within the release into Early Access this year!
You can selectively disable the minimap, chat, crosshair, kill-feed, centre screen dot, reload indicator, friendly player indicators, friendly name tags, your personal score and even the objectives panel. Customise what you see to make your experience the best it can be.

Community spotlight. Regiments, crews and feedback
Most of you will be aware that we conducted a slightly larger test recently with our closed group of testers. It went extremely well and the feedback we have received both during that session and the previous tests have been monumental in helping us fine-tune our efforts to create an enjoyable game. Bug fixes, feature tweaks and even game balance have been discussed and improved over the past several months. We are incredibly grateful to all that have helped both in these tests and with suggestions and feedback based on the footage we have shown. We hope that it is clear to you that we are listening and taking it in.
Next is a big shout out to all the Regiments and Crews (clans) who have been assembling in anticipation for Holdfast: NaW's release! You're more than welcome to get in touch with us to share your ideas about the game - We are paying close attention to competitive play and have been working on polishing those features at the heart of the competitive side of the game for our initial release into early access. We will continue to support the competitive scene both with the integration of new features within the game, allowing administrators to freely configure their own servers and the hosting of official competitive events.
We are also still in search for map concepts and ideas from our community, specifically a pressing need is to design a training map for regiments. This can range from areas to practice melee combat, shooting, artillery and to also have a nice place were promotions to those deserving few can occur! Due to the nature of the game, it would preferably be in the form of some sort of realistic military camp (real or imagined). Please do head over to our forums and forward us your ideas in the below thread:
Map Concepts - Share with us your Ideas!
If you haven't joined a crew or regiment we suggest you look for one on our recruitment section on discord or our forums.
Here are a few YouTubers who have taken an active interest in being a part of our community, we would like to share what they have to say about the game:
Pixelated Apollo
Alex The Rambler
HForHavoc
TheFrenchMonk

Discord
Head over to Discord to join in the conversation! Well, a conversation. There was one last week about what edible sauces came out of soldiers from different nationalities. We are all active on there and have been enjoying seeing the community grow.
You can join in the community discord channel down below:
Thank you from all of us once again for being so enthusiastic, open to change and most importantly of all willing to give us honest feedback on our game. We are working very hard every day to listen to what is being said and then make sure that Holdfast: NaW matches up to expectation as closely as possible. That being said this is an ongoing process and Holdfast: NaW will be a community driven project from now, through Early Access and into its full release.
Until next time, feel free to join in the discussion for the following blog here and may good health be yours.

P.S. You might want to stay tuned for our next blog. We have a very special something we plan on revealing.

Once again thank you for all of your support from all of us on the Holdfast: NaW team,
- Peter, Andrew, Julian, Andreas, Cameron & Tassilo
Anvil Game Studios