Right let's get straight into it, shall we? This blog is another batch of items that we are ready to talk about for our upcoming Early Access release. We have another look at our map list, talk about gameplay on specific maps, some UI changes and finally a note about our closed playtesting sessions.
Having a stroll around Arendan River - one of the army based maps playable on the release of Early Access this year. You will do yourself good to watch out for fellows trying to take shots at your person in the quiet countryside village!
Arendan river
We needed a scenario large enough to be able to play on competitively, have a mix of long range and closed quarters density and finally attempt to balance it from both sides. What we ended up with is Arendan River, a scene featuring rolling open green, lightly wooded countryside and a small village.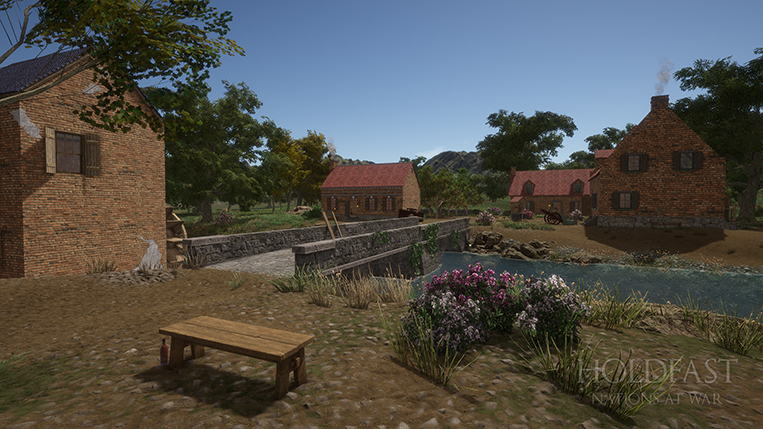 Both sides will start looking down into the river valley from fortified positions (each featuring two field guns) but will need to push the open spaces and the village to win.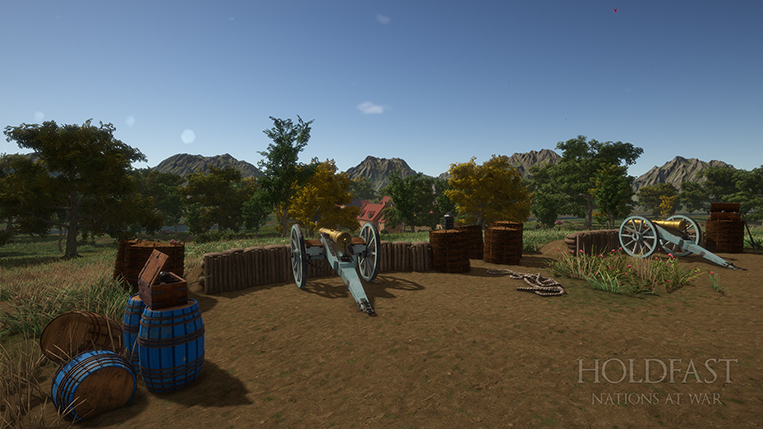 Close quarter combat will take place in the village halved by the river. Infantry garrisoning these buildings will be hard to get to as many feature narrow entrances and even upper floors. The fighting will be fierce, quick and often rely on the bayonet over the musket ball.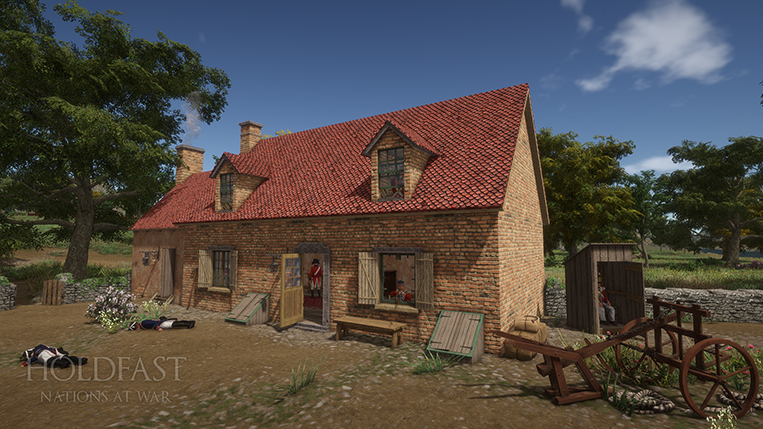 Charging across the stone bridge from one side to the other will also prove to be a difficult challenge. The village itself is quite the sight and features things like a peach orchard, an outhouse, watermill, lanterns, a piano and plenty of benches to rest on!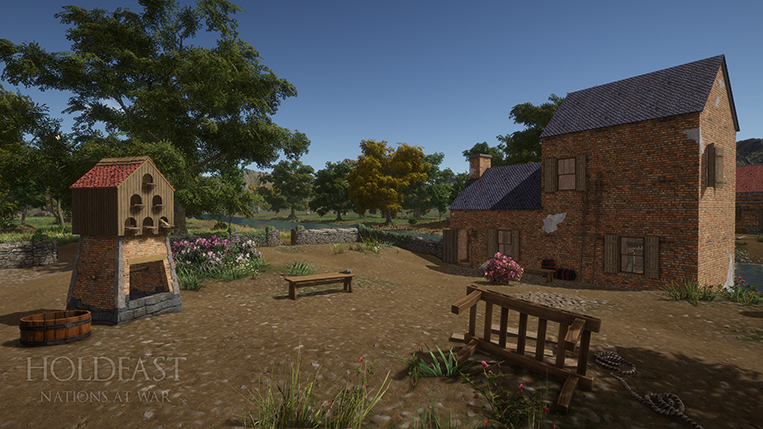 Outside of the village, the river can be crossed by a natural crossing on one side of the village and a small wooden bridge on the other. Both of these pathways serve as great flanking positions for those who aren't looking forward to direct confrontation.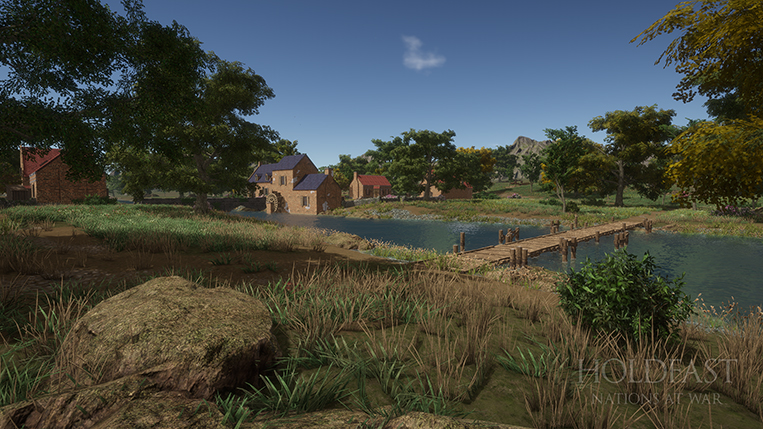 In contrast with the village, the rest of the terrain consists of gentle slopes, rock formations and various fauna. Fighting outside of the village will be over larger distances but will be no less deadly with the presence of artillery batteries on both sides.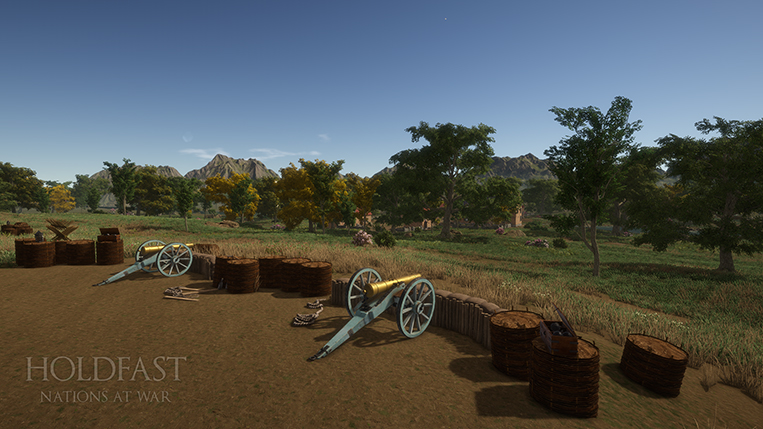 It is important to note that while right now they are unrealistically sturdy, we will eventually change these buildings to be destructible after taking enough damage. On top of that, there will be a change later on that will allow players to swim across the river at the cost of their ammunition.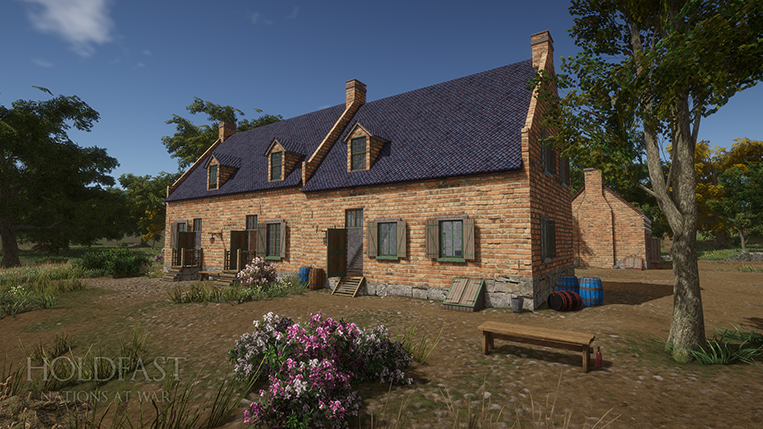 Army based maps. Ongoing progress
We have shown off a number of our finalised assets but we are keen to enter Early Access with a good selection of maps. Army-based maps are of particular importance to the community and we want to deliver.
The next map we will be talking about is based on a particular soft spot for a member of our team; the Scottish Highlands!
We are also taking what you are saying into account when it comes to their design. With the most obvious example being, creating a place for you and our entire community to share with us your map ideas! You're most welcome to join in the discussion by heading here:
Map Concepts - Share with us your Ideas!

User interface. More changes
As you can already tell from the above video, we have significantly reduced the size of the minimap. We've also added some polish to the objectives panel as well as the nameplates themselves in an attempt to make it even easier to understand the situation at a glance. This has the bonus effect of decluttering the screen which leaves more open space to enjoy the game itself on.
We're also working on a system that allows you to toggle on and off specific elements of the user interface including the minimap. This was a highly requested feature from our community so we've made sure to slot in some time for it. We'll talk more about this in our next developer blog!

Community spotlight. Gathering direct feedback
We've been gradually inviting YouTubers and members of our community to the game so they can provide us with direct feedback and help us with testing the game. The emphasis has been selecting individuals with a passion for this type of gameplay.
All the feedback we received from all corners within our community has been very helpful for us and we have you to thank for that. We will be looking for more active fellows on our Discord and forums to help us out in future playtests. We'll also be inviting some of you to take part in our pre-release event for the game!
Do check out the below YouTube videos for a listen to what Malakith, Warrior of Sparta, Chadtopia and Resonant have to say about the game. Every hit we get is a new potential player to fill the servers and grow the community so we would ask that you support us by supporting content like this.
We would like to close this blog by expressing once again our heartfelt thanks to all of you who have been providing us with feedback and suggestions for the game on our Discord, forums and everywhere else within our community. We're working hard to make the game more widely available so that your patience is not tested for much longer!
Here's a link to our forums and Discord:
You can join in the discussion yourself on the following blog here and until next time, may good health be yours.

Once again thank you for all of your support from all of us on the Holdfast: NaW team,
- Peter, Andrew, Julian, Andreas, Cameron & Tassilo
Anvil Game Studios