Don a pair of sturdy boots because this week we are taking a look at one of our skirmish maps - Crosshills. This environment features rough terrain with a lot of vegetation and trees which means you will constantly need to be on the lookout for an ambush!
Malakith leads the way across one of the skirmish maps in Holdfast: Nations At War - Crosshills. There are also some bits and bobs we have yet to mention in our developer blogs which can be seen in the video! Perhaps you can spot them.
What we've shown in the video is still a work in progress and is subject to change depending on feedback from our community. The day and night cycle has been sped up for showcase purposes.
Crosshills
We needed some larger playing environments for both teams to be able to start to conduct more tactical play.
The difference in the terrain heights among both the hills and the smaller ravines will make skirmishes more prolonged and any attempts to push forward will need to be wary of their flanks. You can hear birdsong, creaking trees and other expected noises which further immerse you in the scene. Without the crashing of cannons and muskets, this is a peaceful area. You can look forward to bringing a little chaos to the sleepy shadows beneath these trees!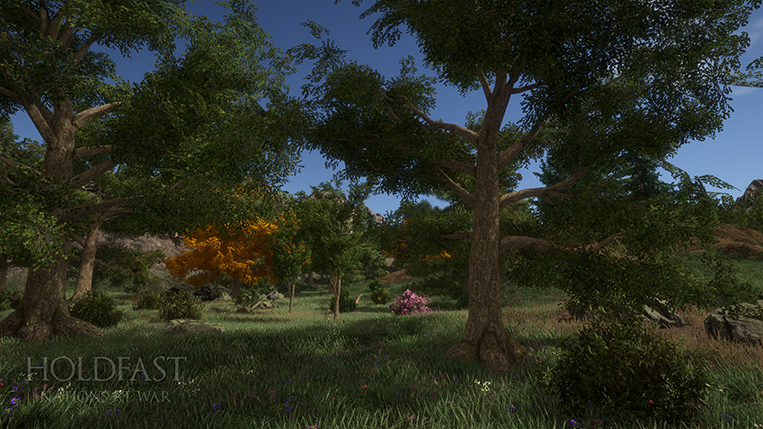 The improvements that we have been making to the visual quality of Holdfast: NaW are readily apparent within this scene. We think this environment combines visually striking scenes with an interesting challenge to navigate while playing.
We've also been very careful to make sure that we don't do these graphical updates at the cost of performance. Part of this is the inclusion of customizable graphics settings so that users can really fine-tune their experience and get the game playing and looking the best for their own machine.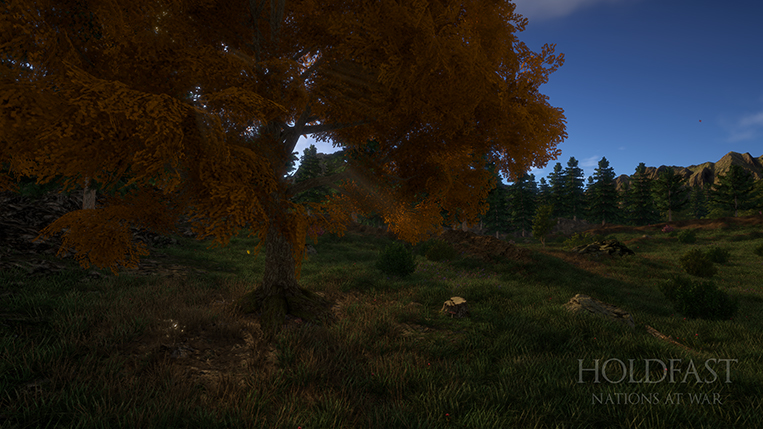 We're looking forward to seeing lengthy and tactical battles raging across its terrain. Our battlefield gamemode of which concept is centred around reinforcements and spawning in waves will make this all possible!
Time of Day. Day and night cycle
We have been working hard on bringing interesting changes to the same locations, the most obvious of which is that you can currently play this map in both day and night. What is more is that we have a real cycle between them so in longer battles you may see the battlefield completely and dynamically change as it gets darker or brighter!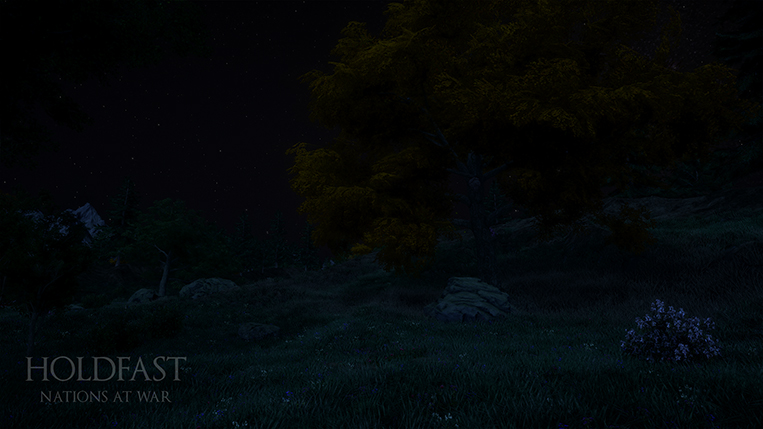 New maps. A work in progress
Our selection of maps to play on is also increasingly expanding. We have a snow-based winter scene that is going through its final passes. It's going to be a plains-based terrain map aimed at providing a canvass for cooperative army play. If you have ideas for scenes that will work for a Napoleonic battle, then feel free to share them with us on our forum.
We are trying our best to avoid feature creep so any more complicated scenes will be pushed back until after our Early Access release (otherwise it will take forever to get the game into your hands!). We feel that rushing things out will not do justice to our vision for Holdfast: NaW.
We'll be revealing additional maps that are already done and ready for the release of the game on Early Access this year in our future developer blogs!

Steam community group. More than 2000 followers!
Our thanks go out to each and every one of you! We have passed the 2000 member threshold for our Steam community group which is an incredible show of interest. Obviously, as this is a multiplayer focused game we need as large a community as we can push for and we really appreciate all of the help you are giving us to achieve that aim.
That's all for now folks. Remember to send us your map ideas and to keep sharing the game around! It would also be great if you can give us your feedback on the background music we've used in the above video.
You can join in the discussion for the following blog here and until next time, may good health be yours.

Once again thank you for all of your support from all of us on the Holdfast: NaW team,
- Peter, Andrew, Julian, Andreas, Cameron & Tassilo
Anvil Game Studios