Sail off the starboard bow! This week we are leaving shore to take a look at one of the vessels that will be included within Holdfast: NaW at our Early Access release. This 2-Gun Schooner modelled after the 'Axel Thorsen', packs quite the unique and original design for a sail ship. While these vessels were primarily used as coastal patrol and harbour defence, under a good crew their powerful armaments can inflict serious damage on far larger warships.
While sailing around on the 2-Gun Schooner, one of our dearest developers did a great job at aiming his spyglass in the other direction. However, don't your worry, he's well suited for the Captain's role. Three cheers for the good fellow!
The 2-Gun Schooner
This gunship is armed with two 46-pounder long guns situated on two rotating platforms at it's front and back. These cannons are much larger than is common aboard a warship and so pack a tremendous punch.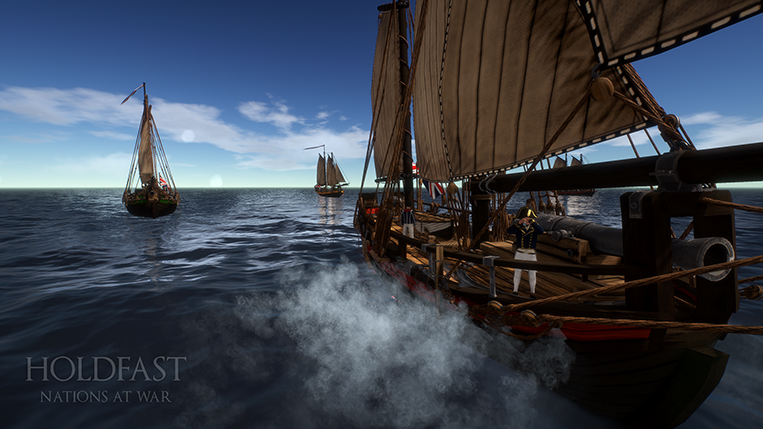 With careful, diligent and tactful use of this ship, a good crew can have a significant impact in the game. Due to its size and gaff-rigged sails, this ship manoeuvres much more nimbly than the larger vessels so it can potentially leap into strike before dancing away from danger. One should never forget the devastating might of the 46-pounder guns under the hands of a good gun crew!
This ship will also be present in many of our coastal assault maps, making it ideal for destroying coastal defences before leading the landing party ashore.
Improved sailing mechanics
Each and every sail has an effect on how fast it can make the ship go and it's turning rate. Gaff rigged sails will give you greater manoeuvrability while square rigged sails will give you better speed.
Square-rigged sails however, reduce your capability of sailing into the wind. This means that it would be best to lower them if you want to go towards that direction. Gaff sails are triangular in shape while square rigged sails are more rectangular.
Sails for each ship are grouped up and can be raised using the 'W' key or lowered using the 'S' key. The ship will gain speed according to the amount and type of sails raised rather than by direct user input. It isn't like stepping on the gas!
To allow for even further control over a ship for those who wish to master the art of sailing you can raise or lower a specific sail group by using the number keys (1 to 6). For instance, one of our biggest ships has 6 separate groups of sail while the 2-Gun Schooner shown in this blog has only 3 groups.
We did this, of course, to give ship combat more tactical depth and to encourage competitive play to occur on our oceans as well. Under skilled hands, these ships will move gracefully through the water until the enemy fills them with holes of course.
Holes? Yes! Our ships are fully destructible with cannon shots breaking parts of the ship that they hit. Want to immobilise one of these gunships? Try destroying her mast to cripple her before boarding. Are the enemy cannons doing you damage? Break them!
Steering changes. Plans for future sailing mechanics
We also have plans on making the ships steer according to how far the captain's wheel or tiller is turned. This is because we would like to change the mechanics for ship steering to properly reflect steering an actual vessel.
You will press the 'D' or 'A' keys to rotate the captain's wheel a certain amount of degrees depending on how hard a turn you would like to make. The ship's wheel will visually turn according to the direction you're steering towards. Much like the ship's speed, this means that it will increase the complexity of the system to give players a chance to further increase their skills.

Harouti Islands
You've most likely already caught a snippet of the following map from the video of the 2-Gun Schooner. Harouti Islands is a naval only map which features several large rock formations and tropical islands that offer a great deal of cover. Make good use of these natural formations to outwit or flank your enemy.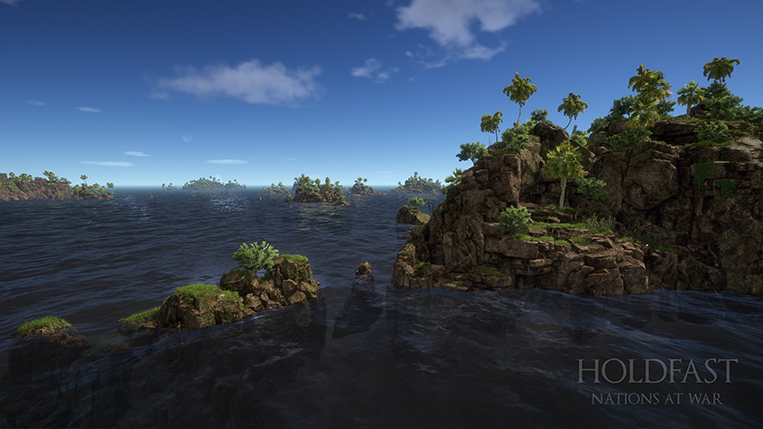 Thanks for joining us in the water! As we get inexorably closer to an Early Access release we are increasingly focused on finalising the game mechanics and assets needed to create a standalone quality release which we can then build on. Having firm foundations will mean we can push higher than if we attempted to rush something out of the door so thank you all for being patient with us.
Feel free to join in the discussion for the following blog here and tell us what you think.
Until next time, may good health be yours.

Once again thank you for all of your support from all of us on the Holdfast: NaW team,
- Peter, Andrew, Julian, Andreas, Cameron & Tassilo
Anvil Game Studios