Hey people, Keith (platima) here. If you haven't heard of me before, it's most likely because I'm pretty new to the Desura group. I've been taken on as the Linux guru, and I'm working alongside Mark (lodle) to help bring Desura to all of us Linux enthusiasts. Oh and that may be news to you too! Although I'm sure a few of you out there had a bit of a guess with the big red banner at the top of indiedb.com.
Now this is no small task, there are many different aspects of the application and infrastructure to cover, there'll always be unexpected surprises, and of course starting 2 years into a projects development is never easy! To keep the community updated with what's going on, and to get feedback and comments from all of you, is something that I really like the idea of, so this morning I talked my boss into getting this blog going, the trend of which will be Desura Linux Development (track us, rss feed, twitter, facebook).
To grab your attention again, here are some colourful pictures of the Desura login screen, sans theming (explained below), and one working as expected... Which I then proceeded to break again (on purpose).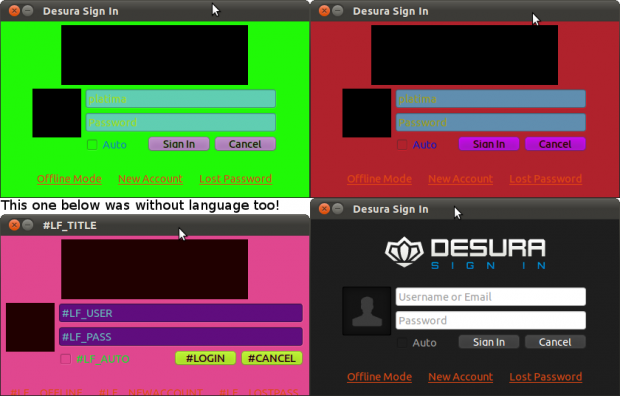 I'm going to roughly split each blog entry into two sections: the technical apsects (for the sort of people that understand what an 'abstract base class' is), and the non-technical (for those interested in Desura in general, Linux fans around the globe, and gamers alike). I'll also try to keep it relatively short and to the point, as I want to do these semi-frequently.... Somewhere between daily and fortnightly I suppose. Haha. Oh and if you keep your eye out, there may also be more screenshots from time to time.
OK so a quick catchup:
I wrote a few decent scripts that handle all the compiling for us, and re-arranged things slightly so that it all fit nicely together
The first two weeks were basically spent planning how to tackle this beast, '#ifdef'ing out the Windows specific code, converting back-slashes to forward-slashes in '#include' lines, and trying to eat my keyboard as it dawned on me just how big Desura is!
We've gotten the basics of it running, and after some rather colourful results while theming was still broken, we even managed to log in.
We got theming going, but then I found a bug that I considered more detrimental down the track, so we've broken theming again for now at the expense of resolving some other issues.
We've also found the hard way that as cross-platform as wxWidgets is, it'll always behave differently on different platforms. I guess this is the downside of it wrapping to the native OS widgets functions (Win32/GTK/Cocoa) as opposed to being a full widget set of it's own (Qt/GTK).
And I'm sure there were other notable things, but I'm drawing a blank right now.
Catch you soon,
Keith Poole
Linux Engineer / NPC
Desura
My quote of the day: "An escalator can never break: it can only become stairs. You should never see an Escalator Temporarily Out Of Order sign, just Escalator Temporarily Stairs. Sorry for the convenience." -Mitch Hedberg, RIP
PS: I didn't actually try to eat my keyboard, although I probably lost colour in a few hairs