Hello, fellow modders!
Wolf and I are proud to present the first demo for Stargate: Battlefront!
This map/mod is an early beta which means that the AI is lacking planning and a lot of stuff is not complete yet. Included in this early version are the SOL, F-302s, Darts and Wraith Destroyers.
A special feature introduced for the first time is that you will be able to control big frigate ships (Wraith Destroyers for no but more to come).
If you want to take control go back in control room in the Imperial hangar close to the seats (you don't need to enter them!). The following screenshot shows the regions that will get you into the frigates: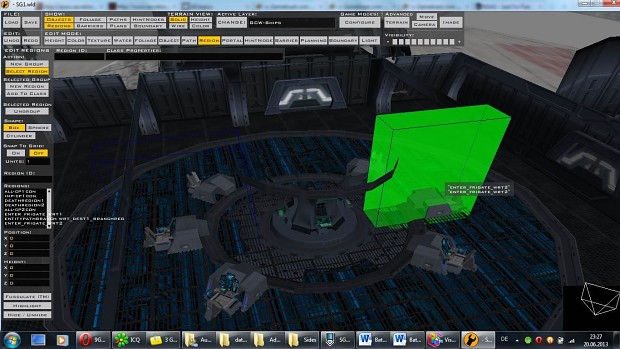 To leave, simply fire their secondary weapon.
The timer signals the arrival of a second Wraith destroyer. Note that will not see the timer in the final version, it's all for debugging and stuff. Again, a lot of stuff is WIP, the frigates tend to move very unnatural etc.That said, if you have some good ideas feel free to leave us a comment!
Even though we are making great progress we are also looking for support. People who know how to make models and/or animations or have experience in SWBFII modding are very welcome to join us.
Just shoot us a pm:)
And now have fun!