Deep Rest 2017-2018 Update! *2/25/2018* *Working on a new trailer to showcase all the new mechanics in the chapters also finishing steamworks setup soon*
I present you Deep Rest 2017 Trailer!
Deep Rest is coming 2018 to Steam! Release date not announced! No official date yet! Thank you for your support!

I thought it was time to post some news!
The game has come a long way, it's also a very personal project for me and it deals with some heavy subjects but my goal is to help people through playing the game, as well as bring a innovative game with unique mechanics and provide a haunting story with choices that matter.
There is still more polish and development left to do in preparation for the full release. But i am getting closer and closer.
A full alpha version is currently being tested, i am still writing and fleshing out the story enhancing your experience, also i am drawing a lot of sigils in InkScape and coding mechanics for the different chapters, one cool idea i also have for the game is to even create a unique language out of the sigils within the game to bring even further depth to the game.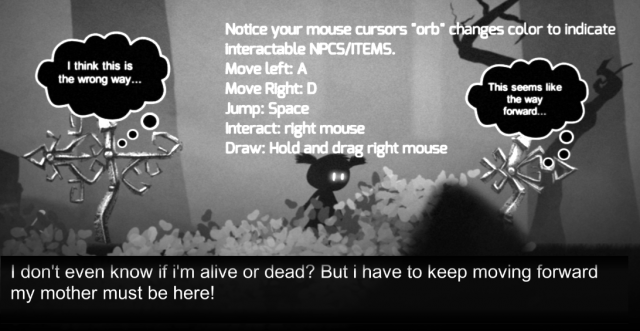 Deep Rest V1.2 Updated demo is now out for Win64, MAC and LINUX!
Deep Rest Demo v1.2 Win64 now out! *I am aware of minor timer text issue, and minor grammar issues will update soon - Build is "almost" perfect now > To start the demo hit Play in right corner > hover over chapter 1 and click Quickplay> Mouse cursor a little off due to my choice of the orb.png - but i recommend to not touch settings too much in the menu - if you experience any other strange bugs tell me!*

Deep Rest Demo v1.2 LINUX now out!

Deep Rest Demo v1.2 MAC OSX now out!

I welcome you all on the journey through the ever changing world of Deadwood! Big thanks to everyone for supporting the game! All 7 Chapters and bonus material will be available in the full version.
Deep Rest is a psychological adventure horror game.
With a deep focus on storytelling both direct, indirect & on unique features.
Utilizing a point and click interact system. Combining aspects of different genres & innovative mechanics, such as time travel, drawing sigils & paranormal events.
You shape the story, you have the ability to make dramatic changes.

You play a lost girl, which discovers her mother has gone into deep coma for unknown reasons. Upon discovering the horrific news, you decide to end you're own life.
But when you wake up, you are faced with the purgatory world of Deadwood.
Engulfed by the mysterious forest that keeps changing shape and form, you soon realize its a dead end.
Overwhelmed by the journey, that challenges every emotion, life experience's & mental illness you suffer from.
You encounter strange characters & entities, which you later get to decide the fate of.
As you learn of your newfound time travel abilities in this world.
Figure out why you are stuck here in a loop, solve the mystery of what really happened to your mother.
Did you kill yourself for nothing?