August 17, 2009
It's been a while since we've had a general update, so I'm going to take the time and get everyone caught up with our current status, as well as discuss some new features. Please note, as always, the things you are going to see/hear about are still a work in progress and are subject to change.
Human AI:
As most of you probably know, we are introducing human intelligence into the game. Land of the Dead already had this, but we are expanding upon it further.
Throughout the game, the terrorist organization named C.O.I.L. responsible for the outbreak will make slight appearances and try to kill you. But you're not their only problem; the zombies will often attack the terrorists making it easier for you to take them down.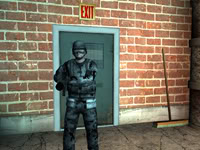 Our versions of the Terrorist AI are pretty nicely made. They will take cover behind objects, and communicate with each other, in efforts to make sure you go down instead of them.
Level & Feature Updates:
We've been making good progress on the levels. All current maps are complete, with some needing gameplay additions.
The story mode currently has 16 levels, with each one being long and unique.
In addition to the story mode, we also will have a free roam gametype that has around 3-5 maps.
In the maps you can expect much more zombies on screen than Land of the Dead originally had.
That's all for now, stay tuned for more media updates coming in the next few weeks!
Also, check out our wallpaper based upon SteelRavens "DE: Dead City" if you didn't already.
Click Here to Download