Greetings everybody, I'd like to start off and thank you all for your support and patience with this project. I managed to gather some feedback from early testers and am ready to deploy the first new version of the pre-alpha combat demo v1.2.

Some testers had some troubles figuring out the controls and ways to control the game, so I'd also like to share a small "Beginner's guide" and slowly implement it into the game itself. The beginner's guide will be available down below after the changelog.

Changelog v1.2: (With a huge thanks to 養殖ゴブリン for his nice feedback Twitter @Samba_4e)
General
-Aside from the standard WASD controls the arrow keys and numpad keys 2,4,8 and 6 now control more and more functions of the game including but not limitied to; moving, selecting your action, cycling through items and selecting targets. More functionalities will be added in due time.
-On most occasions the menu key (standard 'SPACE' key) will also function as the confirm key (standard 'Enter' key).
-Fixed the 'zoom' distance on the tactical layer of combat. Allowing a much wider view.
-Added controls keyboard and gamepad controls to the "Choice" prompt, aside from Mouse control.
-The character tab in the menu now also scrolls using the mouse scroll wheel, previously online using the arrow keys.
-Can close the game menu using the cancel button when nothing in particular is selected (using standar 'Backspace' or right mouse button)
Battle
-You can now speed up the character movement speed using the "Game speed" button, more implements coming soon.
-You can now control the speed with which the camera move in tactical view
-The Left and Right mouse button functions have changed. Left click to select a character and move it, right click to unselect and move the camera to the cursor position (centered).
-You can now select the character tabs below to select the character you wish to control (standard 'Tab' key still cycles through the characters.)
More interestings items are being added as I'm writing this. But I hope that feedback will continue as it has before, it really helps to create a more streamlined experience for everyone.
Beginner's guide:
Basic controls:
General:
Movement: WASD, arrow keys (v1.2 and later) and numpad 8,6,2 and 4 (v1.2 and later)
Confirm: 'Enter' key, mouse left button (in most cases) and 'SPACE' key in most non-menu stages.
Back: 'Backspace' and Right Mouse button
Open game menu: 'Space' key
Cycle world character: 'P' key (cosmetic only, currently :) )
Combat specific:
Move camera: nobody selected, using the movemet keys.
Cycle available characters to move: 'TAB' key
End Turn (all characters player turn): 'X' key
Select Character: Mouse controlled, Left Mouse Button
Unselect Character: Right Mouse Button
Menu controls:
Cycle menu pages: Tab
You start in a party of 4, a knight, a (fire) mage, a healing druid and an archer. You can talk to the gentleman right from where you spawn to get some info about the combat and he'll be able to take you to the open garden (currently just for aesthetics).
You'll want to start off opening up the game menu ('SPACE' key) and heading over to the "Characters" tab (see attached image for reference). Select the character whose abilities you wish to change and select the "Check/Change ability lineup" here you can check any available abilities and select them to equip them by double clicking them. You'll also receive an ability description which gives an idea of what it might do.
Once you have equipped your characters with abilities you can head over to the gobin to the left inside the spawn room and accept the combat challenge, selecting from a set amount of opponents to face. Don't worry the enemies are automatically balanced based on your current level. (If you forget to equip abilities before entering combat, no worries you can still enter the game menu using the "Items" action option during combat)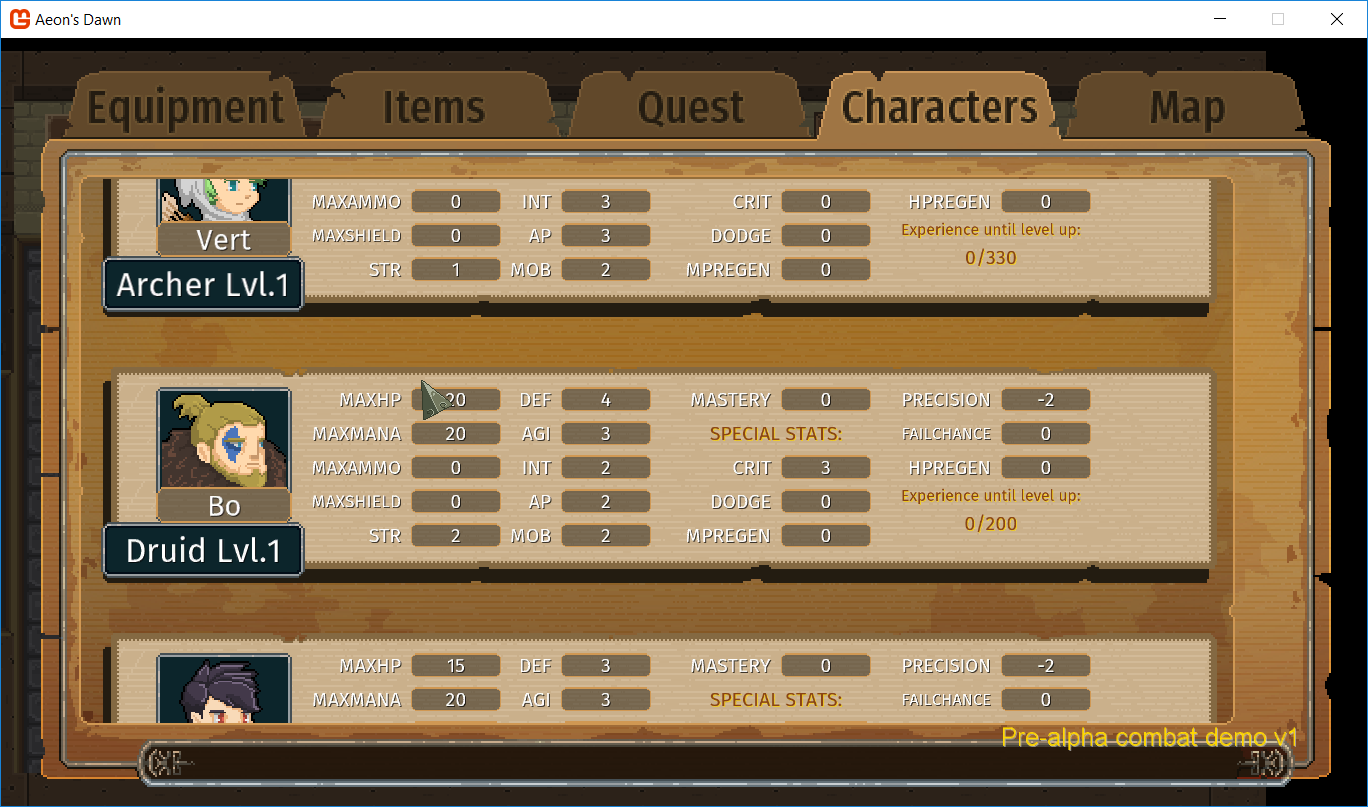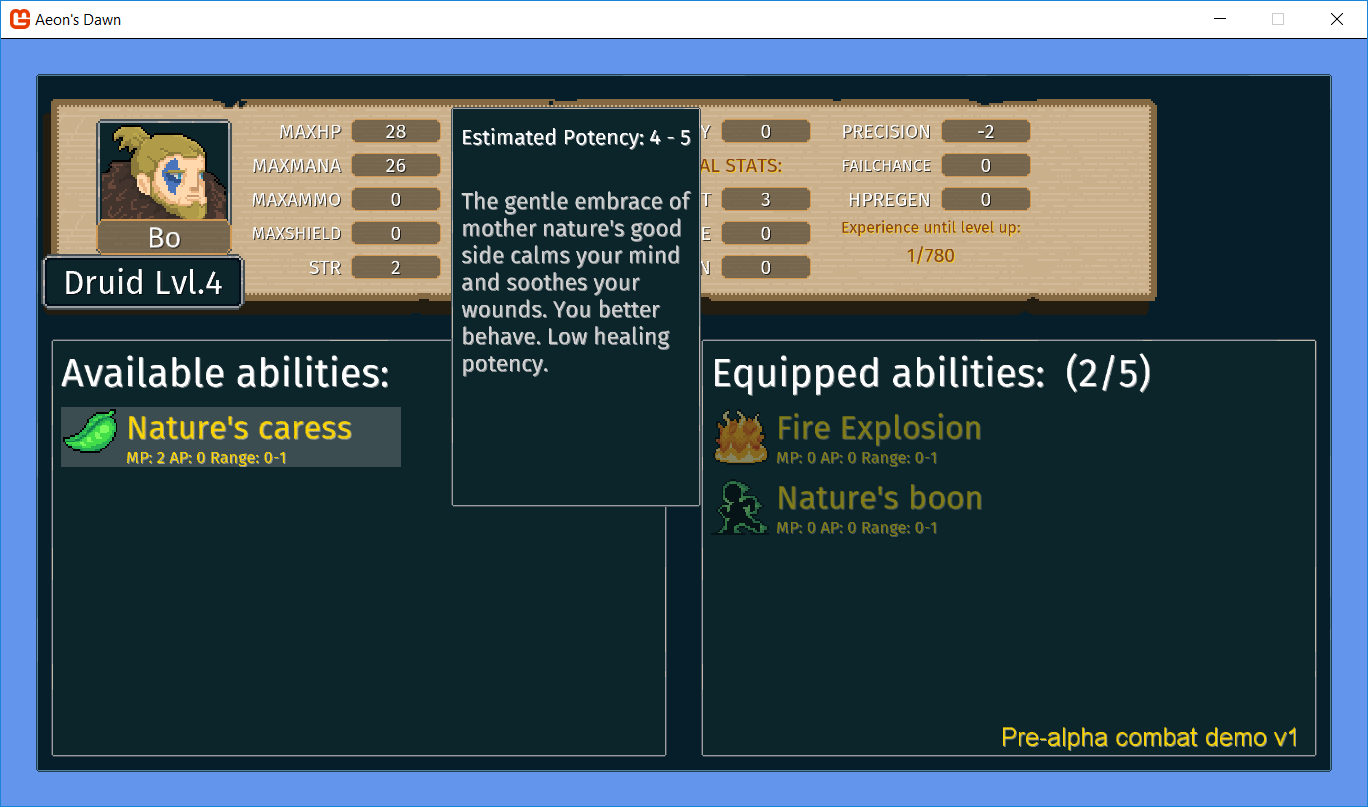 When you start the challenge you'll have a chance to place your characters freely during the so called "Setup phase" of the combat. Once you are happy moving the characters around using the Right Mouse Button, press the confirm buttons once and the player turn splash should show up marking the start of the actual combat.
To attack a target, move within range using the Left Mouse Button and selecting the target using the Left and Right movement keys while on the attack option. Press confirm to attack once you have selected a target. On the battle screen you can cycly through abilities using the up and down movement keys while you have more than 1 ability equipped.
Combat ends when either party is the last remaining.
This should cover the basics, if anything is still unclear be sure to contact me, I'll be delighted to help
via Twitter @TeamAntMountain or here on itch.io
Friendly regards