Dear passengers,
Dark Train was just released on STEAM – Store.steampowered.com with initial 20% discount - 11,99 EUR / 11,99 USD! Thanks for buying early and/or sharing the game. Every action helps!
► RELEASE TRAILER ◄
► WHAT IS DARK TRAIN? ◄
DARK TRAIN is a non-textual 2D adventure from paper with focus on real-time physical controls. Take the role of disobedient heroine – mechanical squid ANN 2.35f that is tied to an unpredictable railroad tamagotchi. Together deliver the mysterious order from an unknown client who contacted the manufacture of famous inventor D. W. Tagrezbung with really strange contract...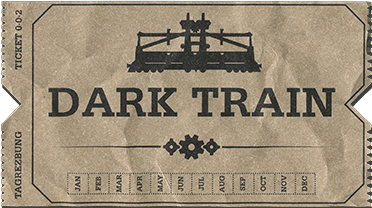 ► FEATURES ◄
story - strong narrative with dynamic action gameplay
exploration - non-casual exploratory game feel
atmosphere - dark oppressive setting
narration - non-textual, situational
audiovisuals - paper-made art-style, music & sounds
no hints, no help - there is always a way to solve it
► MAKING OF ◄
► DEVELOPMENT OF DARK TRAIN ◄
Nearly two years ago, we wanted to go on the Kickstarter, but then we decided to finish the game and just risk it – the old style game development way. After the game was successfully greenlit, we can happily announce that Dark Train was released on 25th October 2016
First there was just a paper, our strict vision, sweat, blood and tears, but we endured and finished the game. Now we want to share the joy and the oppressive atmosphere of Dark Train with you and your readers. It was also a big risk for us, so we will see, how everything goes from now on. Wish us luck and we hope you will enjoy the Dark Train.
► RELEASE SCREENSHOTS◄