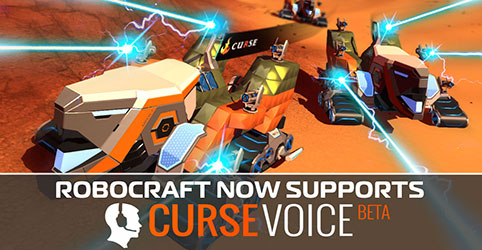 Freejam has teamed up with Curse Voice to bring you an integrated voice communication system in Robocraft and…
7 DAYS FREE PREMIUM!
2 UNIQUE CURSE FLAG COSMETICS!
All you need to do to get the FREE PREMIUM is:
Run it on your PC along with Robocraft
Login
Start a battle
Complete a battle
Go to Curse Voice and click the 'UNLOCK' button on the Curse Voice application
Curse will give you a single use serial code
In game push ESC and select PROMO CODE
Enter the code, click CONFIRM and you have 7 days Premium AND two Curse flags! Absolutely FREE!
What it does:
If you are in a Platoon with others who have Curse Voice, you will automatically join a voice session with them
If you are not in a Platoon you will join a session with those in your team automatically
You can also manually create voice sessions of your choosing using the Curse Voice interface
Curse Voice allows you to mute individual players, and tweak their volumes up and down
It also contains a bunch of Robocraft exclusive avatars